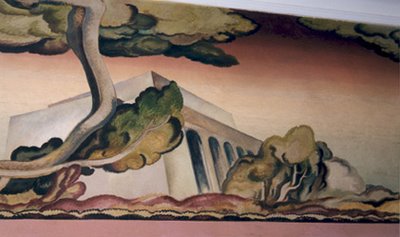 Claremont, CA. Tomato, the main character in Erika Lopez's terrifically kooky Flaming Iguanas, loves the post office. She says, to be precise, that she has a "profound love for the United States Postal Service." She laments that too few people seem to share that love:
"I don't think they truly understand the joy of writing a letter on cool paper, putting it in an envelope, and addressing it in a funky way that challenges postal workers. The stamp validates the whole thing somehow, and whew! – Putting it in the mailbox and hearing that blue metal flap swing shut is just about the prettiest sound in the natural world. / The universal sound of closure. And a canceled stamp is just about the prettiest sight. It's almost love, and sometimes it really is love. (Unless it's a val-u-pak of coupons.) It means someone thought of you for more than the fifteen seconds it took to dial your number and leave the message for you to call them back.
Plus mail is such a good deal.
The postal service is amazing and I love everyone who passed that social-service test."
With post offices about to close across the country, it's hard not to be swayed by a little postal romance. The post office has been one of the most intractable American institutions: the position of Postmaster General predates the Constitution (and was first held by Benjamin Franklin, in 1775). And the post office's unofficial motto – "neither snow nor rain nor gloom of night stays these couriers from the swift completion of their appointed rounds" – dates to the beginnings of Western civilization as we know it, to Herodotus's description of the messenger service in the Persian Empire.
"Than this system of messengers there is nothing of mortal origin that is quicker," Herodotus wrote. That was 2,500 years ago, give or take.
But that was then, and this is now, and today Herodotus would be wrong. Today e-mail is quicker. Faxing is quicker. Telephone calls are quicker. If the marvels of the postal service historically were once about speed and efficiency, they are so no longer. Written communication through the post is languid and unhurried, comparatively speaking.
If there is a ground which to defend post offices today, it cannot be on those ancient terms. If there is a ground on which to defend post offices today, it has to be apart from or against the value of efficiency.
It is also probably pointless to defend post offices in terms of material necessity. You could argue, I suppose, that post offices should continue to exist because certain material items need to get from one place to another, and neither e-mail nor fax nor speed of telephone can effect that transit. (So, for instance, today I went to the post office to mail a shirt to my best friend. That shirt, tangible as it is, could not be conveyed by e-mail.) Even so, if I were a libertarian – if it is not obvious, for the record, I am not – I would argue that free markets in the absence of a national post would respond to the need for material transit. You could always visit a FedEx store, in other words.
So why care about the post office? 
I care about the post office because it remains at least a semi-public common space. When my neighbors worried that the President's health-care plan was the tip of some kind of socialistic, Nazi-style attempt to take over America, they set up shop outside the town post office. They did so, I assume, because they knew that the post office was a common-denominator place, where they were likely to encounter the broadest swath of local residents. Their strategy to some extent undermined their philosophy: even as they bemoaned public strategies, they relied on the centrality of a space supported by public mandate.
And I care about the fate of the post office as a canary-in-the-coal-mine thing. The closure of 1,000 post offices signals the transition into a world where common social spaces are collapsing as private corporations are expanding, a world in which it's hard not to hear Edmund Burke whispering about "sophisters, economists, and calculators."
The post office in Claremont, California, where I live, has a mural all along its ceiling that was painted by Milford Zornes, one of the giants of American watercolor. (He was also, I must say in my partisan way, a Pomona College graduate). The mural was commissioned by the U.S. Treasury Department in 1933, as part of the Treasury Relief Art Project. The project was designed to "give work to artists by arranging to have competent representatives of the profession embellish public buildings."
Although that project didn't by itself transform the Depression economy, it gave Zornes some work – he was paid $96 a month – and it also gave Claremont some lasting and evident public beauty. And as so many smart people have written, there is always something more to aesthetic beauty than just the beautiful surface. Beauty is often inspirational, maybe even sublime. Looking at a beautiful thing can make us see, and see consciously, in new ways.
The country in which the public would support an artist like Milford Zornes to paint something for a local community to own, share, and enjoy together seems far away from this one – except when I go to the post office, and I look at that grand mural.
I notice now that in Erika Lopez's description of the postal service, she focuses so much on the senses, and on what is tangible about mail by post: sound and touch and sight. What I think makes me grit my teeth when I hear about post office closures is the slow decline of a tangible public or community sphere: a public or community that you can see, feel, and hear.
People today keep criticizing the Obama administration because they say they can't see any changes as a result of the stimulus (except for maybe the now defunct cash-for-clunkers program), and they can't see what health-care reform might do for them. I keep hearing the way in which these criticisms lie in the language of the senses, in the language of the tangible. There is no tangible evidence that anything is happening differently in daily life. Government seems abstract and impersonal, hard to access and impossible to touch.
Maybe that by itself is a reason, rather than shutting down those very tangible spaces which still have the aura of common service or common purpose, to think about the value of real public spaces, real places for you to plant your feet and gaze around, or even up.