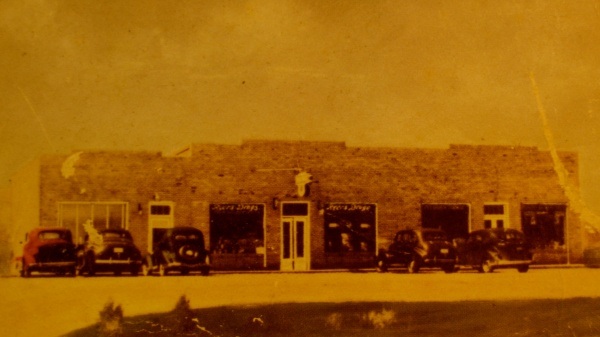 Hamilton, Ontario. The other day I was standing in a cavernous mega-chain hardware store looking for gardening supplies. This was not an easy task because the store, which we can call Triumph of the Drill, had something like 36 aisles, each of which was bisected, making 72 aisles. In addition, there was a full service garage for auto repairs, and an outdoor patio selling mulch and fertilizer, but sadly, no gardening supplies. The complexity of the store was incredible; you'd need a PhD to fully understand it.
The staff at Triumph of the Drill are not much help. As is the norm in retail, the workers are in their teens or early twenties, and they tend to avoid helping the customers. At one point, I was chasing down a young man to ask where a watering pot might be found.
It is normal for middle-class suburbanites like me to complain about help in these places. The ideal is quick, efficient, and convenient; the help is supposed to be obsequious, but fade into the background. It is an impersonal business model and this extends to employment: the workers are paid minimum wage and scheduled as close to forty hours per week as possible without triggering the legally-required full time benefits; they're fired at will and they are generally treated as interchangeable. Of course, they have no loyalty to Triumph of the Drill. I don't blame them.
In fact, what's most noteworthy about these retail stores is how little social interaction there is between customers/workers, and workers/managers. Standing around and jawboning is frowned upon and often impossible. The customers are in a hurry; interactions are supposed to be quick, efficient, and convenient. It's amazing to think of the entire generation that grew up with this retail world as their model of the public sphere and of capitalism.
For me, a hardware store brings to mind something completely different. My family owned a hardware store in the little town where I was born, a family business established by my grandfather and his brother Jack after the war. For a time, there were only three businesses in that town: the hardware store, a grocery store, and a diner. The three of them not surprisingly became the hubs of social life.
People stood around and "jawboned". I remember, as a child, staring up at these pudgy middle-aged men in the sawdusty back room of the store, all of them drinking coffee and commiserating about the issues of the day, while endless cigarettes smoldered in a communal ashtray between them. Husbands, local builders, friends of the family, they often whiled away entire mornings this way. It was not quick, efficient, or particularly convenient. But it was human.
This was, for a time, what civic life and business were in that town: face to face, deeply personal, and slow-cooked. These men worked odd jobs for each other, met at Lion's Club socials, visited on holidays, and wasted a lot of time together. To my knowledge, there was never a single item shoplifted from that store. The kid who worked at the store became the man who worked at the store, and then the owner. Even after our family turned it over to him, he kept our name on the sign.
The town changed around the time I went through puberty, and just as painfully. People who worked for the tech companies an hour away started moving in en masse. With them came a wave of strip malls and condos. Fly-by-night real estate developers found that county government was obsequious, but faded into the background. The little hardware store was soon barricaded in by highways, interchanges, chain stores, strip malls, and cloverleaves. The bank across the street is now a porn shop.
The newcomers did not want to jawbone; they wanted the staff to shut the hell up and get them their damned nails. The store couldn't compete with the large mega chains that could get bulk deals from suppliers. Everything was more expensive at the little hardware store. The local customers gradually died off and were not replaced. The landlord raised the rent until they were forced to move to a very small space in a local strip mall, and then he tore down the oldest building in the town for a chain theme restaurant. Adding insult to injury, the local paper ran an article marking the passing of "the old 7-11" nearby. But, hey, what can you do? You can't stop progress, as the people who benefit from it are wont to tell us.
It's impossible for me to think about the "republic" of old hardware store men in terms of politics. Certainly, their culture was traditional, even a bit old-fashioned, conservative, quietly religious, and all of them voted Republican. They had no cultural affiliation with left wing party politics. Ultimately, while the county Republicans (who controlled local politics at that time,) might have issued some kind statements about the salt of the earth common people who had built the town, the politicians were glad to see these people go. The box stores employ more people and generate more wealth, so why should anyone shed a tear over a bunch of deadbeats in a mom & pop store?
Perhaps even I can't. The hardware store provided a lot of people with very nice lives and then faded quietly away. The family friend and owner eventually died, and the store died with him.
I now live in another town dominated by these box stores. I find, though, that the social life in this town is quick, efficient, and convenient. But without jawboning; that is, without a direct, face-to-face sense of the other people we are connected to; it is less geared towards human life, which is not quick, efficient, or convenient; at least, not when it's worth taking part in. It's like Triumph of the Drill; after a while, you feel a bit superfluous there. In most regards, you are interchangeable and insignificant. The young people I meet couldn't care less about their society. I can't blame them.