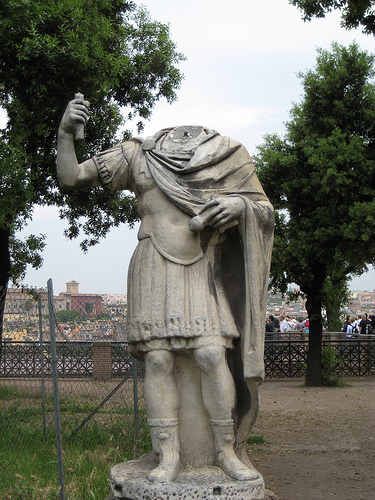 Claremont, CA. Men of Western civilization, take note: David Brooks thinks that you – and he – are done for.
In a recent exchange with Gail Collins, published on The New York Times "Opinionator Blog," Brooks makes an argument that boils down to the following five points:
1)   Westerners think linearly, and in terms of individuals, while Asians think more in terms of context.
2)   Women pick up more social signals than men do.
3)   We live in a newly "networked age of social information flows."
4)   Therefore, Asians and women are better equipped to deal with the twenty-first century world.
5)   Western men had better shed that "linear style we've inherited from the Greeks" and "change and adapt quickly!"
Keep in mind that Brooks calls himself a "moderate conservative," which is a strange thing to do when you make arguments that advocate neither moderation nor conservation. (Someone should tell him that he'd better put his exclamation points away before company comes over if he wants to maintain that moderate-conservative facade.)
The whole argument keeps reminding me of the plot of Blade Runner: a future where the street signs are all in kanji, and the loner white man is running around trying to undo the past mistakes of his kind and figure out what women are thinking in the vast, urban microchip jungle.
Things work out OK for Harrison Ford in that movie, as I remember, so maybe Brooks can take heart.
Or maybe not. Because if we take Brooks as an Emblem of Modern Western Man – I know it's a bit of a stretch, but work with me, here – it seems to me that Modern Western Man's problem might be his inclination to overgeneralize to the point of sounding a bit hysterical.
I've heard lots of ostensibly smart people make arguments like this one lately, and they set my teeth on edge, especially when they somehow involve criticism of the ancient Greeks. Don't be messing with my long-dead Greek boys, David Brooks!
It's hardly radical to say that the intellectual legacy of the ancient Greeks is a legacy of complexity, one which offers many grounds for us – the human "us" that eclipses distinctions of culture or gender – to complicate and add nuance to our conventional understandings of things.
Herodotus, for instance, spends a lot of his History calling into question the extent to which the conventional distinctions between "Greek and barbarian" (or European and Asian) are really meaningful, or even exist. And in The Republic Socrates famously calls into question whether the conventional distinctions between women and men are really meaningful, or even exist.
Those old Greek dudes remind us, in other words, of the need to interrogate precisely the kinds of claims that Brooks is making – to question the argument from its premises to conclusion. In doing so, they help to tone things down, to help us think through our own uncertain times without jumping to inappropriate conclusions. As the political theorist Sheldon Wolin has written, "The archaic forces the modern into self-questioning, slowing the urge to totalize."
Don't get me wrong: I'm not saying that we can only find such intellectual resources in ancient Greek teaching, or in Western thought more generally. But I am saying that it might not be wise to abandon the Western tradition altogether (to the extent, that is, that we can even claim that a self-contained "Western tradition" exists) in the name of change and adaptation, at least not just yet. Not, that is, in an age when even self-proclaimed conservatives are susceptible to thinking that is ungrounded in multiple senses of the word.
For lots of reasons, I'm not sure the call to "change and adapt quickly," exclamation point, is the best one. It's too easy for people who lose their footing to lose their heads.
You should probably take my word for it, especially if you are a man. After all, I do have that feminine insight into social life that allows me to see all the complexity that you boys, like David Brooks, tend to miss.