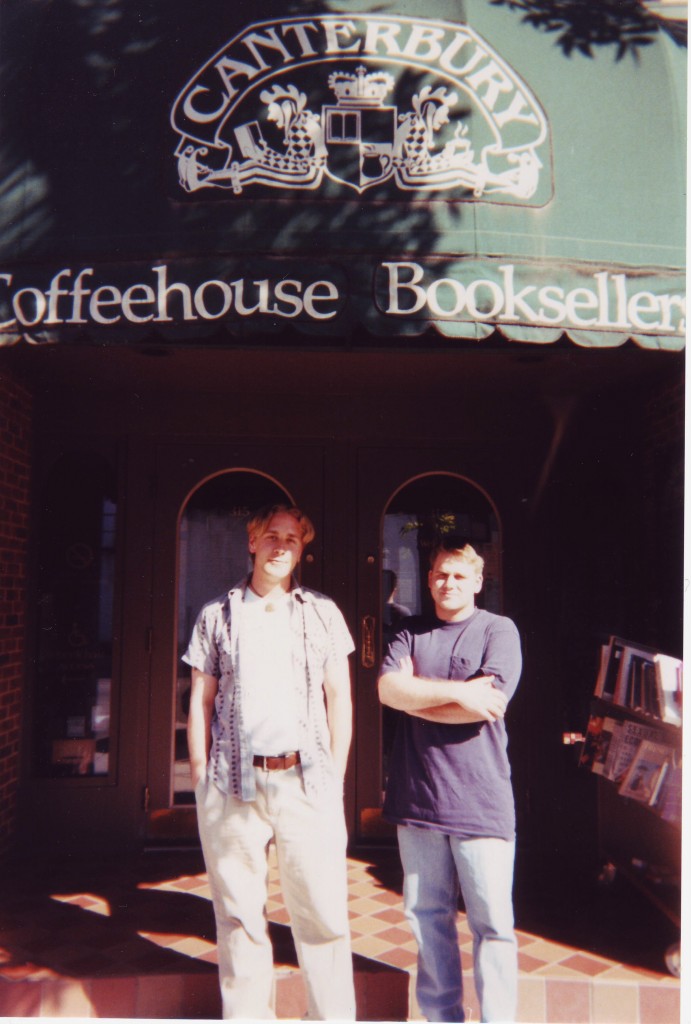 Devon, PA. My old friend and classmate, Jeremiah Chamberlin, writes in to the FPR ombudsman of a new venture he has undertaken to help support, save, or at least treasure, local bookstores.  It has been more than a decade since the massive expansion of Borders Books and Barnes and Noble fueled the inferno of the little local shops that had served as outposts and meeting places of literary culture for decades.  Those two large chains paid painful tribute to such stores by stealing or retiring their best attributes  (e.g. comfortable interior settings that encouraged browsing, lingering, loitering, and sleeping; organized events reflective of local interests; and, of course, knowledgable clerks — a species that seems to have become nearly extinct whether in the grocery store, at the meat counter, or elsewhere) while overcoming what, from an American consumer perspective, was a grave limitation, to wit, limited shelf space and the absence of discount large hot beverages with whipped cream.  This transformation of market and business topography garnered a lot of attention while it was underway, but a sudden silence fell and those times seem almost a dream in consequence of the other concurrent transformations — especially the rise of Amazon.com and the increasing functional illiteracy of Americans young and old — that divide us in 2010 from the 1990s.  Then, Amazon.com was still an unprofitable bet, the internet still novel, and novels still about something other than the cultural effects of the internet (I jest here, somewhat).
That said, the confident positivism of business schools aside, it is in the nature of any historical moment and of any aspect of it to be unpredictable.  Has a certain confluence of unanticipated circumstances made it conceivable once more that local bookstores are something other than a superannuated business model?  Retailers in general have found impressive, if not always happy, ways to adapt in the age of internet sales, while the entrepreneurs of the internet have had to discover, or reconsider, the obsolecense of so called "brick and mortar" businesses in order to make themselves profitable.  On the whole, I think these changes still amount to the destruction of small, locally owned businesses and of the kind of town centers that provide a place for culture and community to take root.  Our natural appetitiveness once again promises to undermine the conditions of our happiness — a conundrum of longstanding in regard to man's love of God but of more recent vintage and more obvious sorrow in destroying the places where we used to live.  The series described below may provide clues to what kind of future we can hope for on these matters.
Jeremiah writes of a new series of interviews with the owners of local bookstores across the country, which he will be publishing in Poets & Writers magazine, and he includes details of a special offer for new subscribers to that magazine:
As a writer, bookstores have always felt like a home away from home. Whether in Michigan, Mississippi, or the left bank of Paris, the moment I walk through the doors of one of these shops I feel content. And welcome. And every time I'm in a new city, the first thing I do is browse the local independent bookstore. You find things in these places that you'd never discover anywhere else, because each store cultivates its own personality, ethos, and point of view.

So, as a lover of bookstores and a former bookseller myself, it's been painful for me to watch these wonderful cultural institutions disappear. It's estimated that in the last 15 years nearly 70% of independent bookstore have gone out of business. True, it's not all bad news–the American Booksellers Association reported that 10 new shops opened between October and December of 2009. However, the sad truth is that this hardly makes up for the vast number of stores that have closed their doors. And with each lost store, we lose not only a place where people can browse for books, but also an important anchor of our literary communities.

In an effort both to celebrate these unique cultural institutions, and also to highlight the important role they play in our communities, I decided to undertake an interview series for Poets & Writers magazine. Starting in the current (Jan/Feb) issue, each one will feature a different independent bookstore from around the country. The first to be profiled is Square Books, of Oxford, Mississippi. And for the rest of the year–and hopefully beyond–I will continue traveling around the country, making my literary pilgrimage to both large stores and small, iconic ones and best-kept secrets, to those that have been open for decades and others that have just started up. And in an effort to build support for the series, Poets & Writers has generously agreed to offer a special subscription rate to the magazine: only $12 for a year.
You can read the first interview here.  You can receive a special discount on subscriptions to Poets & Writers here. That offer ends this week.
Jeremiah serves as an editor of the internet magazine, Fiction Writers Review, which furnishes an impressive number of reviews and essays on contemporary fiction.