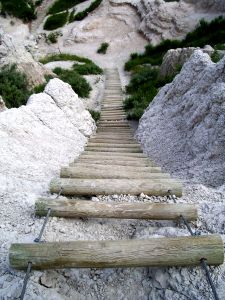 Some men a forward motion love,
But I by backward steps would move
– Henry Vaughan, "The Retreat"
South Bend, IN. I have this dream of one day being able to teach a series of courses on intellectual history in reverse chronological order. The usual practice with such courses is to begin with the ancient Greeks and Romans and move systematically through the Medievals, and from thence onward to the Renaissance, the Enlightenment, and finally Modernity. I, however, would like to start with contemporary problems and issues and move backwards, first into the Twentieth Century, and from there back to the Nineteenth, back to the Enlightenment, the Renaissance, the Medieval Period, and end finally with the Romans and Greeks.
That is, I admit, a rather odd suggestion.  Why would I make it?  Well, the virtue of starting with the Greeks and moving forward in chronological order is that one can show the value of tradition.  One can show the ways in which later thinkers appreciated and built upon the heritage of their predecessors.  It is reported that the Twelfth Century theologian and philosopher Bernard of Chartres used to say that "we are like dwarfs on the shoulders of giants, so that we can see more than they, and things at a greater distance, not by virtue of any sharpness of sight on our part, or any physical distinction, but because we are carried high and raised up by their giant size."  Centuries later, Isaac Newton, among others, was to repeat the same sentiment in a letter to Robert Hooke: "What Descartes did was a good step. You have added much in several ways, and especially in taking the colors of thin plates into philosophical consideration. If I have seen a little further it is by standing on the shoulders of Giants."  Years later, Samuel Taylor Coleridge would similarly write in The Friend: "The dwarf sees farther than the giant, when he has the giant's shoulder to mount on."
The problem with starting with the Greeks and moving forward in chronological order, however, is that it can (and often does) leave the students with a false sense of an inevitable Hegelian "progress" in history.  That is to say, it encourages them to think of the past not as something to be venerated – as a standard to which we must match our meager talents – but as something old, worn-out, and stale that we have left behind as we have "moved on" to greater and greater heights of understanding and accomplishment. In "The Dry Salvages," one of The Four Quartets, T. S. Eliot writes:
It seems, as one becomes older,
That the past has another pattern, and ceases to be a mere sequence—
Or even development: the latter a partial fallacy
Encouraged by superficial notions of evolution,
Which becomes, in the popular mind, a means of disowning the past.
And isn't this our abiding temptation?  By turning history into "a mere sequence," or "encouraged by superficial notions of evolution," into a long ascent or "development," we often turn history into "a means of disowning the past." Homer, Virgil, Thomas Aquinas, Dante: What are they but "dead white males"?  They didn't have condoms.  They didn't have i-pods.  They didn't have genetic engineering. What could people without such things possible have to teach us now?
Quite a lot, as it turns out.  Indeed posing the question this way is to mistake technological progress for sociological or moral progress. Not every scientific and technological advance is matched by an equal degree of wisdom how to use it for man's ultimate benefit and welfare.  If it were, we wouldn't be faced with the dangers of nuclear annihilation or environmental degradation or de-humanizing exploitation by the mass media.  So although Homer, Aquinas, and Dante didn't have i-pods or genetic engineering, they did have in abundant supply something we often don't: wisdom. They understood profound things about the nature of the human person.
Thus my proposal would be not to start with Homer, Plato, and Aristotle and move forward, as though we've left them behind (in our dust) with all our later developments.  Rather I would like to start with a survey of modern culture and then show the ways in which how we live and think today had its origins in the intellectual movements of the Nineteenth Century: with Mendel and Darwin, Marx and Engel, Wundt and Freud, Weber, and Durkheim. Then I would try to show how those same intellectual currents of the Nineteenth Century were, in their own way, reactions and responses to the intellectual problems and questions they had inherited from their Enlightenment and Romantic Era predecessors.  And on and on we would go, further and further back to the foundations of thought, back to the Romans and Greeks, where would find set in clearest relief the fundamental questions that underlie all the later disputes.
It was the Twentieth Century philosopher and scientist Alfred North Whitehead who once remarked: "The safest general characterization of the European philosophical tradition is that it consists of a series of footnotes to Plato."  That may be a bit simplistic.  I would prefer to say that the European philosophical tradition consists of a series of footnotes to Plato and Aristotle.  But then again, I may be biased.  So perhaps the safest thing to do would be to agree with the Book of Ecclesiastes that "there's nothing new under the sun," and say that, by looking at the disputes between and among the Greeks – the Stoics, the Epicureans, the Cynics, the Sophists, the Pythagoreans, as well as the Platonists and Aristotelians – and by reading those in conjunction with the great Greek tragedians Sophocles, Euripides, and Aeschylus, and then comparing them all with Homer's epics, we will find there in outline the same basic questions, the same basic disputes, and the basic same problems that provoke us today.
What is the fundamental nature of matter?  At root, is it fundamentally some kind of "stuff" or is it defined by mathematical formulas?  Read Thales, Anaximander, Democritus, and Pythagoras. Does "might make right"?  Is justice merely the rule of the stronger?  Read Plato's Republic or the Melian Dialogue in Thucydides' Peloponnesian Wars.  What is the nature of the soul?  Read Plato's Phaedo or Aristotle's De Anima. Do diverse cultures share certain moral principles in common?  Read Herodotus' Persian Wars and Aristotle's Politics. It's not that all these different thinkers agree.  Far from it. The point is that they disagree in interesting ways.  That is to say, they disagree in fundamental ways. They disagree on the most basic principles and approaches to the fundamental issues facing mankind.  Where are we from?  Where are we going?  What is the nature and destiny of the human person?  What can we say about the Good, the True, and the Beautiful?  How should such things affect human life?  And what about suffering and death? Is there anything that survives death? What is the point of it all?  In their various approaches to these fundamental questions, the ancient Greeks set in clearer relief the basic positions that lie behind not only our questions and disagreements, but a lot about what lies behind most of the questions and disagreements people have had throughout history.
Reading later thinkers is not unimportant, however, because each age has to face these fundamental questions in different guises.  Aristotle thought Plato's Republic was too "idealistic" and thus unrealistic.  So did Machiavelli, but in a very different way.  Unlike Aristotle, Machiavelli thought that "might makes right" and virtue, instead of being something that bound human passions and desires, was precisely the ability to bring about what one desired.  Virtus was merely another word for "manly strength." Thus for Machiavelli, as so often for us, "manly" was simply taken to be synonymous with "strong" or "powerful" or "capable of acting decisively." That is, of course, one definition of what is to be a "man."  Aristotle would have said "man is a rational animal" and "man is by nature a social animal."  That would be an interesting position to consider in a culture as dedicated to individualism as ours.  But it is only one of many.
Descartes thought that thinking must begin solely with thoughts and knowledge had to be gained deductively, like proofs from axioms in geometry.  His English contemporary John Locke disagreed and declared that thinking begins with experience of the world.  So began a long philosophical dispute between the so-called "idealists" and the "empiricists" in European thought.  It is an interesting debate and worthy of attention.  But it's also not unimportant to note that the basic battle-lines between the sides were already drawn in the debates between Plato, with his philosophy of the disembodied eternal "forms," and Aristotle, who thought the "forms" of things did not exist apart from their embodied existence.
Thus for Plato, to get at the Truth of Things, one must bring one's mind into contact with the eternal forms, such as the eternal form of "Justice" or "the Good," and then decide upon what ought to done given that insight.  For Plato, once we come to understand what is "truly Good," then we can act rightly, distinguishing what is "truly Good" from what is only "apparently Good."  But for Aristotle, all this is too ethereal, too unconnected with the lived experiences of actual human beings.  So Aristotle does not begin with trying to get clear some notion of "Goodness per se," rather he starts out by surveying the world around him – like a scientist – to find out what works and what doesn't.  These are two very different models of prudence.  One, Plato's, begins from the general idea of the Good and tries to apply it to particulars. The other, Aristotle's, begins from the various experiences of the Good one comes across in the world and tries to build up out of those experiences some helpful general principles.  That battle is one we continue to fight out in our own day in the disputes between the ethicists of the Utilitarian sort ("the greatest good for the greatest number") and those of the Deontological sort ("Do what the categorical imperative demands").
And on and on the list could go, showing how the roots of modern debates are sunk deep within the soil of ancient philosophical reflection.  It's not that one shouldn't study the modern debates.  Quite the contrary, I've suggested we should begin with the modern debates.  It's simply that by moving backward toward the Greeks, we can show how our current questions and disputes are in important ways an echo of even more basic questions and disputes that have been going on for centuries. The point of drawing the students' attention back to the foundational issues, then, is not to dismiss the moderns, but to help our students see that, as Aquinas (echoing Aristotle) once remarked: "a little error in the beginning leads to a great one in the end."
A professor I knew used to say to his students: "Look, there's nothing as interesting and alive and relevant as Homer and Sophocles and Plato.  And there's nothing as dull and dry and irrelevant as yesterday's newspaper."  Perhaps what they say is true:  Time will tell where wisdom lies.
—-
Randall Smith is an Associate Professor of Theology at the University of St. Thomas, currently on sabbatical leave at the Jacques Maritain Center at the University of Notre Dame.