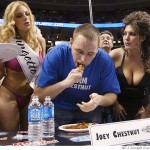 I should have written this piece several weeks ago when the interview with Daniel Menaker aired on the Saturday show of NPR about his new book, A Good Talk: The Story and Skill of Conversation. But as I write, this day may is more appropriate for reflecting on that interview because in Philadelphia, my hometown, a lot of overweight men are gathering, accompanied by scantily clad women, to participate in Wing Bowl, a warm up party and eating contest for Super Bowl weekend. The local sports-talk station, 610 WIP, sponsors the event, which has grown to ridiculous proportions. Rumor has it that the fans who attend – and it packs out the arena where the Sixers and Flyers play – consume more beer than any other event held at the Wachovia Center (and this happens between the hours of 7 and 10 in the AM).
The reason for the propriety of writing during the excitements of Wing Bowl is that morning sports-talk radio is one of the cruder periods of the broadcast day. In order to compete with the Howard Sterns of the broadcast universe, former sports reporters, now radio hosts, need to talk about women and their body parts along with the scores and stats of local athletes. My wife asks how I can, as a good Christian, I put up with such degrading talk and she has a point. But in order to hear the latest about Cole Hamels or Ryan Howard, I explain, I need to put up with discussion of cleavage and thongs. What is a Phillies' fan to do?
Still, readers may be asking, what does this have to do with Menaker and his book on conversation. Well, in his interview with Ari Shapiro, Menaker talked about the physiological effects of a good conversation, that during such pleasant experiences our bodies actually release oxytocin, a hormone that also accompanies nursing and orgasm. Okay, this may not be the way I'd like to think of good dinner conversation. I much prefer Leon Kass' explanations in A Hungry Soul. But Kass is not resistant to discussing the physiological meaning of the way we eat, so exploring the material conditions of good conversation need not offend.
But then the interviewer decided to take the physiological account one step farther and asked Menaker about the evolutionary reasons behind the release of oxytocin. Here I experienced my own physical recoiling from the crudeness of Darwinianism. Menaker explained that our conversations are an outgrowth of primate grooming behavior. Yes, a good dinner conversation is akin to chimps licking fleas off each other because it is a way of bonding and establishing relationships and hierarchies within the group.
Yowza!
Now, I know evolution is a hot button in the culture wars for conservative Christians, and here is one of those instances when the bias of the media for Darwinian explanations seems to be readily manifest if not a tad silly. But rather than jumping on the conspiracy band wagon of exposing the explicit hostility of media elites to Christian accounts of creation and providence, I am tempted more to wonder if NPR would be comfortable with the resting place for such a reductionist account of human conversation.
If a good talk is equivalent to primates grooming each other, then perhaps Garrison Keillor and "A Prairie Home Companion" are the equivalent of the live broadcast of Wing Bowl. I don't think any of the people employed at public radio stations actually believe this, and whenever I hear their fund drives I encounter all sorts of arguments for the superiority of public radio programming. And they have a point. Garrison Keillor represents a higher range of human creativity than sports-talk radio. And the list of public radio's elevated traits could be expanded: classical music and jazz as opposed to top-40 pop, in depth news stories as opposed to headlines every twenty minutes, thoughtful interviews about U.S. politics as opposed to the drive-by shouts of Rush, Glenn, and Sean. NPR has good reason for thinking that its product is about the best on radio.
But can the superiority of public radio really be the result of evolutionary process? Isn't it more plausible that instead of looking to the primates, NPR would be better off locating Garrison Keillor's appeal to all those mammals created in the image of God? Otherwise, I'm left thinking that fat men and hot babes are just as important and meaningful as intelligent authors who write books about the art of conversation.