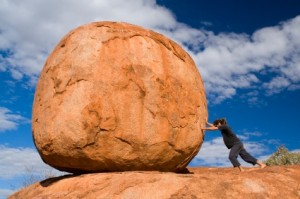 When economic growth finally levels off, what kind of world comes after?  Shall we be unchained from the mad rush for money of the last century?  Or will other but equally chafing chains weigh us down instead?
In 1930, Keynes wrote that "For at least another hundred years we must pretend to ourselves and to everyone that fair is foul and foul is fair; for foul is useful and fair is not. Avarice and usury and precaution must be our gods for a little longer still. For only they can lead us out of the tunnel of economic necessity into daylight."  Keynes has not been the only person to predict that the modern rise in living standards will come to an end, and that a better kind of society will follow.  Marx thought universal abundance would usher in socialism.  And those who predict a running out of resources like oil are predicting a move to more sustainable, and thus more humane, ways of living.
It is these cultural and political aspects of an end to growth that I find most interesting.  For the merely material side of our industrial takeoff has got most of the attention so far.  Even the poorer people in rich countries now have food-filled fridges and gadgets that their great grandparents could hardly have imagined.  And folk elsewhere are catching up.  The modern world has surely inflicted a kind of rat race on us.  But even though the rat is running on a wheel, he is plumper than before.  And free-market types tend to like looking at plump rats.  For both the plump rat who has long been on the wheel, and the gaunt rat just climbing on to it, they dangle in front of him the same lump of enticing cheese: given time, growth will bring him closer to paradise.  Such optimism conveniently distracts from the fact that some rats are fatter than others, of course.
The rise in living standards has been real.  But having more plump rats does not change the fact that modern capitalism has tended to cultivate rat-hood.  This was just Keynes's point about "avarice and usury" going together with growth, at least until growth has served its purpose after a few generations.  So does an end to growth get the rat off the wheel and lead to less rat-hood?
This depends, first, on what we expect an end to growth to look like.  Classical economists of the early nineteenth century, including David Ricardo and John Stuart Mill, predicted that growth would taper off eventually.  Saturation of capital and technical innovation would bring us to what they called a "stationary state."  It would be a society at a higher living standard than before the industrial revolution, but done with its upward trajectory.
Take one scenario.  Suppose, as many predict, that oil gradually runs out over the next two generations, and we are forced into sustainable but expensive ways of generating energy.  If we can no longer "scale up" the world economy, we are stuck with something like a fixed capacity.  The world population is also ageing such that, when it looks more like Japan than like India, the demographic burden will weigh down growth too.  And while there are still many more technological innovations to be wrung out—in energy, medicine, transportation, and the like—there comes a point when they, too, will become less and less frequent.  We are not going to get to a stationary state in the strict sense within our lifetimes.  But I can well imagine the younger end of the FPR audience looking out, in our old age, on a world in which profit rates are low and long term income growth has fallen to a quarter of a percent or so.  Brought down to lived experience, that rate means real incomes from one generation to the next rise by less than 8%.  It is slow enough to feel static from parent to child, more or less.  And the more a society feels like the stationary state, in more facets, then the more the psychological and cultural landscape will look very different from the last two centuries.
Many observers think this could only be a healthy thing.  People who want a fairer sharing out of society's wealth might expect that zero growth means an end to political distraction.  The free-market right has told us for a long time that if another, bigger pie is about to come out of the oven, we need not quibble much over how to cut up the one on the table.  We might have to open up a hard but honest political conversation about fairness.  Deeper critics of the modern world—including many on FPR—take satisfaction from the idea that an end to growth would force people to reassess their priorities in general.  Even something as simple as rising fuel costs would urge us to live and buy more locally.  Communities would get stronger as the rush for money and the excesses of the global market are reined in.  If wealth is more static, maybe we should all be more content with what we have and focus on more human satisfactions.
This vision of an end to growth is appealing in many ways.  And it could indeed happen, if the political commitment to steer events in that direction is solid enough.  But we should not blithely assume that the stationary state will mean such a humane outcome.  Bringing back more independence and dignity for ordinary people is possible only if zero growth disperses power.
But there is a much darker alternative.  What if zero growth just tightens up present concentrations of power?  There have been many societies in history that look like stationary states, and some of them have been quite vast and hierarchical.  China through much of its history was one of them.
And what do we get in a stationary state on a large scale, with institutions that endure generation after generation?  We get the inertia and soft despotism that Tocqueville saw in China and feared would come to the West.  He wrote of "a Chinese novel in which the hero, after many ups and downs, succeeds at last in touching his mistress's heart by passing an examination well."  This might not be the rat race to get ever more baubles from consumer culture.  But it is a rat race of petty hierarchies, status-consciousness, credential-seeking, and obedience to authority.  It is the stuff of stable and complacent élites.  It is the kind of order that one historian of civilisations said the whole world is likely to end up with, based on past experience: "a unitary, authoritarian, bureaucratic, peaceable, élitist, and sterile world state."  Hardly the stuff of FPR dreams.
Part of the reason for this dismal prospect is that a zero-growth society selects for different talents than does one in a heady phase of economic takeoff.  The kind of entrepreneurial spirit that many celebrate in America serves its purpose when an economy is dynamic.  But if you live in a world of bureaucracy and stable expectations, then a very different kind of personality thrives.  I see this in the Chinese education system every day.  China as a whole is not economically stagnant nowadays.  But the norm of how one rises in the world here is not as a self-made free agent.  It is through rote replication of what authority wants, from the university entrance examination to getting a job in the civil service or a state-owned company.  "That is what we were taught" is a frequent refrain among my students, on all kinds of topics.  This is probably a drag now on keeping up with more innovative societies.  But if innovation runs its course, such a more passive temperament might be rewarded all over the world.  It serves self-interest, and those in power love it.
And sure enough, we see it happening already even in the most unexpected places.  There are more and more pre-professional "organisation kids" at élite universities in the West.  I remember a dinner a couple of years ago with some of my Harvard freshmen.  After these generally likable and intelligent youngsters went off for rather too long about investment-banking, I asked them what they would do if they were given a year off and complete freedom.  I was hoping for a chink that might let something break out of the careerist mould.  But the most common answer was about getting one or another credential to advance them in the rat race.  One has to keep up, or get ahead, after all.
To see a harsher version of what this future might look like, take a country that I think foreshadows it today: Singapore.  This city-state has been stuck for two generations in a moneyed soft authoritarianism, with politically infantile consumer-subjects.  Those in power there pride themselves on being a perfect meritocracy, a blend of the modern and the Confucian.  Top scorers on the university entrance exam get lifetime perks, in a way that would make Tocqueville cringe.  And there is a hard edge to it, too.  A few years ago, the teenage daughter of a Singaporean cabinet minister sparked a scandal with a blog posting that told "the sadder class"—those not elevated into the social stratosphere in their youth—to "get out of my élite uncaring face."  Her father's apology hardly went beyond saying that she had to learn more tact.
This kind of future may well come to afflict us, even in parts of the world where it does not now.  Perhaps zero growth will just tighten the screws around ambitions different from the fevered accumulation of wealth, but no less petty or inhumane.  Perhaps ordinary people, rather than regaining a sturdy independence and community life, will lose even the leeway that a society in flux now gives them at the margins.
Or perhaps we can turn things in the more hopeful direction that many on FPR now expect a slowdown of growth to allow.  But doing so will mean taking nothing for granted.  Rather than assuming a more humane world will come of its own accord, we must build the political will to fight for it.  We should also be painfully aware that things are likely to get locked in for quite a long time, one way or the other, once we get there.