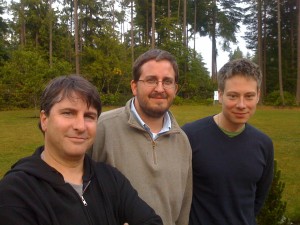 Tonight – on the eve of FPR's first birthday – I received a most interesting note. It reads:
My brother and I enjoy reading the Front Porch website and your columns
in particular.

Nevertheless, there is one small, but important problem. Even
though political websites are probably necessary, the fact remains that
participating in the Front Porch Republic web site, considered seriously,
involves a contradiction with respect to the philosophy of many of the writers
on the site. To the extent that politics could potentially be about
considerations of community and friendship, writing on a website means making a
choice against rooted social interactions and instead preferring an audience
based on considerations of personality, philosophy, or style.

Unfortunately, many people now – by choice, and often not really by choice –
live already uprooted from potentially viable community life. For them, they
cannot choose, or cannot easily choose, to rejoin or strengthen community
bonds. Under these circumstances, it is possible for a website to help people
to realize what they might want, and do not have. So I am not criticizing FPR,
but still, the contradiction exists.

More than actually submitting pieces for publication at FPR, I think I would
very much prefer to actually talk to people who take these sorts of ideas
seriously. In the flesh. Aside from the armies of people whose points of view are grafted to
the political parties, it is sometimes possible here to find interesting and
serious leftists. I like talking to them. But it would also be nice to talk
to people who try to think for themselves, but along other directions. I have
no idea where to find anyone of this sort here. The only people I have met in
here that call themselves "conservative" are nothing of the sort. They think
that "conservative" means

* cackling with satisfaction while talking about "Climategate"
* identifying politics with cults of personality (around Bush, Palin, Obama…)
* ill-defined critiques of the state and blindness to the existence of
corporate power

Any suggestions would be very much appreciated.
This particular reader hails from Boston. Yet, his particular plea must also be true for FPR readers around the nation (and globe). It speaks to me with particular force – I enjoy my "virtual" friendships with FPR columnists, but I live at a fair distance from most of them, and even have yet to meet a number of my fellow authors. Truth be told, I have too few local people to talk with about these kinds of subjects.
To evoke the great Kurt Vonnegut – why not form some granfalloons?
So what about it – could we be the vehicle to form some FPR-ish salons, maybe even the spark to flame some friendships (who knows, even romances)? If you're interested, write to us at rblum@frontporchrepublic.com. We'll see if we can't do some virtual matchmaking. Never let it be said that the internet was entirely deracinating (OK, Peters would say that, but even he drunk-emails me).
And, here's hoping there are some of you from in and around Washington D.C. It's hard to believe right now as we still await the melting of the last of the snow from the recent blizzards, but grilling season is just around the bend…