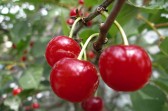 Henry County, Kentucky. 'Tis the season to write about food, isn't it?  July and August bring their welcome excesses of corn and tomatoes, but the fruits and vegetables of spring and early summer have this advantage: their freshness has greater novelty after a winter of stale-imported, canned, frozen and kale.  This time of year it's hard to have a favorite, but speaking for my own family—and with a nod toward the previous nods to asparagus and strawberries–I'd have to say we would cast our collective vote for sour cherries.
I have a long history with the sour cherry, loveliest of trees in bloom but even more so in fruit.  Years ago when I lived in northern Illinois, I was adopted by two families as a sort of eldest daughter/youngest sister, and while it was a struggle, no doubt, to teach me anything, they did what they could–and the lessons on cherries took.  It was Jean Heise who had a cherry tree,  a mature semi-dwarf chock-full every early summer.  We put on old clothes, got out the ladder, picked, pitted and made pie.  (Jean had an excellent German pitter I've never seen the like of in Kentucky, but then she is of German extraction herself and serious about her kitchen equipment.  I have made do when required with a hairpin or a flexible paring knife.  But it was a happy day when I invested in a $10 pitter.)
Gail Fleming did not have a tree, but like me she had Jean, and it was Gail who introduced me to pickled cherries.  Her recipe for "Dutch pickled cherries" is one I still use and comes from The Joy of Cooking, and this sweet pickle is not only very good, it is a food you will rarely (or never) find in a store or even a farmers' market.  I have restored a friendship with the gift of pickled cherries—you try them, and see.
After I left Illinois to return to Kentucky I bought a small yard in Louisville with the mortgage-required house attached to it.  That first spring my quarter acre was just grass, sunshine and potential, with the vegetable beds barely laid out, when one evening a friend stopped by to bring me a cherry tree as a gift.  He had just planted an orchard at his farm, and had ordered an extra tree for me.  At the time I believed it was a thoughtful act of friendship, but looking back I can see it was the start of our revived courtship.  My house was eventually sold and the next owner obtusely cut my cherry down, but the farm orchard my husband planted remains, and its trees are the ones I pick from now.
And now cherries are a family affair–at least in the eating.  Fortunately the fruit does not come in all at once, but close enough; come the last of May or first of June I know for a week or so any extra hours are going to be devoted to fruit management.  We have two trees, a Montmorency (which is still young as it had to be replaced a few years ago) and The Great Unknown, whose variety is noted somewhere amongst my husband's farm papers, only we can never find where.  This latter tree bears a remarkable amount of fruit, reliably and without spraying, and is our greatest source of cherry wealth.  While I usually get some nominal help picking and even more nominal help pitting, these are jobs I typically enjoy in luxurious isolation–yet once the pie is baked the bowls, spoons and slavering maws appear magically in the kitchen before I've even turned the oven off.  I know just how the Little Red Hen felt.
But these maws are kin, and they are grateful, at least, and everyone understands the essential lesson:  that while there is a time and place for all good things–for rhubarb pie, blueberry pie, apple, pumpkin and chess—there is nothing more beautiful than a latticed cherry pie, and nothing better to eat. (Just half a cup of sugar to four cups of cherries–my Great Unknown cherries, anyway.  Yours may need more, or less.)
The pie usually marks the apex of our run.  Then, every year, when I have pitted and froze and gone about my errands with stained fingers and another ruined shirt, there comes a point when I am thoroughly tired of cherry-picking, and the fruit is starting to turn anyway, and the birds come.  When I first moved to the farm I thought the birds would beat me to the crop before I got any, but apparently they prefer their cherries extra piquant.  When the fruit turns dark red and some of the riper cherries start to mildew, and I give up, leaving untouched all the high branches I couldn't reach standing on the old swimming ladder, it's time for the blackbirds and the pileated woodpecker to take their turn.  Some years it seems like they strip the tree in a day, but usually it's  more like three; a riotous long weekend of pickling themselves with cherry cordial on the stem.  I always mean to stay and watch them crookedly fly home.  But I generally only catch them quaffing in the early morning when they are still sober, as I weed the tomatoes and check the potatoes for bugs; later in the day I am too busy outside the garden with all the chores that had to wait during cherry week.
And then suddenly the tree is bereft, its hundreds of neatly cleaned cherrystones like little dark lanterns strung along the boughs–all that is left of cherry season.