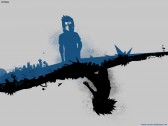 We are once again in the silly season when small-Government proponents strive desperately to move to Washington and incumbents pretend to be outsiders. Anti-Washington sentiment is waxing as we build to the mid-term elections, with everyone promising to tilt at the windmills of federal spending, and no-one suggesting how any substantial cuts might be effected.
We love to blame Washington and its politicians, but our hatred of D.C. is really only a projected form of self-loathing. Washington is simultaneously the locus of our fears and our expectations: we want to be left alone, but we want to be taken care of. We want government out of our lives, but we want it to solve our problems. We insist on more local solutions, but grow immediately impatient when solutions are not immediate. We look with fear and longing on our President – no matter whom – as the one we despise and the one we adulate.
Consider a few sentences from this Sunday's Washington Post, reflecting on some of the most recent polling data (giving rise to conclusions that sound like an old, familiar song):
Americans have a more negative view of government today than they did a decade ago, or even a few years ago. Most say it focuses on the wrong things and lack confidence that it can solve big domestic problems; this general anti-Washington sentiment is helping to fuel a potential Republican takeover of Congress next month.
Cue the Tea Party. At least until we consider some particulars:
But ask people what they expect the government to do for themselves and their families, and a more complicated picture emerges.

A new study by The Washington Post, the Henry J. Kaiser Family Foundation and Harvard University shows that most Americans who say they want more limited government also call Social Security and Medicare "very important." They want Washington to be involved in schools and to help reduce poverty. Nearly half want the government to maintain a role in regulating health care.
In other words, we want government to be out of our lives – and that it solve most of the problems we face as a society. We lack trust in its ability to do so, but have plenty of umbrage to display when we perceive any lack of government efforts on our behalves. Networks switch instantaneously between segments on "The Fleecing of America" and sanctimonious tut-tutting when a fallen swallow lacks a government program.
So, we now careen between the two parties, the one promising to solve our problems, the other promising to get Government out of our lives. We love and hate them both: two years ago we longed for a savior to deliver us from Bush's incompetence and put the nation back on the footing of hope and change; today we fear socialism and long for morning in America.
Our hatred of Washington is a hatred of ourselves, above all for our contradictory longings that we refuse to face. We pine for a time of accountability and responsibility, but fear the burdens of sacrifice and self-government. We ache for a government that can make America great again, and suspect that any effort in that direction will further impoverish subsequent generations. We long to be self-sufficient, but fear a world without safety nets.
Anti-Washington fever will rise to dizzying heights in coming days. The chattering classes will conclude that Americans have a firm idea of their destiny, choosing one party over another in coming days. Few will understand that the source of our loathing will be the division within ourselves. The divided government we will embrace is the division in our souls: two versions of democracy. In the one version, democracy is rugged individualism. In the other, democracy is a gentler concern that no one should be left behind. Both are fantasies born of bad modern anthropology. Our country oscillates between two fantasies of democracy – a downward spiral that is self-perpetuating and mutually reinforcing. The election is no more than a radar blip in the erosion of self-government. The more deeply we hate ourselves, the louder our denunciation of Washington will resound. The din of self-loathing will soon be deafening.