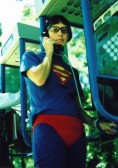 A friend and I made the journey to a neighboring city to see Davis Guggenheim's Waiting for Superman while it was still in limited release.  After a mildly frustrating year teaching in a failing public middle school, I was eager for a new focus on questions of public education.  But six weeks later I fear that what could be the beginning of a meaningful conversation will instead become merely another list of easily-forgotten policy recommendations.
Guggenheim's latest crusade, like his 2006 apocalyptic An Inconvenient Truth, attained a rare level of attention for a documentary film.  A review of radio morning shows (with a survey population scientifically selected by the pre-set buttons on my car radio) found the film promoted not only on newstalk and political talk stations but also on Rock Top 40, Soft Rock and Country music stations.  President Obama invited the children in the movie to the White House.   The companion book is a New York Times Bestseller.  But while the buzz surrounding Waiting for Superman is reminiscent of the Inconvenient Truth hype, Guggenheim seems to have outdone himself when it comes to getting people on the bandwagon.
Many people remained unconvinced by Inconvenient Truth despite Al Gore's insistence that "this is not a political issue – it is a moral issue."  As environmentalists continue to claim consensus, both the immediate response to the film and the more recent exposés of some of the data sources demonstrate how unfounded such a claim is.  Waiting for Superman seems, thus far at least, to be a different story.  The same people who scoffed at Inconvenient Truth for alarmism laud Waiting for Superman for its "honesty."
Indeed, apart from the actual teachers unions (whose defensiveness is understandable if not excusable) there have been few objections to Guggenheim's call to action.  And even those who protest do so rather weakly, whining about Guggenheim's "endorsement of corporate charter schools" and "drum-beat of attacks on teachers as the first and really the only problem." [1] They gripe that in comparing public schools to charter schools Guggenheim focused only on the "best of the best" charter schools – that many charter schools aren't doing better than public schools.  But this is a point Guggenheim concedes upfront.  Nor is it relevant to an argument, not that all charter schools are equal successes, but that too many public schools are equal failures.
For the most part however, the film and the critical response to it suggest that here, for once, is a problem we can agree on with a solution we can rally around.  On one level, this is praiseworthy.  It is to the credit of Guggenheim's earlier critics that they do not dismiss his work out of hand because he is "on the other side."  And Waiting for Superman offers valuable publicity to problems that should have been addressed long ago.  But even where there is much to praise, there is value in qualified enthusiasm: in remembering the difference between embracing a specific remedy and lauding that remedy as a panacea for our educational woes.  It would be unfortunate if Waiting for Superman serves only as a lobbying tool rather than as a valuable piece in an extended conversation.
Such a conversation could begin (so long as it does not end) by considering Guggenheim's proposals.  The most disturbing images and statistics in the film focus on problems created by teachers unions.  And indeed, the story Guggenheim tells is bleak.  It's a story where tenure comes easily, where hard work goes unrewarded and laziness goes unpunished.  The movie claims that, annually, about 1 in 57 medical doctors and 1 in 97 lawyers lose their licenses for malpractice while only 1 in 2,500 unionized teachers lose their credentials.  It portrays, through clever graphics, the "lemon dance" conducted by districts every year as bad teachers are shuffled from one school to another, and shows footage of the "rubber room" in the state of New York where teachers awaiting hearings are paid full salaries to do . . . nothing.
Rick Ayer's argument, quoted earlier, that Waiting for Superman portrays teachers as "the first and really the only problem"[2] is, in fact, a reversal of the film's repeated assertion that good teachers are the real solution.   And it is difficult to assert that the film promotes low pay for teachers when Guggenheim describes DC Public School Chancellor Michelle Rhee's proposal to increase teacher pay in exchange for giving up tenure.  A six figure salary is hardly a raw deal.  But, the film laments, the union wouldn't let this proposal come to a vote.
Teachers unions respond that it is unfair and dangerous to reward teachers based on students' performance on standardized tests when "teaching to the test" is itself a problem with our education system.  This is among the more valid of the unions' objections, but it is not exactly an insurmountable problem.  Teachers evaluations could include any number of standards besides test scores – peer evaluation, student performance on locally created and administered written or oral tests, classroom observation time, etc.  Having worked in a public school, I can assure the reader that co-workers (and students) know exactly which are the good and bad teachers.  If we're going to reform the union system we can surely reform the evaluation system as well.
Waiting for Superman's campaign against the unions is strong – even damning – but the viewer would do well not to embrace the message of the whole film on the strength of one argument.  It is far easier to rally round a battle cry than to examine underlying assumptions, but if we neglect these, reform becomes simply reaction.  In the opening scenes of the movie, Guggenheim is frank about the purpose of his crusade: we need to fix public schools, he argues, so that those of us who feel guilty driving our children to private schools can once again embrace the ideal of public education.
This mission becomes clear if we examine the actions Guggenheim hopes to inspire through the film.  The website offers a checklist.  Action items include "support great teachers; write your school board . . . Demand world-class standards; write your governor or candidates . . . Volunteer & Mentor (in a local school) . . . Donate (to a local classroom)."[3] Through such recommendations, Guggenheim remains true to what Ayers calls "an education based on the democratic ideal that the fullest development of each is the condition for the full development of all."[4]
Perhaps this "democratic ideal" explains, in part, the film's complete silence on what seems an obvious factor in the success of charter and private schools: self-selection of the student body.  Even in tuition-free charter schools, families must take some initiative to enroll students.  This almost guarantees students from families that value education.  Good public school teachers know the frustration of calling parents who never respond, or who offer trite excuses when they do respond.  Some of my students had parents who can't be bothered to check their child's homework.  Some lived with older teenage siblings who had no idea how to motivate a younger teen.  Despite their failing schools, the students in Guggenheim's film all have one asset few students in my school could boast: concerned, proactive families.
This is an uncomfortable problem for staunch defenders of public education because it challenges a historical promise of universal public education. Since the early days of Progressivism, education has been offered as the answer for social reform.  But we face a problem of causation.  It is precisely the students from families most in need of "reform" that are least able to benefit from their education.  Our conversation needs to recognize that the role of the teacher requires the support of the family, and to include the broader issue of decline of the family in modern culture.
Guggenheim admits to driving his children past public schools on the way to private schools because he is not willing to sacrifice them to a failing system.  But what if reforming teachers unions fails to "fix the system"?  Do we sacrifice education for equality?  Or should we increase the quality of education for some through increased school choices even if that means an unfair disadvantage for those without family or whose families simply don't care?
Guggenheim doesn't seem to think so.  Waiting for Superman looks to the accomplishments of certain charter schools, but sees charter schools as a model for public schools rather than as an alternative to them.  Thus, the viewer may be outraged by the statistics about the teachers union, but she is moved to tears by the devastated faces of the families who lose the charter school "lottery."  Guggenheim does not suggest that we need more choices for parents so much as that we must eliminate the need for choices through reform.  "There is no single solution to fixing our education system," claims the film's website, "but there are steps you can take to help ensure that every child gets a great education."[5]
Such a claim, however, assumes a common definition of a "great education," which, in terms of both means and ends, is precisely the most significant piece missing from most debates about education.  The film describes a good education as one which prepares students for the high-tech jobs available in 21st Century America.  A few union supporters have objected – and I think many Front Porch Republic readers would agree – that the purpose of education is much broader (if not completely different than) vocational training: that it is fundamental to the growth of the child, not as an employee, but as a person.  There is and will be disagreement over what this means.  It raises questions about the relative value of community and cosmopolitanism, virtue and tolerance, individualism and the common good.  This conversation may prove much more difficult than any debate over a specific policy proposal.  We would like to think we already know why we send our children to school for the most significant portion of each day.  However, it is not a question we can afford to ignore.  Certainly, we cannot measure the success of education until we understand the purpose of education.
Clearly, the real conversation and controversy begin precisely where Guggenheim leaves off.  If we expect the proposals offered in Waiting for Superman to "fix" American education, the project is be doomed before it begins.  But if we are willing to engage in a conversation that cuts to the root of our ideas about education, we can measure success realistically – looking for improvement rather than perfection.
---
[1]
Ayers, Rick. "An Inconvenient Superman: Davis Guggenheim's New Film Hijacks School Reform."
Huffington Post
. September 17, 2010, 
http://www.huffingtonpost.com/rick-ayers-/an-inconvenient-superman-_b_716420.html
[2] Ibid
[3] Ibid.
[4]Ayers.
[5]"How You Can Help: Take Action," last modified  October 15, 2010, http://www.waitingforsuperman.com/action/page/what-you-can-do