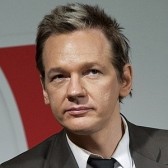 Louisville, Ky. As the editors at Time pondered who would be given the honor of Man of the Year, perhaps the Swedish sexual assault complaint against Julian Assange tipped the scales in favor of Facebook's Mark Zuckerberg.  But there is one title Mr. Assange has earned this year without fear of any competition.  Hands down he wins the contest for the Man Without A Place.
He is Australian, of course, as his mother is.  But it is part of his past, his myth-in-the-making, and–till his recent appearance in British court–his occupational necessity that he does not live anywhere.  As a child he moved dozens and dozens of times, and lived in hiding from a stepfather for five years.  As an adult the arc of his travels has only widened, and though he remains an Australian citizen, earlier this fall he sought legal residency in Sweden (rejected, though now Sweden wants him on different terms).  In early November Mr. Assange told a European television station he was hoping for political asylum in Switzerland, though his British lawyer now denies any plans to do so.  In late November Ecuador's deputy foreign minister offered to welcome him there, an offer quickly rescinded by President Rafael Correa.  As for his home country, in Australia Attorney General Robert McClelland briefly considered cancelling Mr. Assange's passport, before deciding he would be easier to track with it.
In British court for a hearing on the Swedish extradition request, Mr. Assange was asked for his permanent address.  He gave a post office box.  That reply is both typical of a man who believes rules should never apply to him, and likely true; he has had (as far as we know) no regular residence for a good while now.  He even travels mysteriously.  We may have to wait for his biography to discover how he got into Britain this fall; the lawyer representing Sweden in court noted that the U.K. has no record of Mr. Assange's entry.
Mr. Assange worked on the Apache helicopter video (which showed the killing by American soldiers of several people in Iraq, including two Reuters journalists) in Iceland, holed up in a house under the pretext of observing the eruption of Eyjafjallajökull.  He has worked similiarly in other countries, and he told the New Yorker that he once spent two months in a room in Paris without once leaving it.  His colleagues simply fed him where he sat.  Admire him or despise him, Mr. Assange has reached a point in which his purpose has made him watched enough and paranoid enough and driven enough that any particular place on this Earth is only a place to hide and work, not a place to live.
But if he is uprooted he is not unplugged, and it seems he has spent enough of his life tied to a computer to be hobbled without it.  In jail in Britain he asked to be given one to use in part because he has trouble writing by hand.  As a poster boy for the technological paraplegic, he could hardly be bettered.
Perhaps, for Mr. Assange, the victims of injustice had faces once.  But listening to what he says today it appears that his love of justice is far larger than the love of any individual country or person.  It is an abstraction, and justice in the abstract is an inhuman thing.  It is the letter without the Word.  And I say that because whatever you think about the ideal of transparency in government, or the morality of leaking classified documents, the volume of what WikiLeaks is releasing to the world has made carefulness impossible.  That means at some point it will be the people of WikiLeaks who create a victim.
Mr. Assange realizes this, as the New Yorker profile makes clear.  When reporter Raffi Khatchadourian asked Mr. Assange about the morality of releasing the Social Security numbers of certain individual soliders, enabling them to be identified, Mr. Assange replied "that some leaks risked harming innocent people–'collateral damage, if you will'–but that he could not weigh the importance of every detail in every document."  From a man who titled his edited version of the Apache video "Collateral Murder," that is quite a thing to say.
This is an ugly business, and there is plenty of ugliness on all sides.  Those American commentators who are calling to have Mr. Assange neutralized, garrotted or otherwise assassinated are hurting their country fully as much as Mr. Assange's revelations are.  But Mr. Assange reminds me a bit of John Brown, who a hundred and fifty years after his death also remains a hero to many.  Brown, too, had a cause that was much larger than any individual.  And so it was inevitable, perhaps, that the first victim of the raid on Harper's Ferry was a free black man.  His name was Hayward Shepherd, but we don't remember that today.  We just call him Collateral Damage.