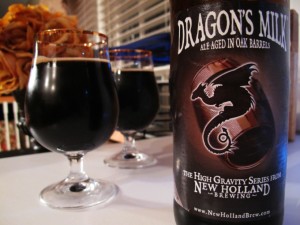 Holland, MI
Most "beer ranking lists" have Michigan somewhere in the top 5 of best beer states. I don't need a list to tell me that I already know Michigan has an embarrassment of riches on this score, and it matters not to me whether it's better than California or Colorado – only that it's better than Ohio.
Michigan's breweries are well spread throughout the state, but most connoisseurs would agree that the motherlode is in the bucolic western part of the state. Anyone making the drive up the lakeshore from South Bend or Chicago might want to start their beer journey in the town of Sawyer, home to Greenbush Brewing Company. Like many brewpubs, Greenbush repurposed an old building, in this case a modest brick structure that had once been an auto parts store, then again a laundromat, and put it to better use. I've not had many of their beers, but the "Retribution" Belgian ale was very good, and I highly recommend their "Brother Benjamin," a double-IPA with a deep maltiness. I'm told but have not confirmed that it's run by graduates of Calvin College. This will not be held against them if the beer is good.
Farther up the coast our wanderer happens upon the town of Saugatuck. Again, not far off the expressway, is another low-profile but very good brewpub, this time housed in an old metal warehouse, the exterior of which is an eyesore. The Saugatuck Brewing Company is, however, quite nice on the inside, and its array of beers make it a must-visit.
The "Oval Beach Blonde" is probably their best known beer. It's a light ale that is best consumed on a hot summer day. My stout-loving friends are very fond of the "Neapolitan Mile Stout" which, as the name suggests, has a delicate creaminess without some of the burnt astringency I associate with stouts. It's nowhere near as robust as the creamy but big "Darker Than Your Soul" stout. The "Bonfire Brown" is a good, solid table beer with a rich complex of malts, while "The Reverent Monk" is a very good Belgian triple. The food in the pub is quite good, mostly burgers and sandwiches, with a surprisingly tender brisket available.
Another ten minutes up the coast brings our thirsty traveler to the magical town of Holland. Not by coincidence Holland is the home to Hope College and one well-known and two lesser known breweries. As it turns out, beer brewing in the fraternities seems to be how Hope best prepares students for lives of leadership and service in a global society. On the north side of the campus, in the old Vogelzang Hardware store, with its brick walls and tin ceiling, is the New Holland Brewing Company, one of the best known breweries in the state. 
Perhaps I've had too many of them, but New Holland's beers don't catch my fancy. They're not bad, they're just not special. Long-time tasters swear the quality has attenuated as NHBC got bigger and more corporate. The mainstays are pretty unexceptional, while their specialty beers are often too clever by half. Any visitor should stick with the high gravity series, particularly the exceptional "Dragon's Milk," which is as good a bourbon-barrel stout as you'll find anywhere. I'm also very fond of "Pilgrim's Dole" and "Black Tulip," two rotating taps in their high gravity series. NHBC has outside seating for warmer days and a pretty diverse menu, from which the chili is the standout. Visitors may want to avoid Wednesday nights after 9 as this is "Stein Night," where the place is crawling with Hope students filling their 60 oz steins for $4.
Two doors down in a contiguous classic brick building stands Our Brewing Company. While they don't serve food, they'll allow you to bring it in (or have it delivered). OBC takes a very experimental approach to their beers, serving a peanut-butter cup stout and on one occasion having gunpowder as an ingredient in one of their stouts. I like the "Careless Whisper" and "Centennial Park" IPAs, and the visitor ought to try the "Dutchtown Brown" as well. My son is a fan of their Coconut Porter, which is a smooth porter without the burnt overtones, but the coconut is too forward for my tastes. (NB: Right next door to OBC is Hops at 84 East which has 70 taps and is worth visiting.)
On the north side of town, over the bridge that spans the point where the Black River empties into Lake Macatawa, in a strip mall, one will find Big Lake Brewing Company. It's a simple place – again, no food – but has an array of beers worth trying. The "7Cs" IPA and the "Leroy Brown" (this is not named, to my knowledge, after Calvin's president)  ought to be sampled.
Continue north on Butternut, out to Lakeshore Drive, and enjoy the beautiful shoreline on your way to Grand Haven. Your first stop there will be Oddside Ales, also in a charming old brick building in the middle of the downtown area. I'm not a fan of citrusy beers, but those that are appreciate Oddside's "Citra" ale. The tasty "Mayan Mocha Stout" has the character of a molè, deep chocolate flavors laced with spicy jalapeño. The "Fat Bottom" IPA is a solid winner.
Just up the street toward Spring Lake is the transformed warehouse that is now Old Boys' Brewhouse, which serves up some of the best food of any of the brewpubs. Named after the owner's chocolate lab, there is a definite dog theme to the place, but the beers are not dogs. The "Dogtail IPA" and the "Magnum Breakfast Stout" both deliver a wallop of flavor, and the "Old Rabble Rouser" is a very good barley-wine, one of my favorite types of brew.
Our drunken traveler will head east toward Grand Rapids, the first stop being The Mitten Brewing Company, which has the distinction of the best repurposing of an old building. The owners painstakingly transformed an old Victorian-era firehouse into a very attractive eating and drinking environment. It's also unabashedly dedicated to the Detroit Tigers, paraphernalia of which dominate the decor. Like almost all other West Michigan brewpubs, The Mitten locally sources its ingredients whenever possible (some of the larger ones have taken to growing their own hops in native soil). They don't have a particularly strong selection of beers, but "Dock's No-No," a double-IPA, is the best of the lot. 
Heading eastward will bring you to the crown jewel of Southwest Michigan's breweries: Founder's. Also owned and operated by former Hope students, Founder's is located in a large brick structure on the southwest side of Grand Rapids' revitalized downtown. It has a nice outdoor seating area, which is needed because it can get very loud on the inside where patrons sit on picnic benches in the cavernous area. There's nothing special about the food, but one doesn't go there to eat, one goes there to sample some of the biggest, boldest, and in-your-face beers you can find anywhere. There is no such thing, in my experience, as a bad or indifferent Founder's beer. The Bastards, either Dirty or Backwoods, are big, robust ales that have great complexity and mouth-feel, and the "Devil Dancer" is a terrific double-IPA. Beer enthusiasts will wait all year, and often hours in line, for the limited release of one of the most anticipated beers in the country, the "Kentucky Breakfast Stout." In West Michigan, "KBS Week" is a big deal, with a website dedicated solely to informing patrons when and where tappings will occur. Having had KBS on a couple of occasions I can confirm that it's worth the hype. (A local restaurant in Holland tapped a half-keg of KBS that they served with housemade donuts with a bacon-cream filling and a maple glaze – yeah, they went well together.)
Less than a mile away sits the Grand Rapids Brewing Company, but in my judgment there is nothing special about the beer there. So you'd be well-advised to head up Wealthy Street to Brewery Vivant, another offering by former Hope students housed in an old funeral chapel. The food tends toward the gourmet – delicious but a bit pricier. The beers tend to polarize people: some love BV, others, like me, have never really been blown away by their beer, although "The Undertaker" is quite good. If you like session beers, "The Farm Hand" is very popular.
Heading to the north side of town one will find, if you're lucky, the aptly named Hideout Brewing Company. It is a proverbial hole-in-the-wall, but has an extensive beer menu and a very, very limited food menu (think hot dogs and popcorn). The Jester and I have been there a time or two and have enjoyed the wide range of beers as well as the aroma of roasting barley. The "Gangster IPA" and the "Belgian Triple" should be part of your sampler. Not far from Hideout is Perrin, another must-visit on your journey. The building leaves a lot to be desired, but the beers are unequivocally good. Lots of people love the "Grapefruit IPA," and those who like strong coffee flavor in their ales will enjoy the "Kona Brown." I like best the "Quadwood," a big Belgian quad, the "Black Goat," a dark lager with lots of roasted flavors, and the "Rye Wine."
There are other breweries in Grand Rapids, but the discerning taster will at this time head south for Kalamazoo to sample the beers at the much ballyhooed Bell's Brewery. Hard as it is for the reader to believe, I've never been to their brewpub, an oversight I hope to correct soon enough.But I have sampled their beers. I've never understood the hype over Oberon. I suspect the orange slice did for that beer, a light summer wheat ale, what the lime did for Corona. The "Two-Hearted Ale" and the "Third Coast" are both fine, even very good, pale ales. The "Best Brown" is a solid brown ale, and the "Expedition Stout" is a must drink.
Not content with simply having as fine an array of microbreweries as can be found anywhere, the good people of West Michigan have begun a brewers co-op. As they tell the story: "A co-op is an autonomous association of people who voluntarily cooperate for their mutual social, economic, and cultural benefit. In our case that mutual benefit is beer. High Five Co-op Brewery is a democratically run, member-owned and operated cooperative. We are working together to form Michigan's first co-op brewery in Grand Rapids, MI. Our mission is to start a brewery that is produces amazing beer while operating on the cooperative principles of democracy, equal ownership, non-discrimination, environmental consciousness, education, living wages for workers, and concern for our community."
Sign me up and tip my glass.

Next: The rest of Michigan