E.B. White allowed that Thoreauvians are men who hate compromise but have compromised; they love wildness but have lived tamely. Perhaps this was sometime a paradox, as the melancholy prince who was too much i' the sun once put it, but now the time gives it proof.
Consider, if you will, how much our default condition—that is, our relation to the world as we found it, the world we were habituated to long before we became conscious of it—is characterized by compromise and hypocrisy.
I was habituated to automobile travel long before I took the Ed Abbey view: that the automobile is a "bloody tyrant." But I remain, as others who agree with me remain, enslaved to this bloody tyrant. We remain enslaved to something allegedly meant to be our servant, something we were supposed to be the masters of. (Most industrial goods, it turns out, were meant to become necessities.) There's a myth that explains the conversion of servant to master, though it can't be trimmed down to 280 characters. Try it, and it will cease to be the myth it is. Mr. Stewart has elegantly reminded us of this. He has resurrected the McLuhan doctrine: the medium is the message.
("Myth," I should add, is not a synonym for "falsehood," as the journalists and sociologists want us to believe. A myth is a delivery system for truth.)
I for one would like to reduce my dependence on the automobile and I think I should reduce that dependence. I believe that I should undo much of what was done to me by an unconscious habituation to the world as I found it.
But for me and people of my generation—and also for others who are much younger—social media, which, I'm convinced, should be called "anti-social media," is of a different order from the automobile: it wasn't part of the world as we found it. It wasn't a feature of the world we were habituated to long before we became conscious of it. What it is—what it is really—is sometimes difficult of description and definition. I call it a bitch that got over the wall, she and her subsequent teeming issue now calling to mind the sentries at the gates of hell as Milton imagined them:
The one seemed woman to the waist, and fair,
But ended foul in many a scaly fold
Voluminous and vast, a serpent armed
With mortal sting: about her middle round
A cry of hell hounds never ceasing barked
With wide Cerberean mouths full loud, and rung
A hideous peal: yet, when they list, would creep,
And kennel there, yet there still braked and howled
Within unseen.
Which means, I suppose, that we who are mad to have all this anti-social media are like Satan himself attempting to pass the sentries: "Whence and what art thou, execrable shape," he asks,
That dar'st, though grim and terrible, advance
Thy miscreated Front athwart my way
To yonder Gates? through them I mean to pass,
That be assur'd, without leave askt of thee.
But what I don't understand is why more grown-ups didn't, and now don't, have the capacity to say "no" to the evident nonsense of Facejob, Twatter, DinkedIn, and the like. This remark is not meant to imply that no good can come of them. Clearly some good can come of them. A swamp can produce (St. Thomas would call it potential oboedientialis) the face of God; the earth can open and bud forth a Savior. But is anyone seriously going to look me in the eye and with a straight face tell me that the good outweighs the bad—or even equals it?
Consider that Mark Zuckerberg, as a nineteen-year-old sophomore in college, invented something (or stole it, depending on how your read the evidence) to pander to sophomores in college, specifically to their capacity for distraction and their susceptibility to narcissism. And now pretty much everyone, apparently equally susceptible to distraction and narcissism, is behaving like distracted narcissistic sophomores. Pretty much everyone on anti-social media (allowing, of course, for the extremely rare exception) is behaving sophomorically. As the users like to ask—in that word-starved shorthand of theirs—WTF?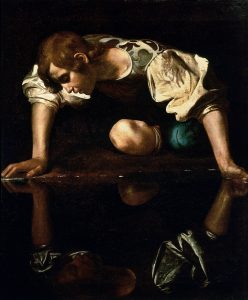 And since I have invoked Echo's beloved, I may as well keep the string of vitriol going and let fly at the very pool of Narcissus itself—namely, the "smart phone," which now covers the goodly Earth like paint and black pavement. Have you seen how people with these pernicious devices behave? And you want to be like them?
Nor can I leave aside the promiscuous use of "smart" here, nor its misapplication in "smart classrooms." In the technological hell that these clever little poetry-starved predators out in Silly Con Valley have sold us, any insistent use of "smart" is a transparent attempt to fend off the more appropriate term, which is "dumb." Smartness, you may have noticed, is not a salutary fragrant breeze issuing from the power source port of the mobile [de]vice. The smart phone is spreading the opposite of smartness. No one is better at directions because of GPS. No one's memory has been improved by another gig of RAM. No one is better at spelling because of spell-check. The new thing usually evicts the old thing (though it sometimes exists alongside the old thing, as Mr. Stewart wisely and charitably reminds us); but when the new thing does evict the old thing it also evicts, as often as not, the knowledge and know-how that went with the old thing. And when the bill for that loss comes due, as eventually it will, the cost of it will prove to be more than we can afford to pay. Mark me.
I have vented enough spleen to come to the one thing I really want to say, and it's not that I'm grateful to Mr. Stewart for his thoughtful piece, although I am. It is this:
I think the example of wilderness applies here. Even as there must be places that we do not touch, places that exist in reality and in our imagination that we have decided to keep out of, so there must be technologies we agree to have nothing to do with. For me these are the ones mentioned in Mr. Stewart's piece—and others not mentioned as well. I hope that, as my fortitude and moral strength increase, there will be more to add to the list.
And it probably bears mentioning that, when you ignore a thing, it often goes away. I think this is what we mean by the "law" of supply and demand. For God's sake, it's a strategy that even junior highers use to douse unwanted romance.
But because of human weakness, the wilderness approach assumes a doubtful scenario for any but a very small minority, so I think we also need technological monks—people who, for the sake of remembering what it was like to be human, refuse to participate in Facejob, Twatter, DinkedIn, and the like. Such an eremite am I.
And I don't see any reason I shouldn't play the sentimental card: won't anyone think of the children? Do it for the children, and for their children, and for all those who, once the pixie dust and the physical resources to run this utterly false life have played out, are going to have to figure out how to live without the shit they're addicted to. For the day is coming when we are going to have to figure out how to live not as approximate humans but as full-blown men and women, created beings who, trailing clouds of glory, remember whence we came and whither we're going.
You will recall Neil Postman in Amusing Ourselves to Death:
Orwell feared those who would deprive us of information. Huxley feared those who would give us so much that we would be reduced to passivity and egoism. Orwell feared that the truth would be concealed from us. Huxley feared the truth would be drowned in a sea of irrelevance. Orwell feared we would become a captive culture. Huxley feared we would become a trivial culture. . . . As Huxley remarked in Brave New World Revisited, the civil libertarians and rationalists who are ever on the alert to oppose tyranny "failed to take into account man's almost infinite appetite for distractions." In 1984, Huxley added, people are controlled by inflicting pain. In Brave New World, they are controlled by inflicting pleasure. In short, Orwell feared that what we hate will ruin us. Huxley feared that what we love will ruin us.
It was Postman's view that Huxley, not Orwell, was right.
And now back to Thoreau, who said there are enough champions of civilization. A splenetic fellow might play a variation on that theme and say that there are also enough champions of Facejob, Twatter, and DinkedIn: "the minister and the school committee and every one of you," Thoreau said, "will take care of that." But I'm with Henry: "I wish to make an extreme statement, if so I may make an emphatic one."