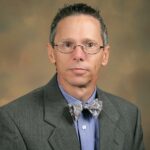 http://www.tdgordon.net
T. David Gordon is a retired author living in Grove City, PA. He was previously Professor of Religion and Greek at Grove City College, where from 1999-2021 he taught courses in Religion, Greek, Humanities, and Media Ecology. Prior to that, he taught for thirteen years at Gordon-Conwell Theological Seminary in S. Hamilton, MA; and for nine years he was pastor of Christ Presbyterian Church in Nashua, NH. He is an ordained minister in the Presbyterian Church in America. Dr. Gordon has contributed to a number of books and study Bibles (his notes on John's gospel appear in the New Geneva Study Bible and the Reformation Study Bible), and has published scholarly reviews and articles in journals such as New Testament Studies, The Westminster Theological Journal, Interpretation, and Journal for the Evangelical Theological Society. His popular articles have appeared in periodicals such as Modern Reformation, Tabletalk, Decision, The Ordained Servant, and Lay Leadership. He has written Why Johnny Can't Preach: The Media Have Shaped the Messengers (2009), Why Johnny Can't Sing Hymns: How Pop Culture Re-Wrote the Hymnal (2010), and Promise, Law, Faith: Covenant-Historical Reasoning in Galatians (2019). Dr. Gordon is a graduate of Roanoke College (B.L.A.), Westminster Theological Seminary (M.A.R., Th.M.), and Union Theological Seminary in Virginia (Ph.D.). He lives in Grove City, PA, with his wife Dianne. The Gordons have two married daughters and two grandsons. When not doing anything productive, he is likely to be found wandering aimlessly in the forest.
The best educators (and the best educational institutions) will neither embrace nor eschew the electronic technologies that commercial forces wish to prevail in higher education; rather they will assess each one, in light of both its assets and its liabilities, employing those that are superior to other tools, while not employing those that are not.
The question, of course, is not whether some Protestant individuals have under-developed aesthetic sensibilities; the question is whether Protestant principles logically or consistently contribute to an under-developed aesthetic sensibility.