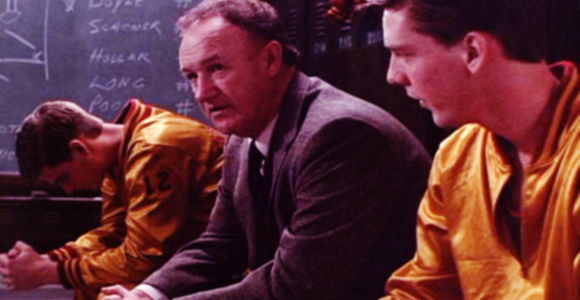 'Tis the season to hie on down to the high school gym. Via First Principles, herewith my piece on Hoosiers, one of the precious few good films ever made about small-town America.
"FOR ALL THE SMALL SCHOOLS": OR, IT'S HOOSIERS TIME
The other night I sat in the bandbox gym at Elba Central watching the girls play Notre Dame in the fiercest rivalry in local high-school basketball. The catercornered student sections traded taunts, not the hoary "We got spirit/Yes we do/We got spirit/How 'bout you?" but the terser "We Can't Hear You!" and, from Elba, the buoyantly populist "Sit Down, Rich Kids!"
You can bet that nearly every player on the floor has seen-and seen herself in-Hoosiers (1986), which is generally regarded as the best sports movie ever made and which is, withal, a deeply moving film about the centrality of a locally controlled school to a small town.
Hoosiers grew from the great mythic event in Indiana sports history: the 1954 state basketball championship won by the team from little Milan, which defeated Muncie in the title game, 32-30, on a last-second shot by its star player, the exquisitely named Bobby Plump. Indiana's tournament was open to all schools, regardless of size. Country boys, city boys, two-room academies and concrete blocks in the asphalt jungle: everyone competed in the same division.
Indiana schoolboys were raised on folkloric tales of mighty Milan. A couple of years ago I traveled, for the American Enterprise, to the land of James Dean and James Whitcomb Riley to speak with one such Hoosier lad: Angelo Pizzo, the Bloomington native who wrote and coproduced Hoosiers and thereby apotheosized Milan (as "Hickory" in the movie) for the rest of us.
Pizzo and his college roommate, fellow Indianan David Anspaugh, had talked of making a movie "about the meaning of basketball to people in Indiana." The daydream started to take shape when Pizzo, home for Christmas from USC film school, dropped by a high school game at Bloomington South. "The energy in that place-it would blow away any rock concert," he recalled. "You have these guys in overalls, normally monosyllabic people, out of their seats, off the ground. I was just watching those people, feeling the energy, and I thought if I could ever capture this on film it would be special. Of course the state myth is Milan winning the championship so that's what I gravitated toward."
His early research was unpromising. "The essence of all drama is conflict. I went to interview the original [Milan] guys, and I said to the first person, 'Were there any problems, any adversities?' 'Nope, everybody got along real good.' I said, 'You didn't have one troublemaker?' 'Well, Bobby Plump used to show up late. Coach made him run laps.' I knew I didn't have a movie."
So Pizzo drew from his own Indiana boyhood. "I got in my mind five high-school buddies and I gave them form and voice."
The coach of Milan, Marvin Wood, was just 26 years old during that championship season. "I wrote it that way and the movie didn't work. If he had failed, he still had the rest of his life." Inspired by Horton Foote's Tender Mercies, with Robert Duvall's memorable performance, "I went back and made the character older, a guy with a last chance."
Consider the lineup that turned down Hoosiers. Robert Duvall passed on the role of the coach, Norman Dale, which went to Gene Hackman. The part of Shooter, the redeemable alcoholic ex-jock played by Dennis Hopper, was rejected by Harry Dean Stanton. John Mellencamp was asked to write the score, but according to Pizzo he thought "those guys don't know anything about basketball."
Coach Dale, a volatile man getting a second chance in a movie about second chances, is based in part on Indiana University's legendary Bobby Knight. Pizzo said, "I wondered what would happen if Knight punched a player"-as the Hackman character had done. "I utilized Knight's offensive philosophy: four passes before a shot. I also created an arc for him where he actually listened to a player." (This last touch, admittedly, borders on science fiction.)
For two years, seeking financing for the film, Pizzo and Anspaugh were turned down by every Midwesterner and basketball fan they approached. Their savior was a foreign rogue who "had never seen a basketball game, never heard of Indiana." He was "an educated Cockney whose dad used to show up drunk and embarrass him when he was playing soccer." The relationship between Shooter and his son "made him cry. He said how much do you need? We got $6 million."
**********************************
"I always felt that place in a movie is as powerful as a leading character," said Angelo Pizzo. "What is missing in a lot of movies is a sense of place: it becomes generic, it becomes Toronto through New York. With Hoosiers, David and I insisted that if we don't shoot in Indiana we don't shoot at all."
In a brilliant stroke of verisimilitude, "We determined not only to shoot in Indiana but to hire only real Indiana basketball players. We had open casting calls and reduced them not by reading but by basketball playing." (Art, of course, had the last word: the best basketball player in the cast, Wade Schenck, played the diffident team manager Ollie; the least-skilled, Maris Valainis, played star Jimmy Chitwood.)
The gamble paid off. The kids are utterly believable, and the film escaped the curse of such Hollywood sports movies as Bang the Drum Slowly, in which major league baseball catcher Robert De Niro throws like a girl. Pizzo added, "The classic is Anthony Perkins in Fear Strikes Out," the story of psycho Red Sox outfielder Jimmy Piersall. "Talk about throwing like a girl-he was a girl!"
(In a tragic 2003 coda, Kent Poole, whose character Merle utters the most poignant line in the film-"Let's win this one for all the small schools that never had a chance to get here"-hanged himself from a tree in his Crawfordsville, Indiana, yard. "I got a call from him about a week before he killed himself," said Pizzo. "He said that he really needed to send me something and got my address. Then I heard he killed himself. Every day I went to the mailbox looking for whatever it was. I never got anything.")
In its sympathetic yet never bathetic understanding of rural life, Hoosiers avoids both mawkishness and smug anti-provincialism, the dominant keys in those rare cases when Hollywood has visited small town America. Coach Dale, who has been adrift-literally-in the navy for a decade, is greeted suspiciously upon his arrival in Hickory. "Real friendly town you got here," he wisecracks to the principal. "It can be," replies this old friend who has thrown out a lifeline. But Dale, who is placeless, must earn his place in settled Hickory. The nomadic coach, rather like Shane or Ethan Edwards in The Searchers, is unlikely to stay, though his sojourn in town effects a reconciliation between Shooter and his son and perhaps between the embittered schoolteacher Myra Fleener (Barbara Hershey) and the hometown she grudgingly inhabits. (Unlike Midwestern natives Hackman and Hopper, who by all accounts enjoyed the movie's making, Barbara Hershey, who grew up in Hollywood, was unhappy filming in Indiana-and it shows.)
There's a wonderful moment in Hoosiers in which team manager Ollie recites the wonders of "progress," which include "school consolidation"-the kind of Progress that will swallow up and kill the Hickory Highs before the decade is out.
Milan survived because of the state title, but so many of the rural high schools which gave small communities a sense of identity were wiped out in the Cold War-fed school consolidation craze of the 1950s. "When Milan won the state championship, there were 756 high schools," noted Pizzo. "Last year, there were 265."
"Nobody had television," he said of the Milan of the early '50s. "They didn't have a movie house. Accents were different. The sense of pride and identify connected with your place was so different then. Now there's television and strip malls and Wal-Mart. They all play the same video games, they all have Play Stations."
Indiana's open tournament has been dismantled. Schools now play only schools of similar size. While this may seem "fairer" in some abstract sense, "it's ruined things," lamented Pizzo. Teams "don't play their natural regional rivals" in the sectionals; instead, they travel long distances to play teams in their class. Disregarding geography, the sectionals "mean nothing. They've dissipated the excitement across the board."
Yet Hoosiers endure. "There is still a qualitative difference between people in Anderson, Indiana, and New Albany, Indiana," insisted Angelo Pizzo, and that difference informs his work.
Pizzo and Anspaugh followed Hoosiers with two other feature film collaborations. In Rudy (1993), an ode to perseverance, a working-class Catholic kid from Joliet who dreams of Notre Dame and surmounts any number of obstacles to earn admittance and then a place on the football team's practice squad caps his career by finally getting into a game in his senior season. The film is treasured especially by Notre Damers, a twist because "growing up in Bloomington, I hated Notre Dame," laughed Pizzo.
Like Hoosiers, Rudy is notable for the respect with which it treats men of the cloth. The Protestant minister who drives the team bus in Hoosiers-a richly symbolic touch-emboldens the boys by reading from the story of David and Goliath; the priest in Rudy is a wise elder. In other films, the minister would have been a pharisaical prig and the priest a clammy child molester.
The Game of their Lives (2005), the story of the U.S. soccer team's astonishing 1950 World Cup upset of England, was the first failure for the Pizzo-Anspaugh team, and "a nightmare from start to finish," said Pizzo. The film flopped commercially and critically. But on the bright side, it forestalled the advance of the alien game of soccer upon American screens.
******************************
There is a fitting postscript to the Hoosiers story. Angelo Pizzo, the man who created Norman Dale and sent him to Hickory, Indiana, came home to Bloomington.
Pizzo's homecoming contradicts the typical pop-culture fairy tale, in which boys from Indiana dream of hightailing it to Hollywood or Manhattan and never looking back. As a handsome young guy with a hit film, Pizzo was not exactly a bystander at the debauch, but marriage and children refocused his dreams.
"My wife hated [Greta] hated L.A.," he said. "Then we had two boys and she grew to hate it more. What we were looking for we didn't find: a sense of community. There was stratification, elitism, no mingling."
"I was coming back to Indiana 10 or 15 times a year, and it hit me that Indiana was my community. I always looked forward to coming back and I never wanted to get on the plane to Los Angeles, except to see my family."
The epiphany hit over eggs and coffee. A friend invited him to a weekly Wednesday morning breakfast at a Bloomington restaurant. The diners included a lawyer, a newspaper editor, a sports statistician, a pharmaceutical salesman, a retired principal, a hippie export-importer, a professor, and the ex-football coach at Indiana University.
"I had a profound sense of envy of my friend for going to those breakfasts," explained Pizzo. "In L.A., you don't talk about anything other than the film business. I could never have a conversation that even remotely mirrored that one."
"He called me," said Greta, "and said, 'I want something like that.' Then that moved into, 'No, I want that!'"
They made the move to Bloomington in early 2004. "My only regret," said Pizzo, "is the month of March."
Greta, whom Pizzo met on the set of Rudy, said, "Angelo kept saying you can't go home again, but we've found that not only can you go home again but there's something about that experience that is essential. We're in a healthy community; our kids can walk a block and a half to their school; Angelo is connected to something."
He has not forsworn filmmaking, just the stifling assumption that one must live in the hive to make motion pictures. Pizzo has several projects on the tapis, including a semi-autobiographical film set in Bloomington. His hometown took its cinematic bow with Breaking Away (1979), the much-praised film about a band of townies winning Indiana University's Little 500 bike race, and while that film has a certain winsomeness, Pizzo was appalled by its inauthenticity: "I saw my hometown being depicted and I didn't recognize any of the people in it. Those people didn't belong in Bloomington. The director had never been to Indiana before; the parents were not Bloomington people." As for Dennis Christopher, the fey opera-singing hero, "What planet was he from? There's nothing Bloomington about that kid."
The lesson he drew from Breaking Away was that "in a movie called Hoosiers, you'd better get Indiana right."
Angelo Pizzo and David Anspaugh got it right.
Watch Hoosiers. Then get down to the high-school gym to watch the local team. Listen to the screams, the handclaps, the laughs, the shouts of encouragement. That noise you hear is the sound of community.