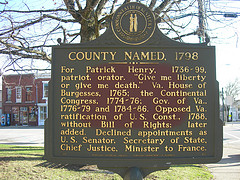 Henry County, Kentucky.  Every Memorial Day my husband takes our children to visit three cemeteries in our county.  We take grass from the family farm for a great-grandfather, rhubarb for a great-grandmother, peonies and roses, and whatever else is blooming.  With these the children decorate the graves of family members going back seven generations.  Some day perhaps we will discover where Conrad is buried, and then they will decorate an eighth.
As we drive around my husband points out where all the extended family's farms have been over the years.  In Campbellsburg's Masonic Cemetery we lay flowers on Cousin Kathryn, who had told us so many family stories, and who is now a story herself.  At the Antill cemetery Mark realigns a broken stone and repeats again, in the hope it will sink into the children's minds eventually, the line extending from Conrad to them.
My own dead are not here.  But I too have deep roots in this state, and I was reared 35 miles from where I live.  The Germans have marred the word "fatherland," but I can still say this is my motherland, and certainly one of reasons I care about Kentucky is because I belong here.
Some people move (or stay) home out of need or inertia, but for me as for many others it was love that called me back.  This is the sort of argument that either needs no explaining or is inexplicable, but those who have ears can hear it:  I had missed my family and old friends.  I'd missed my grandfather's farm in Shelby County, and my old neighborhood outside of Louisville, and the way spring comes.  I'd missed the manners here, and the things unsaid, and the idioms of my neighbors, and the dry humor my friend Dr. Bob has perfected—you can come home to language, too.  I wanted to be around to hear family stories, and I wanted to be closer to the people I'd buried.  All of these things were tied up together in a great Gordian knot that I understood, finally, held me tight.  I could take an ax and sever it.  I had tried to, the fall I first moved away to college.  But some people, mercifully, aren't much good with tools.
Moving back to a place you've grown up gives you an instant increase in what sociologists call social capital—the academic term for the web of associations that bind people in a community to each other.  A strong social network has practical benefits and will generally make you happier, and it brings a sense of fittingness.  At home you are in a place that is culturally familiar.  You live in a landscape that if not overbuilt and polluted, will feel right because it was imprinted on your brain at a young age.  Perhaps most importantly, you will pick up the thread of lives of many people you already know.  Surely we need to live a long time in one place in order to understand people at all, and surely one of the points of living is to acquire such understanding.
Rootedness doesn't make you a better or wiser person necessarily, but it does offer an ordering to the mind, a sense of belonging and a (mostly) willing obligation that might make you saner.  I think it's enriching, too.  Every community has its own cultural diversity, which it keeps only if it can hold onto its people.  Memory is one of the things that makes us most human, but to move is to risk so much of it—family anecdotes, old associations with places, local stories, children's rhymes and games, knowledge of the soil and countryside, history, recipes.  If we move away we can only maintain these things artificially and with effort, and generally we get busy, and there is no one nearby to remind us of how the great-uncles fell out, or how grandmother made bread, and so we lose much of this community- and family-specific culture of ours.  When someone leaves it is not just the neighborhood that is diminished, but the individual.  Many young people move away expressly to fulfill themselves, only to find they become less of what they are.  The best cakes are made from scratch, but not the best people.
Others have made similar arguments on this site, but generally we hear little about the advantages of staying home, and lots about the negatives.  Ours is a culture that either celebrates all the possible pluses of moving, or shrugs its shoulders at the assumed necessity, and there is no question the economic deck is stacked against any place that isn't hip or a megalopolis.  The argument is often couched in economic and so-called quality-of-life terms, as if our income and our entertainment were the essential deciding factors of the value of our lives.  In Who's Your City Richard Florida spends a few pages acknowledging the value (to some) of remaining rooted, but devotes the rest of the book to describing the best places for your type of personality at your particular stage of life.  His assumption is we can happily leave most human relationships behind, or squeeze out all their juice in an annual visit.  That kind of talk makes me want to shout my case for the other side, because our ties to a certain place and certain people are not so easily replaced.
Of course there are some who don't have a place to go home to.  They had Marines or corporate nomads for parents, or their small town or family farm has been developed beyond recognition, and the people are gone, too.  But most people move because they want to try a new city, or they want the job that calls them on, not because there is nowhere to return.  After a few years of wandering, perhaps they will make one more move and stick.  It is not a terrible thing, to move and resettle–once.  Every civilization (and every barbarity) has had its share of homesteaders.  You can brighten the new corner where you are. You can take hold in a new place and dig in, and certainly sticking where you've moved is the next best choice to staying where you're from.
But I would argue it's only a next-best.  You can't "choose your roots" any more than you can choose your gene pool.  If you are from somewhere, that's where you're from.  No one becomes a Bostonian by moving to Boston—your children may be able to assume the title, but not you.  If you move, you start over, for a clean slate has nothing on it.  And it will take the rest of your life in your new place, to build the web of relationships you had as a free birthright in your old place.  Plus you'll never get your family back, unless by some luck they all follow you out.
If the argument for leaving is that you must "Be All You Can Be," well, that's the slogan of the Army, one of the great deracinating institutions of modern life, whose organizational purpose–whatever its necessity and merits–is to kill people.  If we're picking slogans here, I much prefer Root Hog or Die, or (with thanks to Kauffman and Stegall) Cast Down Your Bucket Where You Are.
The Greeks, restless as they were, understood home.  They imagined Odysseus, who journeyed for years to return to one woman and one little island.  They also imagined Antaeus, because they knew any man grows weaker when he can't touch his own mother Earth.  For them ostracism was a serious matter, a kind of social death, and they hated it. In the Louisville newspaper recently someone lauded Socrates as one of the first "world citizens," but good Greek that he was, he was precisely the opposite.  Though the world might wish to claim him now, when he lived he himself only claimed Athens, and he lived and died under his obligations to Athens.  Offered a chance to escape, he preferred to stay to drink the hemlock because, he said, having grown up and flourished under her laws, he would not flout them now, even when they ordered his execution.  He was a man so tightly bound to the city he had pricked and prodded all his life that he was content to let her put him to death.  It was a worse death, he thought, to leave.
That is an extreme view, and an extremely virtuous one.  But it is the right idea, that we should spend our lives in the place that nurtured and made us, and where we would be content both to live (prodding away) and to die.