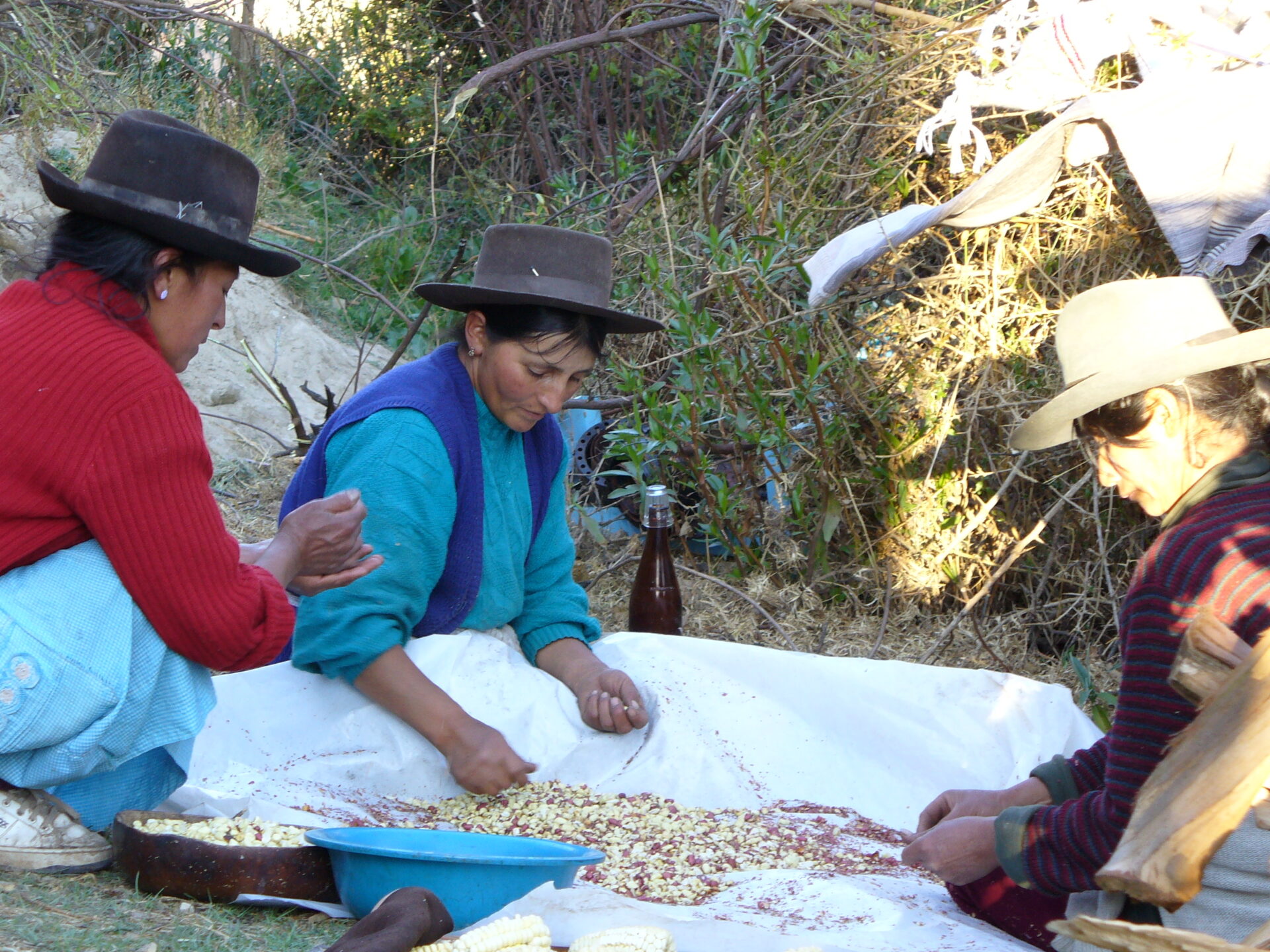 "The more things change, the more they remain the same."  The villagers of Pomatambo, Ayacucho, Peru, did not coin the phrase, though it has captured their lives with eerie precision over the generations.  In one sense, this "timeless present" has been no more than the rhythmic ebb and flow of agricultural life, familiar to anyone who has spent time in farming communities like this one.  Children and elders herd sheep up the hills to graze on the sparse yellowish-green grass.  Kin and neighbours pitch in to help one another during harvest season, or to build humble houses of adobe brick.  In a yearly round of festivals come opportunities to dance to highland folk music and drink copious amounts of home-brewed maize beer.  And until a few decades ago, this cycle recurred generation after generation, as villagers lived and died in their own small universe, nestled amid the mountains of the Andes.
I see much of this way of life persisting today.  I have come to Pomatambo many times over the last fourteen years, including for research that went into my recent book, A Path of Our Own: An Andean Village and Tomorrow's Economy of Values.  Pomatambo sits at some 3500 metres above sea level in a remote area of the Andean highlands, four hours along a bumpy dirt road from the nearest city and fifteen kilometres from the nearest small market town.  Its two hundred residents live at the unfortunate end of the spectrum of wealth and poverty that defines today's world.  Most still have to scratch a living from poor soil, subsisting on a meagre harvest of maize and potatoes.  Cash income per household averages a mere $50 a month.  They have no proper running water and, until a few months ago, no electricity lines running into the village.
On a personal level, the peasants of Pomatambo at first show the same reserve that we often see among mountain folk in cold climates.  But scratch the surface and you find a genuine warmth and hospitality.  In countless homes here over the years, I have been offered a mug of coca tea or a bowl of potatoes, while I sit on a rickety wooden bench and talk with the locals about their experiences and aspirations.  Many of them know much more about the outside world now than their parents and grandparents did.  They know their own poverty, in contrast to the prosperity that exists in many other parts of the world, and even in parts of their own country.  But the usual tone of quiet stoicism runs through much of their commentary.  A couple of years ago, I had one such conversation with a community leader in his seventies.  The sunlight shone through chinks in the mud walls of his house, illuminating the wrinkles on his tired face.  Towards the end of our talk, he summed up the frustrations of a lifetime trying to get modest aid for his village.  The sentence came off his lips in a slightly plaintive tone of resignation, in heavily Quechua-accented Spanish: "Olvidados somos."  "We're forgotten."
Since the last third of the twentieth century, this neglect has been the new and sad form that the timeless present has taken for villages like Pomatambo.  Politically and economically, they can no longer live in their own self-contained universes.  New forces from state and market impose pressures within the village and draw some peasants into entanglements their forebears could not have imagined.  This greater dependence on outside powers and interests naturally raises the prospect that some of the development happening elsewhere could come here too, where people need it so desperately in everything from nutrition to medical care to education.
But, as the saying suggests, things remain the same.  Very little aid has come from outside over the years, and none that would create real local economic capacity.  Since the 1960s, governments in Lima have cycled through a full range of political alternatives: liberal modernisers who dithered until they were thrown out of office, a left-leaning military junta whose land reform failed because it could not run a country like a barracks, free-market quasi-authoritarians who ended up in prison for corruption and murder, and hamhanded efforts at social democracy that made more enemies than friends.  They all made politically convenient noises about bringing prosperity to places like Pomatambo, to be sure.  But their policies never delivered.  This was partly because of ineptness, inertia, and lack of political will.  But it was also because, whatever their other ideological diversity, Peru's political élites had one thing in common.  They all dismissed the highland peasantry as backward, as an obstacle to development rather than a legitimate partner in building prosperity.
To some onlookers, this neglect was merely the sin of the comfortable political class in Lima.  Could the wealthy and well-connected really be expected to have much sympathy for peasants in backwaters that many of them had never visited?  This was more or less the short-lived appeal of a radical alternative in the 1980s and early 1990s.  The Maoist Shining Path insurgency, inspired by the radicalism of China's Cultural Revolution, started near Pomatambo and spread over the south-central highlands and into the festering urban shantytowns.  Pomatambans gave the guerrillas a fair hearing at first, since they seemed to be promising something radically new that might at last respond to people like themselves.
After the first few years, that support swiftly evaporated.  The guerrillas started slitting throats in public, banning festivals, and even burning the wood-and-silver staffs carried by traditional village elders.  As the Shining Path and the army fought it out, both sides committed acts of senseless brutality.  In Peru as a whole, some seventy thousand people died in the carnage.  The villagers felt caught between two bands of thugs and did what they could to escape.  About a third of Pomatambo's inhabitants left for the cities during the worst of the violence.  Those who remained recounted terrible suffering the first time I visited.  One night, sitting by a fire outside, I heard them matter-of-factly tell of lingering nightmares of being chased by shadowy figures with knives.
In some ways, of course, Pomatambo has had a particularly tragic experience.  The bloodletting of a prolonged civil war was unusual.  And while half the world's population still lives in conditions similar to those of this village, the severe rural poverty is probably unfamiliar to most readers of FPR.  But what we see in Pomatambo does resonate, in other ways, with much of what traditional communities all over the world have seen in recent decades.  The neglect and disdain on the part of political élites, and the mismatch between prevailing ideologies and the aspirations of plain folk, are more or less universal.
The problem runs deeper than just being willing to slaughter a poor and vulnerable human being who gets in the way of one's immediate political purposes.  Even when free-marketeers and the radical left do not think it fitting to shoot peasants, they share a deeply troubling assumption.  They have difficulty fitting peasants—the people of traditional communities like Pomatambo—into their proposed future.  Most immediately, they will say that this is because of the nature of economic growth.  If rising living standards require a move away from agriculture, and these villages have always been based on agriculture, then they inevitably must disappear with modernisation.  This assumption that economic growth must happen despite communities rather than through them is, I think, very much open to question, though I shall not take it apart in this posting.
In any case, the issue cannot be reduced merely to a flawed view of political economy.  The ideologues of both the free-market right and the socialist left cannot fit peasants into the future for another reason, which they will never admit outright when peasants are listening.  To them, peasants are simply the wrong sort of people.
For the enthusiasts of market-driven development, the folk who live in places like Pomatambo are hidebound, resistant to innovation, unwilling to seize opportunities, and disinclined to think of themselves as individuals rather than as bound by webs of obligation.  Instead, the future belongs to the entrepreneurs, many of whom all too eagerly flout community norms.  Such a view of the peasantry appears on many levels.  We read it often enough in the gospels of libertarians and orthodox economists.  And I have heard it on the ground, from the occasional aspiring local migrant-entrepreneur in Pomatambo itself.
For socialists, the peasantry's problem is not that it gets in the way of entrepreneurial go-getters.  It is that it lacks the good sense to adhere to a favoured account of political change—and of who must lead that political change.  Most variants of socialism require the abandonment of traditional identities and loyalties, and the slotting of one's aspirations into a much vaster scale of life.  Attachments to tiny properties, local autonomy, kin groups, and place are seen as obstacles to the desired political reordering.  And, not least, the vision and energy to undertake that political reordering are presumed to lie with an intellectual and political vanguard at least somewhat—and most often wholly—removed from peasant life itself.  To admit peasants as fully equal partners in improving the world would be to call that hierarchy of progressive wisdom into doubt.
Nowadays, therefore, the "timeless present" of the hundreds of thousands of peasant communities like Pomatambo is one that mixes neglect and political manipulation.  They are seen as a drag on development or as instruments to be manipulated in service of a larger vision that implicitly excludes them.  Electoral manipulation can take the form of populist spending promises that are never fulfilled, or that even if fulfilled will do more to empower the politicians making the promises than the supposed beneficiaries.  Such has been the story of many recent populisms in Latin America, such as that of Venezuela's Hugo Chávez—and of Ollanta Humala, the most prominent left-leaning candidate for Peru's 2006 and 2011 presidential elections.  Or it can take the form of right-leaning candidates savvy enough to "come with a bit of bread at election time," as one young Pomatamban described it.  Such was a favoured tactic in the 1990s of Alberto Fujimori, the hard-driving neoliberal president of Japanese origin.  Token spending on food shipments and an underequipped health post won him majorities among Pomatambo's voters, even while he sold out the country to his cronies and to global financial interests at the same time.  In more prosperous settings where spending on poor and traditional voters gives much less bang for the buck, such politicians resort instead to pushing buttons on cultural issues or on one or another variant of ill-conceived nationalism.
Whatever the details, traditional folk remain, as the elderly peasant in Pomatambo said, "forgotten" on what matters most to them.  Small wonder that most of them trust only their own elected village leaders or, with a bit of a stretch, leaders at the district level with a few thousand constituents.  They know they can really depend only on themselves.  The higher one goes, the more political life fades into irrelevance or becomes the realm of self-interest and ill will.  In Pomatambo, I have heard Peruvian presidents described as everything from "thieves" to "murderers of the poor."  And no one expects things to change much, whoever is elected next time.
That this is a common pattern across much of the world probably does not surprise the readers of FPR.  They know well the sympathies of contemporary élites, and that the latter have little impetus to translate the unprecedented material resources of our time into real empowerment for the poor and vulnerable.  But we must also ask why it has to be so.  In many countries like Peru—and, arguably, even in much of the developed world—the traditionally minded have political weight far below what their numbers might suggest.  Depending on the voting system in force, they should be able to win elections outright, hold the balance between alternatives, or at least occupy enough ground to define the political debate far more than they now do.
Despite what Karl Marx once wrote about peasants having all the political cohesion of "potatoes in a sack," these people are not inherently impossible to organise.  In previous centuries, they set empires alight in moments of revolt.  They know enough today about the shortcomings of their rulers to appreciate that things could be otherwise.  So why has it proved so difficult for those oriented to tradition and community to advance their values on the same scale, and with the same vigour, as have left and right?  On the left, we have seen an abundance of movements, parties, and Communist Internationals.  On the right, we have seen a savvy deployment of interest and power, culminating in the Capitalist International, a.k.a. globalisation.  Why is it so hard, even where the numbers are sufficient, to form a political bloc of traditionalists, agrarians, or whatever other kindred term we might prefer?
Perhaps it is because traditional life, by virtue of the ethical constraints woven into it, predisposes people against the no-holds-barred relentlessness that has defined the free-market right and the socialist left over the last century.  It may well be that the "dirty hands" problem Max Weber identified as inherent to politics—you can be always moral, or always politically effective, but not always both at the same time—tips the playing field against this kind of alternative.  But that dimension of the problem does not fully account for why, in most societies, people of this sort do not usually have anyone for whom to vote at all.  As one of my professor friends at the regional university in Ayacucho put it, most of them think the best they are likely to get next time is a presidential candidate who will spend the bare minimum necessary to buy votes.  There is a whiff of resignation in the air, and not only in Peru.
Or perhaps it is because of how traditionalists tend to think about what they are defending.  To bind the diversity of traditional communities and their inhabitants together politically, what they share in common must be clearly defined.  The particularity of traditional life sometimes makes it harder to do so.  When asked what they value most in their way of life, Andean peasants tend to list specific customs or ways of working together to eke out a living.  Their counterparts elsewhere, like the distributists in the West, have often latched on to defending or reviving fairly culture-bound economic institutions like guilds or small proprietorships.  Gandhians in India, or Islamists in the Middle East, put matters still differently.  In conversation many times, I have often tried rephrasing some of these goods in more universal terms.  The people concerned have usually found such descriptions instantly recognisable.  Still, there is a tendency among traditionalists to focus politically on culture- and place-bound forms rather than on content that might translate into more effective alliances.
I think this is, in many ways, the crux of the issue.  Readers of FPR will recognise in Pomatambo many of the frustrations and aspirations that animate our discussions more broadly.  Across the gap of cultures and living standards, we do face parallel challenges.  I hope over the next few weeks of postings from the Andes to bring to life more of this common ground.  But I also want to tackle some of the strategic issues that bear thinking about if these sensibilities are to reshape the contemporary world more broadly.