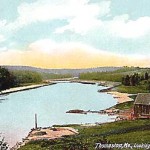 This post is dangerously close to turf already claimed by Bill Kaufman and Jason Peters. But the appeal of Richard Russo is so strong that if FPR readers do not know about the contemporary novelist who sets many of his novels in small towns and whose characters revel in their setting, they should.
His latest novel (Peters territory), Bridge of Sighs, is set in Thomaston, New York (Kaufman territory). Google maps indicates that Thomaston, New York is actually on Long Island, a couple of inlets away from LaGuardia airport. (Many apologies to localist agrarians for searching via machine and locating by reference to a site of machinery.)  Because Russo has set previous novels in Maine, now lives in Camden, Maine, and taught for several years at Colby College, he may have actually had Thomaston, Maine in mind for this fictional town in upstate New York (which was the setting for Nobody's Fool – a not too shabby movie starring the late, great, Paul Newman – unfortunately the same cannot be said for the HBO production of Empire Falls, which is unusual given the quality of many of that cable company's productions, such as The Wire).
This is the second paragraph of Bridge of Sighs:
Perhaps what's most remarkable about my life is that I've lived all of it in the same small town in upstate New York, a thing unheard of in this day and age. My wife's parents moved here when she was a little girl, so she has few memories before Thomaston, and her situation isn't much different from my own. Some people, upon learning how we've lived our lives, are unable to conceal their chagrin on our behalf, that our lives should be so limited, as if experience so geographically circumscribed could be neither rich nor satisfying. When I assure them that it has been both, their smiles suggest we've been blessed with self-deception byway of compensation for all we've missed. I remind such people that until fairly recently the vast majority of humans have been circumscribed in precisely this manner and that lives can also be constrained by a great many other things: want, illness, ignorance, loneliness, and lack of faith, to name just a few. But it's probably true my wife would have traveled more if she'd married someone else, and my unwillingness to become the vagabond is just one of the ways I've been, as I said, an unexciting if loyal and unwavering companion. She's heard all of my arguments, philosophical and other, for staying put; in her mind they all amount to little more than my natural inclination, inertia rationalized. She may be right.
That such localist proclivities are the basis for a national best-selling novel may indicate that localism is not as dead as Fro Po Conservatives are tempted to think. (Yes, I'm back on my meds.)