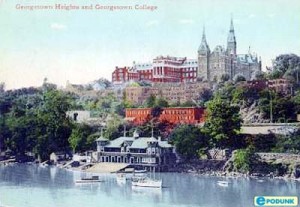 A new semester begins at Georgetown and around the country, a delicious time of early Fall anticipation of possibility and the unexpected – at least until the second week of classes.
I return to the classroom after a year's sabbatical, and to a dramatically changed Georgetown campus.  As of mid-summer, a new business school now dominates  the new center of campus, and reflects not only a physical change of the gravity, but may well proceed a shift in the intellectual center of gravity as well.
But what strikes me as most telling not only about this building, but the nature of the modern university, is its name – the Rafik B. Hariri Building.  A gift made by Mr. Hariri's son – in the amount of $20 Million – resulted in the bestowing of his father's name upon the building.
The naming of this sort of structure reflects what a society honors, what we regard as deserving our esteem and admiration.  In naming the building for a person whose family made a significant financial contribution, we demonstrate the things we hold in esteem (I do not mean to minimize the good deeds that Mr. Hariri achieved; however, I think it's clear that the building would not have been named for him without the gift).  In principle, this is really little different than what now takes place with the naming of stadiums and the like – from the new "Citi Field" where the Mets play to "A.T.&T. Park" of the San Francisco Giants.  Then, of course, there is "Minute Maid Park," formerly "Enron Field," in Houston.
However, while memory has to serve to recall the older names of some of these stadiums – such as Veterans Stadium in Philadelphia (an otherwise execrable stadium with a noble name), now replaced respectively by "Lincoln Financial Field" (Eagles) and "Citizen Bank Park" (Phillies), at Georgetown there is a set of older buildings whose names reflect a different expression of honor.  The older buildings on campus – Healy Hall (which houses beautiful Gaston Hall, a magnificent auditorium), White-Gravenor Hall, Copley Hall, Gervase Hall – were largely named for Jesuit men who served their alma mater as founders and sustainers.   In these instances they gave not a dime to the institution, but instead gave years of their lives in the service of its students and its mission.  Similarly, at Princeton, there are buildings named for such campus mainstays as Edward Corwin and James McCosh and Aaron Burr (Sr.) – professors and Presidents, all of whom spent most of their professional lives at that institution (to be contrased with newer buildings such as Lewis Library and Whitman College – named respectively for Peter Lewis of Progressive Insurance and Meg Whitman, CEO of EBay).  In naming buildings such as Healy Hall or Corwin Hall for the servants of such insitutions, the honor was accorded to profound life-long service and sacrifice.    Unsurprisingly, while today very few if any buildings are named for such servants of the institution, the corresponding ethic of the professoriate is a rootless striving to attain greater reputation and position through frequent changes of institutional affiliation.  That which is no longer honored becomes attenuated and is ultimately discarded.
The great buildings of universities and cities alike are sermons in stone.  They aim to teach us something about the the fundamental commitments of an institution or a city or polity as much as what might take place inside those buildings.  And in the honor we bestow through the names we associate with such monuments, a society teaches something of significance to successive generations.   I would be the first to praise the generosity to a benefactor, and to encourage people of means to support a worthy cause – and it is meet to show gratitude in a fitting form.  Today, however, an older ethic of according honor  for lifetime service and sacrifice – or, more homely still, testimony to the geography of local places (e.g., Three River Stadium, now PNC Park) –  is increasingly crowded out in a race to leverage naming rights to the highest bidder.  What lesson are we teaching to our young through such sermons in stone?