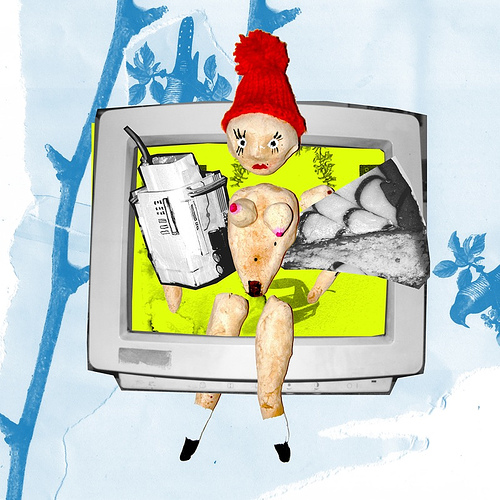 Claremont, CA. If you don't want to read the new report from Harvard Business School, titled "Understanding Users of Social Networks," you can just listen to the song from Avenue Q, titled "The Internet Is For Porn."
So it turns out that despite all this chatter about how social-networking sites are totally transforming every element of the way we live our lives and make our friends and craft our communities and have our babies and brush our teeth, in practice the primary use of websites like Facebook is not just old-school but, well, primal.
Specifically, the report reveals that the most significant "usage categories" of social networking sites are – (wait for it) – men looking at pictures of women they don't know, followed by men looking at pictures of women they do know.
The report dances around about what this means in what is either a really oblivious or really evasive way. ("This was a very big surprise: A lot of guys in relationships are looking at women they don't know," says the lead researcher, Mikolaj Jan Piskorski. He then speculates that such men are looking to see if other women "might be a better match.")
I prefer the summation that Peter Sagal offered on NPR's "Wait, Wait … Don't Tell Me!":
Why did Willy Sutton rob banks? Because that's where the money was. Why do men look at Facebook? Because that's where women put the pictures they take of each other while drunk.
This finding is the by-product of a Harvard Business School research program into how companies might better use social networking. In an unsurprising finding the lead researcher calls, quote, "surprising," the number one thing men do on Facebook is look at women they don't know. Number two? Looking at women they do know.
Number three is letting the site sit idle while they imagine how much better life would be if the women they do know were replaced with the women they don't know. Harvard Business School also found that looking at women was the number one reason men read Playboy, watch the National Geographic channel, and open their eyes.
I suppose you could be somewhat depressed by this news, since it signifies that thus far human technological advancement culminates in a porn-maximization device. But don't get too down about that, because the report's other conclusion is depressing in a more legitimate way:
Today's perception is that Twitter has the buzz and Facebook has the users. MySpace? Dead; no one goes there anymore. Tell a marketer that she ought to have a MySpace strategy and she'll look at you like you have a third eye.
But Piskorski points out that MySpace has 70 million U.S. users who log on every month, only somewhat fewer than Facebook's 90 million and still more than Twitter's 20 million in the U.S. Its user base is not really growing, but 70 million users is nothing to sneeze at.
So why doesn't MySpace get the attention it deserves?
The fascinating answer, acquired by studying a dataset of 100,000 MySpace users, is that they largely populate smaller cities and communities in the south and central parts of the country. Piskorski rattles off some MySpace hotspots: "Alabama, Arkansas, West Virginia, Oklahoma, Kentucky, Florida."
Now, if I had a chocolate-chip cookie for every time someone told me that the Internet is "democratizing," I would probably have diabetes and a severe weight problem by now.
But it turns out that even in the virtual sphere, rural people are likely to get overlooked by urban people. Poorer people are likely to get overlooked by richer people. And richer, urban people still control the chatter about what counts as important. (See earlier mention of chatter about how awesome social-networking sites are and how they change our lives. That's definitely rich urbanites talking.) I'm not exactly sure where the burgeoning fulfillment of a democratic ideal comes in here, but maybe some technophile more eagle-eyed than I am will let me know.
The funny part is that like a good Harvard Business School professor, the lead researcher seems not so interested in that big-picture conclusion, but rather in making us feel bad for the corporate positioning of MySpace. "MySpace has a PR problem," he says, "because its users are in places where they don't have much contact with people who create news that gets read by others."
Poor MySpace. You are frequented by people who live in rural communities and small-towns, which means you'd better change your ways if you want to matter.
In the end, the big news here is how little news there is here. Heterosexual men like to look at women. Americans who live in urban centers of power tend to overlook Americans who live in rural and small-town communities. Richer people tend to ignore poorer people. Richer, urban Americans dominate the conversations that create the terms of conventional wisdom. A kiss is still a kiss. A sigh is still a sigh. News at 11.