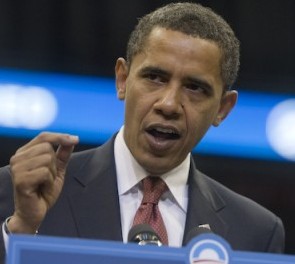 Claremont, CA. When Barack Obama was elected, just over a year ago, nobody predicted that his big problem in office would be talking to the American people.
Back then, you might remember, he was accused all the time of being a talker: talking too much and talking too well. He's "all talk," said the Clintons. He lives in a "cloud of rhetoric," said Sarah Palin. Sure, he can talk, people said, but can he make things happen?
Who could have imagined that by the time the President's second State of the Union rolled around, everyone would be talking about how Obama, in office, has failed to talk to us? But that is where we are now.
Obama has turned out to be masterful at launching policies but inept at selling them to the American people, as Doyle McManus points out. "Take the $787-billion economic stimulus plan that Obama muscled through Congress as his first item of business in February. It was big, bold and ambitious — but in political terms, it's been a failure. Most economists say the stimulus has saved at least half a million jobs, but Obama hasn't convinced most voters that the impact is real."
"He has failed to persuade most of us to support his major proposals," says Michael Barone.
The administration's failure to communicate has gotten so pronounced that in today's LA Times, the great political scientist Jim Morone resorts to reminding Obama that speech matters. "Programs do not make great Presidents," he writes. "Stories make great Presidents":
Parties prosper when they connect their passions and their principles to their policies. Remembering that could save healthcare reform — and the Democratic majorities in the House and Senate. Forgetting it makes the majorities irrelevant, even if they manage to hang on to them.
The conventional wisdom in Washington has long been – and I'd be willing to bed that a lot of people told this to the President when he got elected – that you can't run a country like you run a campaign. Campaigns are about talking, and government is about doing. Campaigns are about promising, and government is about delivering.
The Obama administration, which I'm sure is filled with people who have wanted to prove their early critics wrong by proving that theirs is an administration of substance, seems to have embraced this way of thinking. They've been heavy on the details and light on dialogue. They have turned to "experts" and away from explanation.
It is a remarkable error, since what the conventional wisdom gets wrong – and what the Obama administration is getting wrong as a result – is that talking is a critical part of doing. Speeches are a form of action.
That's a truth that Obama thrived on as a candidate. American voters understood that, too, whether or not anyone put it into words at a time. Obama's critics had to go after his speaking – to accuse him of being "all talk" – precisely because he is such a talented speaker, and a talented speaker is a powerful and threatening thing.
Speech can inspire people. Speech can persuade people. Speech can connect people. Speech can move people, or call us to our better selves. Speech can teach people.
Speech can corrupt people, too, as the ancient Greeks well knew. Socrates was "all talk," after all. One thing you can say for sure about the Athenian Assembly's vote to convict that old philosopher: at least they understood the power of speech.
Good speaking is an especially valuable commodity in contemporary American culture, and a commodity not to be wasted by a President who possesses it, because it is such a rarity here. We don't train people how to talk well; I am hard-pressed to find any state except Texas which requires that public speaking be taught in high school. None of the major gatekeeping educational tests – the ACT, GRE, LSAT, PSAT, SAT – measure facility in oral communication.  And in our everyday lives, we increasingly rely on forms of communication, from e-mail to text messaging to "chatting," that involve the written rather than the spoken word.
The costs of this neglect are substantial in the public sphere, of course. We get lots of shouting and haranguing, but very little good argument. (Someone should tell the self-appointed "deliberative democrats" in political science that if they really believe in the power of deliberation, they should stop trying to set up complicated institutional mechanisms for bringing people together in a room – and concentrate first on teaching people how to use their mouths to convey their ideas effectively.)
In the classroom, I see the costs of this neglect of speech training all the time: I have many students who claim to be uncomfortable speaking in class, but almost none who claim to be uncomfortable writing. Apparently, my students are not alone. A recent report by some linguistic professors suggests that teenagers are becoming "unemployable" because they lack speaking skills. The report seems to blame television for that dire state of things; I blame an entire system that neglects to school people in talking.
In any case, even though we live in a culture where good speaking is so rare – maybe because we live in a culture where good speaking is so rare – good speaking remains a powerful thing. It is a form of action that retains its power to awe and transform. And it is a form of action that is distinctively human: spoken, not written, language is the capacity shared across all known human societies. Speaking is humanizing.
One of the enduring truths of political life is that people never want to be governed by a policy alone. They want to be governed by other people, by another person: a person who works hard to understand others and to make himself understood. Speech is key to those efforts.
Obama is suffering because whether or not it is true, he seems not to understand what is going on around the country. Whether or not it is true, he seems uninterested in making his proposals understood. As a result, he seems distant – the kind of guy who doesn't really get you as a person – and the first thing that he must use to bridge that seeming distance is speech.
What the American people need now – and what the President needs – is more talk, not less.