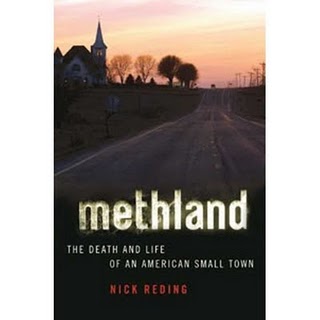 Claremont, CA. They call it the "Superman Syndrome." People who use methamphetamine often believe that they are capable of doing impossible things. Like flying. Or walking through walls. Or earning a living as a meatpacker in the era of agribusiness.
Nick Reding's Methland (Bloomsbury, $25) made a number of "Best Books of 2009" lists, but I want to make sure it does not get consigned to the Decade That Was. It is one of the best pieces of book-length journalism that I have read in years, and if you haven't read it already it should be your must-read book of 2010.
Methland starts out as the tale of one small town – Oelwein, Iowa – so ravaged by small-time methamphetamine production that its officials ban bicycling on Main Street. (Meth makers were riding through downtown with chemical-filled soda bottles strapped to their bikes; the motion helps to "cook" the drug.) Everyone is in a state of collapse: the people who are addicted to the drug, of course, but also the people – the mayor, the prosecutor, the doctor, the policemen – who are trying to fight it.
It sounds like an ABC Afterschool Special for the literary set – drugs are bad! see what they can do to you/us/Iowans! – but as Reding gets further into his story, the story gets much more complicated.
What Methland is really about is the many connections, subtle and apparent, among methamphetamine, immigration policy, and the mega-consolidated industries that we call Big Pharma and Big Agriculture. If the denizens of Oelwein were finding it almost impossible to combat the scourge of meth use, it was because structures and forces well beyond the scale of the town were effectively conspiring to spread it.
Reding's critique of Big Agriculture – those same folks who chastised the First Lady for growing her own vegetables – is in particular worth the price of admission.
In Oelwein he gives us a sad example of what the introduction of agribusiness can do to employment in a farming community: In 1992, the local Iowa Ham plant was bought by Gilette. Within a day, Gilette dismantled the union and wages fell from $18 to $6.20 an hour. Gilette then sold the plant to Iowa Beef Products, and in 2001 Iowa Beef Products sold the plant to Tyson. With each sale, people were fired. In 2006, Tyson closed the plant for good. (Also with each sale, more and more workers turned to meth, hoping that it would allow them to stay awake for enough shifts at a time that they would be able to earn a decent wage. As Reding notes, meth has always been the drug "associated with hard work.")
But Reding also describes the extent to which Big Ag has fought for the ability to hire illegal immigrants – as many as 25 percent of the agricultural jobs in the United States are performed by illegal immigrants – which among many other effects has made it harder to police cross-border drug trade. Although the powerful Mexican drug trafficking organizations employ only a "miniscule percentage of the illegal immigrants in this country," Reding observes, "that fractional number is harder still to police within an ever-expanding multitude of people that is overwhelmingly law abiding."
Reding, the child of a longtime Monsanto employee, goes on to explain the changes that Big Agriculture has wrought in rural America in terms of political economy:
Strapped with the mandate to "grow or die," businesses are encouraged to cannibalize competition until there are no longer many buyers and many sellers, but rather, many buyers and an increasingly limited number of sellers. The flow of capital is dammed up. Once competition has been annihilated … the surviving companies, like Cargill, begin to effect political decisions through their enormous lobbying capabilities. The government no longer governs unimpeded: it does so in tandem with major companies, just as Marx predicted. It was less than a century ago that Teddy Roosevelt made his reputation by "busting up the trusts" that had become too powerful. Those "trusts," not coincidentally, were in large part the industrial meat packers of the early twentieth century.
In this book we see corporations work with governments, again and again, to prevent legislation that would stem the flow of methamphetamine across national borders. So the national interest in, say, regulating the importation of pseudoephedrine, a key ingredient in meth production, is deemed not as important as the pharmeceutical industry's desire to avoid regulations at all costs. (Reading all this, it is worth remembering Adam Smith's own explanation of the "invisible hand" mechanism begins with the assumption that actors are all "preferring the support of domestic to that of foreign industry" – an assumption that is questionable at best in the era of the global corporation.)
Although methamphetamine has been treated as a "small town" or national plague, Reding demonstrates over the course of this book how much it is a global drug – a drug that cannot be understood without reference to the forces of globalization.
This is a book that reminds us that the big picture is made up of many details, that what we tend to term "policy issues" rarely exist in isolation. Unlike the congressman Reding interviews (Representative Mark Souder of Indiana) who says again and again that it is not his job to seek out the connections among various social ills and develop a sense of the whole, Reding makes it his job to do so. It is an exemplary effort.
In an investigation of one small town, Nick Reding tells much that we need to know about our big, and often bad, world.