Holland, MI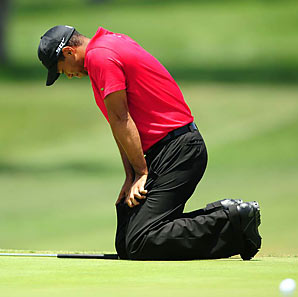 The Tiger Woods saga has moved past its crisis point, and perhaps even past the point of voyeuristic intrigue and scoffing judgment, to a point allowing some more even-handed reflection. Most observers, admirers and detractors of Tiger alike, viscerally recoil both at the known facts of the matter and the more prurient details provided by the imagination. When someone on so high a perch as Tiger Woods falls, the public Schadenfreude is even more pronounced. To observe that adultery and fornication go on every day is not to condone Tiger's activities, but rather to note exactly the inordinate attention this particular instance has received.
For a person such as myself, long an ardent admirer of Tiger's, the sordid details unnerve, even if they don't shock. Most of my friends called to ask me "how I was doing" (as if I were the aggrieved party), but the news didn't come as a shock to me, and this not only because I never thought the guy was a saint (in truth, I can't be said to know him at all). Indeed, his on-course behavior had become an increasing source of consternation to me: he wasn't dominating the way he once did, and with age his temper was becoming more volatile, not less. In the wake of the revelations attending his November car crash, it's not hard to see why.
My fascination with Tiger began in 1996 when he won his third straight US Amateur championship, and then announced to the world that he was going to dominate the PGA Tour. Anyone who has followed sports has seen their share of phenoms and "can't-miss" prospects come and go. Rare is the person who not only meets expectations, but surpasses them. In Tiger's case the expectations couldn't have been higher, and he exceeded them in breathtaking fashion, perhaps reaching the zenith at the 2000 US Open when he dusted the field by 15 strokes.
Now, a cynic, even regular posters on this page, might argue that this is all inconsequential, that sports spectating is the activity of the bored and addled. I believe, however, that there is something ennobling about sports spectating (of course, I'm a political theorist, and the root of the word "theory" is, after all, to spectate at games),¹ even if it involves persons with whom we have no immediate contact.
Not knowing Tiger, I can still make some reasonable speculations about his behavior. Those of us who are not in the public spotlight, who do not operate under the tremendous pressure and scrutiny he faces on a daily basis, can hardly imagine the difficulties of the life he faces. Indeed, no one but Tiger (or, perhaps, Michael Jordan) could know. Jaime Diaz, the well-respected reporter for Golf Digest and the person who has covered Tiger's career better than anyone, tells this story:
"But as much as he sought the glory, he resented the obligations that came with it, even if they made him incredibly rich. I remember Earl telling me that once he had tried to commiserate with his overwrought son by saying, "I understand how you feel."But, Earl recalled, "Tiger turned on me and said, 'No, you don't. You have no idea how I feel.' And I realized that I had underestimated." As Tiger's life in his 30s became more tangled, he turned more inward. His inner circle got smaller and tighter, and those who overstepped or didn't fit in were jettisoned. The best advice for those who are around Woods remains, "Don't get too close." Those who were the closest saw the pressures and the toll. Out of sympathy, and the fact that he is their employer, they didn't call Woods on imperfect behavior like swearing, banging clubs and blowing by autograph lines. Within his camp, Tiger in a bad mood would be characterized in golf jargon: 'Unplayable.'"
I've maintained for some time there are two Woods: Tiger and Eldrick. The latter is the shy, nerdish boy, the son of Tida and Earl (who had the burden of trying to keep his parents together), father of two and husband of one. Tiger is the superstar, the image, the conglomerate, the public figure; the one who balances the mega-billion dollar demands of the PGA Tour, his foundation, his sponsors, his parent's expectations, and a fawning public. The one who can't go out in public without being harassed. An obvious question in all this has been: "How can someone as disciplined and focused as Tiger do something this stupid?" I suspect that at some level, it's because Eldrick wanted to destroy Tiger, that he wanted to claim a normal life for himself. His public mea culpas have seemed to me to be consistent with this belief, for he has portrayed himself as someone he no longer recognizes (as happens to all of us when we face our sins).
Then too, Tiger's development as a moral being provided further challenges. I've often compared him to Mozart: born with prodigious talent cultivated by an overbearing father who had dedicated his life to his son's success. And the success came soon: Tiger on Mike Douglas at the age of three, Mozart touring Europe and sitting on Maria Theresia's lap at the age of four. Neither of these geniuses had normal childhoods, and they carried the scars of that with them into their adult lives, scars which damaged their ability to have normal relationships.
Few of us can imagine the difficulty of maintaining a virtuous life under the circumstances Tiger had to face. Just as everything in his life is larger, so also are his temptations. To put it crassly, I don't have attractive women throwing themselves at me wherever I go, and thank God for that. Wealth, success, fame, good looks, charisma – all these are two-edged. Nor can he easily tell the difference between a true friend and a sycophant, which leaves him without the kind of reprimanding love all of us need and receive regularly. He has no one to trust. He is isolated, forced to face these sufferings and temptations alone. Just as his game is beyond anyone else's, so are the other parameters of his life. His life is outsized.
Aristotle recognized the difficulty of living virtuously under those circumstances. Having only a moderate amount of the goods of this life is what "most readily obeys reason."
"…whereas whatever is exceedingly beautiful, strong, well born, or wealthy, or conversely whatever is exceedingly poor, weak, or lacking in honor, has a hard time obeying reason."
Attractive persons tend not to be virtuous because others are constantly excusing their behavior, while unattractive persons are embittered. Rich people buy their way out of trouble, and poor people are driven by resentment. Those who are well-born think everything they get is a result of their own merit, whereas those in lowly estate think they are powerless. The needle's eye is indeed small for those who live in either excess or deficiency. I believe both are equally deserving of our sympathy, and I think Tiger realized, maybe not consciously, that all his fame, wealth, and power were a curse, and in some ways he wanted out.
As Sophocles taught us, great gifts are usually accompanied by great suffering and great loneliness.² Having the gifts bestowed on oneself can be a tremendous curse, and the recipients may often try to escape the burden the gifts impose (sloth being only one option). They isolate us from our fellow men, who both fear and envy those gifts until they need them. And need them we do, perhaps not like Philoctetes' bow, but in the beauty of Beethoven's music, or Goethe's prose, or Van Gogh's paintings, or Eliot's poetry. We'll take these flawed individuals with all their psychoses and all their warts because, well, we can't live without their art.
Even if we were to concede that Tiger "is a great golfer, but a bad man," should that detract from our meditative enjoyment of the artistry of his game? I would contend that Tiger's golf game is an instantiation of beauty analogous to a Mozart quintet. If we think of art not purely as aesthetic enjoyment but as a social practice that involves performance and engagement, then surely Tiger has achieved Olympian heights. His artistry ennobles all who see and respect it.
Those of us attendant to the details of golf recognize instantly the difference between a "beautiful" swing (such as Tiger's, Sam Snead's, or Ben Hogan's) and an "ugly" one (such as Arnold Palmer's, Chi-Chi Rodriguez's, or Jim Furyk's). The former has balance, symmetry, and effortless power. Movement is initiated so that space is occupied in exactly the right way in exactly the right moment (much as time is in music, which is why tempo is so important in both). It is graceful, smooth, rhythmic, all in service of fulfilling the body's potential, even if that potential serves the absurd drama of putting a two-inch ball into a four-inch hole a third of a mile away in five hits. Each golfer has within himself a perfect swing, and golf is a relentless quest to try to achieve that perfection. In that sense, we are trying to get out of our own way, to allow the swing to become us.
Athletics involve a loss of self-awareness, an uncoupling of our movements from our thought processes. At its apogee, it is a state of pure receptivity in the context of uncertainty, both to how one's developed gifts will perform under pressure, and to whatever might happen next in the event of the contest. In the nexus between exertion and restraint, athletics provide a full and perfect expression of life itself. It is precisely because of its inconsequence that it becomes so important.3 Indeed, we refer to sport in both meanings of "recreation" in that it reinstantiates the sacredness, the joyful playfulness, of creation itself. It restores, and brings about unity.
Perhaps we are dismissive of sport because of a residual hatred, often found in forms of Christianity, of the body itself. But the movement of the body in athletic form is both Apollonian and Dionysian, it is controlled abandon, directed power, and no one in my lifetime has done this better than Tiger Woods. Moreover, he has not done this in private (on a driving range), but in the agon where the athlete is removed from the everyday world and transfigured into something heroic. He has demonstrated sacrifice, courage, steadfastness, and composure in the face of loss and its attendant humiliation. He has done his best when the best was hardest to do, and fully honored the gift he had been given.
We think, then, of virtue in two of its senses: as the pursuit of excellence within a practice, and as performed in the public arena. In this, Woods has been exemplary. After setting all sorts of records at the 1997 Masters, Tiger retooled his swing. After winning four majors in a row in the early 2000's, he retooled his swing again. In both cases he wasn't motivated by the desire to conquer, nor by money (goods external to the practice), but by finding within himself the golf swing that would come closest to perfection. He supplicated himself by attempting to develop fully his gift within the space created by the practice. While he hasn't been as dominating, those who know him best (including his own testimony) all say his swing can do so much more than it did before. He has more shots. He is fuller, more complete.
It undoubtedly seems strange to turn a story on Tiger Woods into a meditation on beauty and virtue. His private life shows none of these things, and even his golf has become unraveled, as shown by him for the first time coughing up a lead in the final round of a major. We live in a world that detests greatness among human beings, one so given to egalitarian excess that we can't allow our heroes to shine as brightly as they might. Like Philoctetes' shipmates, we condemn them to a life of solitude on the island of Lemnos, leaving them only their gifts and their pain – until we are told we need them.
None of us have any justification to doubt the sincerity of Tiger's mea culpa or the process by which he tries to reclaim his life. Like Augustine, like all of us, he has become a stranger to himself and is now trying to recover everything he has lost, including his spiritual core. I hope for his sake this laborious and difficult process is rewarded. I hope for his children's sake their parents manage to reconcile. I hope for his wife's sake she can regain the dignity that was taken from her by her husband's philandering. I hope for our sake he finds a deeper unity both as person and as artist, and can treat us to something surpassing in beauty and achievement. I hope for his redemption, as well as my own. As I have in the past, I'll be rooting for him.
___________________________
¹ A ϑεωρος is a spectator at games, while the verb ϑεωρια means the act of spectating, as well as referring to the designation given to officials delegated to visit the sacred festivals of other polities, learning their customs and traditions. Plato connects theory to play explicitly by arguing (Laws 649-650) that sports are a "cheap and comparatively harmless test" of someone's character, and spectating sport reveals their character without "serious consequence or costly damage" – ironically, in this case, as a better alternative to discovering the disposition of someone who "is a slave to the pleasures of sex" than marrying him off to your daughter. With play, "we have a fair test of man by man, and that for cheapness, security and speed it is superior to all other tests." In short, theory is a desirable alternative to the hard lessons of experience.
² As when, for example, Philoctetes tells Neoptolemus that his only faithful companions have been the bow given to him by Apollo, and the pain in his festering foot which never leaves him.
³ This is the sense of the irreducibility, and utter seriousness, of play as discussed by John Huizinga in his groundbreaking Homo Ludens. Or, as put by Geerardus Van Der Leeuw in my favorite book on art Sacred and Profane Beauty: The Holy in Art, "The great difficulty, indeed the tragedy of our modern life, lies in the fact that we differentiate between the things that concern us and the things which do not concern us."