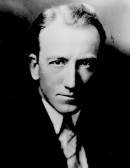 "Would that thou couldst last for aye,
Merry, ever merry May"
–William D. Gallagher
Well, it can't. But herewith my May column from The American Conservative on a contumacious patriot of Idaho, Vardis Fisher:
I am polybiblious—-not, I hope, polybilious—-in that I often read two books over the same period, alternating as the mood strikes.  Seldom are they counterpoints or complements; they are merely the cheerfully incongruous products of happenstance. During a recent week of travel I paired Vardis Fisher, Idaho's gift to local color and regional history, with a whole lotta pages (When Giants Walked the Earth) on Led Zeppelin, a headachingly boring band I have never liked, not for a single godforsaken beat. (I did learn that Led Zeppelin's most interesting, if sinister, member, Aleister Crowley disciple Jimmy Page, votes Tory.)
Yesterday I broke up Willa Cather with a 1952 hockey novel for boys (Scrubs on Skates) written by Scott Young. I'd long wanted to read one of Young's YA novels. He is the father of Neil "There is a town in North Ontario" Young, provincial Canada's gift to American music. Scott's edifying tale is set in Winnipeg and references streets also mentioned in  Randy Bachman's melancholy anthem of Manitoba (and its betrayal by talented sons), "Prairie Town."
You will note that the only obscure figure cited above is the one who stayed home: Vardis Fisher, who is known today, if at all, as the author of Mountain Man, source of one of Robert Redford's best films, Jeremiah Johnson (1972), scripted by the anarchist surfer John Milius.
Vardis didn't surf, but the apostate Mormon did play football (150-pound starting center for the University of Utah), tutor Wallace Stegner, novelize his place and his frontier forebears, and compile a WPA guide to Idaho in the publication series that is the New Deal's best legacy. He also drove away most of his modest readership by producing a bizarre twelve-book history of mankind called the Testament of Man. That's the thing about cranks: they can't help themselves.
Like so many American writers, Vardis Fisher hated FDR, despised the regimenting state, and proclaimed "a distaste for American graves in foreign fields, no matter how thick the poppies might be."  (Project for a young Idahoan: track down and write up the political columns Fisher penned for the Idaho Daily Statesman, which sound like 180-proof Old Right.)
Fisher seems to have been almost a parody of the cantankerous libertarian/village atheist. He was "temperamental, obstinate, rude, ill-tempered, [and] tactless," as his biographer Tim Woodward concedes.  But he was a true son of Idaho, crotchety and strange yet pertinaciously loyal, and can you blame him for resenting that part-time resident Ernest Hemingway was feted as the Gem State's author?
Woodward quotes Fisher lamenting his neglect: "[I]f I had stayed in Manhattan and gone on teaching, and if I had learned to scratch some backs in New York and had cottoned up to some of those important people in the literary world—-it would have been easy enough to do—-and if I had slipped the word to them that I was saying good-bye to Idaho as Glenway Wescott said good-bye to Wisconsin, and had agreed that it was a desolate land out there not only in regard to rainfall but also in regard to culture and everything else, and that it was very good to get back to the complex of culture in New York—-with all that, my sales record and my review record would have improved. And I don't think that's rationalizing."
Maybe. But if you walk away from (or never join in the first place) the daisy chain you can't complain when they forget your name. Home, however, is a different matter: healthy places remember. Tim Woodward tells me, "Our state falls all over itself to honor [Ezra] Pound, who left as an infant and never returned, and Hemingway, who came here primarily on vacations. Fisher, meanwhile, is pretty much ignored."
I am not much of a Fisher man, but then I have no private Idaho. If I did, I would beg this of my neighbors: Pull for Boise State football, but know that homegrown Idahoans make up just 20 percent of the Broncos' roster. Read Hemingway, but admit that flighty Mariel and model-suicide Margaux are the Idahoans, not their grandfather. Thank Senators William Borah and Frank Church for fighting in their own ways to preserve the republic, but deplore that not a single member of your congressional delegation–including Larry Craig, the Mr. Goodbar of the airport stall, just another of the numberless D.C. Republican closet cases—-had or has the guts to vote against these damned wars.
What I am trying to say, Idaho, is shield your eyes against the coastal glare and look homeward, for there are rare and wild flowers pushing up from your untended graves.