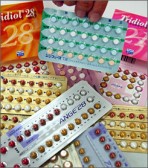 Devon, PA. R.J. Snell offers this profound reflection on the fiftieth anniversary of the "conception" of the birth control pill.  Read the whole thing, but here's a compelling excerpt:
Dr. Trussell, for instance, does not simply conclude that the Pill's time is over but hopefully expresses that "the future lies instead with fool-proof contraceptives that require almost no thought or action." He argues that "many women would be far better served by newer long-acting contraceptive methods that don't require remembering to take a pill each day."

No thought or action. No memory. These are the new hopes given the rather disappointing results of the Pill. Not self-control or cultural intelligence but newer, easier, more convenient techniques.

Contraception is thought of as something like shampoo or deodorant, a "necessity" that one picks up at the drug store when occasion arises or supplies are low. If we follow Aristotle in defining choice as deliberative desire—that is, that one chooses after deliberating on the means of action to some desired end—we might even say that many people do not even choose to use contraception but rather use it as an inherited and unexamined cultural norm. While Dr. Trussell is certainly correct that new devices and technologies can be invented or promoted thatt reduce or eliminate the need to think and to remember to take a pill, we've already reached the point of being thoughtless and forgetful when it comes to birth control.

In The Art of the Commonplace, Wendell Berry states that "birth control is a serious matter, both culturally and biologically," but what is really "horrifying is not that we are relying so exclusively on a technology of birth control that is still experimental, but that we are using it casually, in utter cultural nakedness, unceremoniously, without sufficient understanding, and as a substitute for cultural solutions . . . and to promote these means without cultural insight." In other words, a serious matter requiring careful deliberation and sound judgment has been handled carelessly and thoughtlessly—we have been forgetful.
Two of Snell's many smart suggestions stand out particularly.  First, the language of "choice" and autonomy (the woman as self-legislator who can make law for herself) conceals an actual reduction of the self to automaton; whether we gesture toward the language of Aristotle's rational animal capable of deliberate choice or of Kant's man as a moral being whose liberty to choose specifically constitutes him as moral, as human, we must confess such rhetoric a mere patina flaking off of a deliberately un-reflective drive simply not to have to "worry" about the nature and consequences of our actions.
Second, the only alternative to those technocratic solutions that, by definition, try to put decision outside the range of moral action and choice, is the alternative of cultivation: that tenuous self-government that requires a long memory, and an acceptance of our dependence on others and our fragility within the world of creation.  Contraception is not a consumer choice — it is certainly not a "lifestyle choice."  It is, rather, an entire way of life, promising to the human being a second nature grafted technologically on top of (and repressing) one's first nature.  As such, it involves not simply asking questions about what one should or should not do in order to attain to human happiness, but rather it transforms one's conception of what happiness is — what the purpose and meaning of human life is.  And once one changes ends, one changes just about everything that lies on the path as well — including oneself.
It remains hard to get a clear vision of just how devastating and complete a cause modern contraception has been; even after one recognizes the evasions and self-deceptions of portraying contraception as a "personal" or "consumer" choice, one cannot hope to comprehend its full ramifications.  The reader may shrug, wishing to say the use of contraception is an isolated action, without consequences external to the act itself.  The ambivalent "celebration" of the Pill's anniversary, as Snell notes at the top of his essay, belies this complacency.  I would suggest that far from being of little or no consequence, the Pill has been one of the decisive transformative causes of our society from one of memory and cultivation to one of increasingly listless and dehumanized automata and the disingenuous rhetoric of choice.  Those most likely to concede the scale of this transformation are usually those most likely to blurt the deluded language of "autonomy"; they admit the scope, but lie about its nature.  So let us peer through the screens of evasion and mendaciousness for just a moment: in one half century contraception has shown itself to be perhaps the most various, unpredictable, and significant public event imaginable; its effects easily outstrip those of the spewing oil in the Gulf; indeed, the Pill's radius of effect, in terms of range and variability, exceeds even that of the atomic bomb.  Let us now return to the climate of our forgetting.