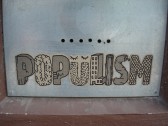 Washington, D.C. If you blinked, you probably missed it.  After an astonishingly strong performance at the polls in 2008, despite several significant legislative achievements, the new American progressive moment seems to be on the wane.  Despite arriving in Washington just over a year ago with a tide of goodwill, progressives now find themselves stymied at most every turn.  Recent polls show sharply diminished faith in the President, Congress, and the public sector more generally.
If this collapse seems bewildering, that's because it truly is.  Some of this can be attributed to dire circumstances.  The economic and political obstacles facing American progressives are substantial—conservative intractability, the growing national debt, high rates of unemployment, and general economic uncertainty, to name a few—and not entirely within the current administration's control, but their resources for addressing these were also significant.  This was a genuine opportunity to build what experts at the Center for American Progress called a "New Progressive America."  Somehow, what seemed to be a strong political movement for change, premised upon hope for a more just America, is now slipping into broad-based cynicism and political despair.
So what's going on?  Theories of the exigencies of ruling in democratic regimes offer only part of the explanation for progressives' recent struggles.  It is true that the transition from campaigner to officeholder is never a smooth one, but the corresponding dips in public esteem are rarely this dramatic.  How did the national yearning for change convert into a reactionary fear of it?  How did hope so rapidly give way to despair?  Is there something inherent to progressivism that led to such disappointment?  In simple terms, the new progressive era was ushered in with promises that America's problems could be solved at the federal level, instead of by addressing their broad-based roots in communities across the country.  Any substantial shift in the tenor of national politics requires committed grassroots support.  The current progressive moment lacks a reliable political movement.
Let me try to explain why I think this is so.  One clue to progressives' current struggles can be found in their rhetoric, but their rhetoric suggests fundamental problems in their approach to politics.  During the 2008 campaign, then-candidate Obama led progressives in the assault on President George W. Bush's legacy.  There was much to discuss and little to appreciate.  American standing in international affairs had been significantly diminished, the economy was in the early throes of a massive recession, and Congress was largely gridlocked.  The country and its government were a mess.  Progressives highlighted mounting political and economic inequalities, and ran on the promise of political renovation.  They promised to restore hope to the United States and new levels of accountability to the federal government.  In one election, they reclaimed progressivism for the everyman.  Voters eagerly responded, flocking to Obama's rallies and fanning out across the country to volunteer.
The trouble, however, was that Obama's message of national hope and political change never really had a populist backbone.  Instead, his rhetoric was messianic and his politics were soteriological.  In response to the failures of the Bush Administration, Obama and other progressives promised to return responsiveness and responsibility to their government.  In return, they asked Americans to dare to believe in political progress once again.  The implication of this rhetoric was that the troubles of American's politics would be fixed if staffed by trustworthy officials.  The promise was that this change would alter the tenor of American politics and help to deliver a slew of responsible progressive policies.  President Obama's general unwillingness to manipulate American political procedures suggests just how deeply this sentiment runs through modern progressivism.  Since they believed the rules would work if only they were honestly applied, progressives asked Americans to have faith in the political system.
Don't misunderstand me; this was no mean feat.  Nonetheless, this approach comes with costs.  Progressives promised national political salvation by top-down means, but asked very little of the American public beyond electoral support.  Should we be surprised that the Presidential inauguration in January 2009 marked the high water mark of public progressivism?  Progressives asked voters to trust them to change the country, and asked them for assistance in reaching positions of power to make these changes.  They never asked the public in any specific ways to take responsibility for political solutions.  They never called upon communities to work for themselves, always pointing instead back (to the Bush Administration) and up (to the federal government) for political solutions.
So—unsurprisingly—their expectant supporters have since remained passive spectators, waiting for the change promised them.  Current challenges were never presented to them as their fault, nor as their responsibility, so these have never seemed to them to be worth actively addressing.  Of course, the disorganization of the American Left is a truism as old as Will Rogers' famous jab at the Democratic Party.  What is unique about the current loss of progressive momentum is its mercuriality.  The ascendant electoral strength of progressivism (circa 2008) was a house of cards because it has no corresponding popular movement.  It was built on a populism that promised better management by elites.  In the face of national crisis, progressives told Americans: "You've been badly treated.  Give us a chance to fix this for you.  We'll take care of it."  This is the politics of salvation, a politics of elites and management.  It is not populism in any sustainable way.
Take a look back at Obama's inaugural speech.  After an historic, grueling, soul-searching electoral season for the United States, the President claimed that the primary question going forward would be:
not whether our government is too big or too small, but whether it works—whether it helps families find jobs at a decent wage, care they can afford, a retirement that is dignified.  Where the answer is yes, we intend to move forward.  Where the answer is no, programs will end.  And those of us who manage the public's dollars will be held to account—to spend wisely, reform bad habits, and do our business in the light of day—because only then can we restore the vital trust between a people and their government.
Though he also noted that "as much as government can do and must do, it is ultimately the faith and determination of the American people upon which this nation relies," the President's calls for public sacrifice were abstract.  He asked nothing of the people except "honesty and hard work, courage and fair play, tolerance and curiosity, loyalty and patriotism."  These are beautiful words, inspiring words, but they are not a call to action.  They are calls to national pride.  They remind Americans of the greatness of our common national dreams, even while making it clear how far we have fallen from them.  What these words do not do is call Americans to the "better angels of their nature," nor do they outline what role the American public has had in causing their national crises.  These are not the words upon which to found a robust progressive political movement, and without such a movement, no amount of inspirational words can build a new political era.
This is all very much in contrast to received wisdom.  After all, "Obama for America" became "Organizing for America," and there is no evidence that the grassroots activists involved in the Obama campaign have completely disbanded.  President Obama often gestured to populist mobilization: "I'm asking you to believe.  Not just in my ability to bring about real change in Washington…I'm asking you to believe in yours."  My point is that this is artificial populism, managed from afar and driven by talking points provided by a centralized institution.  It is possible (though I think it unlikely) that this is the best progressives can hope for at the moment, and that Organizing for America perhaps contains the seeds of a more robust progressive populism.  It aims at distant and powerful reforms, but it does not encourage real populist organization.  It may have been an effective campaigning tool, and it may yet be a powerful means for driving policy reform, but it is no match for a truly organic populism.  Witness the national media's fascination with the Tea Party, a relatively small group when compared with the Organizing for America email lists.  Progressives should not emulate Tea Party activists for a variety of excellent reasons, but they should consider its vitality compared with other movements on the American Left.
If I am right about modern progressives, and President Obama in particular, this is not a new problem, nor is it simply a matter of rhetorical framing.  Its roots are deeply embedded in the progressive tradition.  Progressives since (at the very least) Claude Bowers have struggled to square their egalitarian ideals with their faith in bureaucratic solutions to political problems.  Like Thomas Jefferson, many progressives admired the civic republicanism and solidarity of strong, local, democratic communities.  In the early twentieth-century, scientific advances helped to fuel rapid economic and industrial changes that undercut the stability and existence of many of these communities.  Political institutions struggled to adapt to the new conditions.  Many progressives argued that the scientific study of politics would indicate potentially fruitful avenues for democratic reforms.  They simultaneously argued that the power dynamics of industrial capitalism were threatening the democratic principle of equality before the law.  In a word, they advocated reform by experts in order to reinvigorate the political participation of all citizens.  As many have noted, from John Dewey and Herbert Croly to Christopher Lasch and Wilson Carey McWilliams to E.J. Dionne and Patrick Deneen, this tension has been more or less pronounced in progressive politics since the early twentieth century, but it is clear that current progressives prefer technocracy to populism.
How might a progressive movement reignite today?  As I've implied above, any such attempt cannot be purely a top-down solution.  As such, progressive non-governmental organizations from labor unions to student activism networks are part of the solution.  The difficulty is that they were active in this work since before the 2008 election, and still no robust progressive political movement has emerged.  To activate, unify, and direct these disparate groups, progressives will need to reacquire populist language that calls for tangible and serious sacrifice from Americans.  FDR's speeches during the Great Depression and Lincoln's calls to action during the Civil War are certainly among the best examples of such appeals.  Of course, populism also thrives on aggressive language that highlights examples of injustice and corruption, and progressives should not shy away from shaming "great malefactors of wealth."
More importantly, progressives must re-learn to advocate for community self-determination, and work to link political activity on this level to national politics.  As I've suggested above, this will necessarily mean much more than rhetorical repositioning.  Progressives need to do more than just talk about community strength and solidarity.  They need to begin looking for policy-driven ways to materially encourage the development of these local ties, and then they need to build links between local and national politics.  While progressives need not wholly abandon their traditional formula of a strong "Hamiltonian" national politics in pursuit of "Jeffersonian" egalitarian ends, they do need a renewed focus on the Jeffersonian side.  This won't mean a complete re-invention of the progressive agenda, but it will require some introspection.
Obama's public praise of the Harlem Children's Zone is a good example of how this might be done.  In addition to celebrating its success, he ruminated over how to expand the Children's Zone's model into other struggling communities.  Progressives should also look for ways to build up service-based movements for social justice, such as Teach For America or Americorps.  Modern progressives will need to think seriously about how to build links with such organizations to sustain a reliable progressive movement that can respond to these calls.  Without such a movement, the new American progressive moment will end as quickly and remarkably as it began, just a hiccup in a fundamentally conservative era of American politics.
—
Conor Williams is a proud son of Kalamazoo, Michigan, and an alumnus of Bowdoin College.  He served two years with Teach For America in Brooklyn, New York, and is currently pursuing a PhD in Government at Georgetown University.