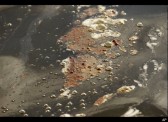 Washington, CT Every day, driving down the rural byway between my office and home, I pass a hand-scrawled sign posted on the front lawn of a house that sits close to the state highway but still overlooks a river coursing through hayfields. Funny enough, the barking message is on the blank side of a sign that originally advertised a local Reggae Music Festival. On the furiously adapted re-use side however, it now proclaims : "NUKE THE OIL SPILL". So much for bongs and a funky back beat, this new age has a more emphatic solution: atom-splitting bombs.
Around 4,132 feet below the surface of the Gulf of Mexico, what has been termed a "leak" but is more like a gushing severed jugular, a grand mistake of man is relentlessly unleashing millions of gallons of crude petroleum into the ocean. Beyond the crude oil eruption into the waters, we are watching as the Corporation responsible for the disaster dumps huge amounts of toxic chemical dispersants into the water, a deadly stew that is actually illegal within the State the Global Corporation calls "home". This noxious cocktail of disaster has been accumulating since an explosion and sinking of the Deepwater Horizon drilling rig this past April 22. Over 80 days have elapsed and still, the oil spews forth while the dispersants rain from the sky, causing an unimaginable impact to the waters of the Gulf and a distinctly immediate impact upon the people of the southern states whose lives are centered upon the Gulf. Even if the "leak" is capped this weekend, the effects will continue indefinitely. With Oil "spill" emergency workers filling office space just vacated by Hurricane Katrina emergency workers, it would appear that this new economy may have its greatest job growth in disaster management, man-made and otherwise.
The celebrated oil rig with its triumphal name of "Deepwater Horizon" had amassed a storied career in producing bountiful results for the oil corporations that chartered it. The rig was, like the oil business itself, a freebooting product of global commerce. Manufactured by Hyundai Corporation in South Korea, commissioned by a Swiss subsidiary corporate entity registered in the Marshall Islands and leased to British Petroleum, the rig could rightly have played the old sentimental pop song from the 80's entitled "We are the World" as its morning anthem. Instead, it stuck to business and drilled the deepest oil well in human history, going 35,050 feet deep into the Macondo Prospect, nearly a mile below the surface of the waters and located about 250 miles off the coast of the Gulf States. The well, like others in the rig's past was a potential bonanza but complications inevitably arose, an explosion sunk the rig and eleven men died in the resulting inferno. As if this disaster were not enough, the Byzantine world of media and political damage control then kicked in.
One began to get a sense of the house of mirrors that would be erected around the disaster when, within the first few days afterwards, media reports began to diverge. My first hint that all was not well in Kansas came when a New York Times edition a few days after the disaster produced two distinctly contradictory reports. A Reuters stringer in the Business Section produced a puff piece on the boss, Tony Hayward. The sprightly little journalistic battle flag described how Mr. Hayward was assembling a huge armada to combat the "leak" and went out of its way to characterize the efforts as going well beyond the needs of the emergency because this CEO cared and after all, we were talking about a very "Green" and indubitably august British Petroleum. Elsewhere in the paper, another journalist, one who was obviously not serenaded by the Corporate P.R. machine provided a first glimpse at the enormity of the problem confronting us and how this "leak" was going to become something far bigger than a transitory problem. What I found remarkable about this confused reporting is that it occurred within the same issue, with contradictory reports within pages of one another and under the gaze of an editorial staff whose job it is to present "all the news fit to print". The brazenly conflicting reporting was an ominous portent borne out by subsequent events.
We would all watch, spellbound, in what has come to be termed "Real Time" as the well spewed its contents into the deep sea under the watchful eye of a "spill cam". The images were broadcast worldwide and there began a debate which argued over how much oil was actually being belched into the deep blue sea. British Petroleum of course, wished to keep a lid on the amount but the growing sheen of a surface slick and an increasing attention to the disaster overwhelmed this typically corporate urge to spin, resulting in a growing awareness that this was no simple spill, it was a hemorrhage and we were in new territory. Two months later, after several failed attempts to stop the flow, the oil still spews forth and we've been treated to a Congressional show trial of the sad-sack Mr. Hayward who wishes for his life of pampered Corporate Satrapy back. Despite the lip service, nothing so much as a basic acknowledgement of the enormity of the disaster has emanated from Washington D.C.. We may have marshaled the substantial resources of the Coast Guard to the effort but we have a sham economy to resuscitate, wars to fight and recalcitrant Generals to sack elsewhere. There seems to be no significant sense of overwhelming national emergency. We watch but the disaster continues. We extract a form of Blood Money from the Corporation to cover some of the costs of the disaster but do little beyond simply monitoring the situation. Ex plures, unus testis.
The President eventually appeared and took the blame upon himself even though it is a farce to think that blame can lay upon one man for the enormity of our excesses. However, appear he did and after briefly explaining the various things that were being done to combat the sucking chest wound, he offered up the following pearl of hedged aspirations in this post "Shock and Awe" age :
"….And yet, time and again, we have refused to settle for the paltry limits of conventional wisdom. Instead, what has defined us as a nation since our founding is the capacity to shape our destiny—our determination to fight for the America we want for our children. Even if we are unsure exactly what that looks like. Even if we don't yet know precisely how we're going to get there. We know we'll get there".
The last time I was so stirred by political rhetoric was when the residents of Bolinas, California rolled a big spliff and objected, convolutedly to the Iraq invasion, producing a stoner version of a government proclamation. Were I to recall it here, it would not matter because the principle message was incomprehensible, though somewhat endearing. The President however, in this stark time of environmental degradation coughed up an almost embarrassed platitude of resignation. "We'll get there even if we don't know what it looks like". How nice for us. This "World's Greatest Superpower ", pulling at straws and hoping for the best, stumbling blindly through disasters of its own reckoning. Note to the citizen: This Deep Water Horizon disaster is a wake-up call. It is a demonstration of how little your government can really do in the face of disaster. It is a declaration of the accelerating diminishing returns of our current energy paradigm. It is a pitch-perfect evocation of the way our Nation State-Corporate Combine will use any locality as its toilet bowl. It is a definitive slap in the face to technological triumphalism. It is the chicken of yore, with their decayed dinosaur remains coming home to roost.
However, I am not disappointed by this President because I do not expect much from Presidents to begin with. No man, nor even any government can long satisfy the accelerating demands of a species whose technological abilities exceed the intellectual and spiritual checks developed in quieter times. We stand astride the world now like a colossus, victorious, masters of the universe. We talk instantaneously stem to stern, we congratulate ourselves upon our supreme achievements and yet still, to this day, we murder one another as though we were flinging a charred shin bone into another hostile encampment of Neanderthal opponents. We exploit and conquer and kill and extract and transform all we can from a tiny blue orb in the vacuum of space thinking that our petty compulsions will always have their outlet and that in the fullness of time, the human mind will find a way to get out of its own way. No such luck.
No, this leak at the bottom of the sea is a mirror held up to our uncomprehending selves. It is the lipstick on the collar after a night of debauchery, it is the hangover of our lust for power, it is the hair of the dog that bit us and now, it is beginning the descent into that vacuum of old news, soon to be forgotten or at the very least, tired of. We have bigger fish to fry. We have Generals to replace and wars to prosecute and economies to fake. We have a charade to maintain. Have a Nice Day.
It is often stated that the scientific revolution of the Enlightenment was a death knell for our spirit. God was no longer an adequate explanation for this Box of Light we inhabit. We were part of something far larger than merely a quid pro quo between ourselves and our maker. We were part of a "web of life", something without easily assumed boundary, unfixed, unending, a cornucopia of sorts, limited only by the fecund soil of our lush imagination. Plants and animals were no longer simply part of that animal spirit "other", they were species and genus and had unique habitat and were something worth exploring as one might explore a favorite haunt of human habitation. Unsatisfied with mere life, we created a computerized "virtual reality" and set to work decoding our genetic make-up so that we might manufacture life as though we were banging out widgets. When we found life so easy to manufacture, it was inevitable that we should feel such ease at extinguishing it under the vaunted banner of "choice".
Early in our scientific awakening, this cornucopia of genus and species needed sock drawers . Enter Linnaeus and his botanic category. Then Freud and his mental apologia and Marx with his political recipes. Categorization became our new God and with this dissection, we could forever turn away from the demands of spirit and enjoy the next frontier of ever expanding category. Today, we categorize with a vengeance. Meant to illuminate, this categorization now distracts. We run from life and call it "choice". We embrace the artificial as though it could have ever outlasted the real. We treat the future as a pagan idolator treats his favorite animal deity. We embrace distraction and call it curiosity. We are a civilization of cannibals eating our own tail and calling it progress.
As this oil well spews relentlessly into the beleaguered waters of the Gulf of Mexico , adding its taint to the already entrenched anoxic zones of Mississippi River fertilizer deposition, we should not be thinking about the President's grasped straw of a inchoate halcyon future, we should be dealing with the here and now of our sordid preoccupations. For all of our technological prowess, we have utterly failed as a productive element of the life of this planet. We are the anti-life, the harbinger of darkness. We are the devil incarnate, the largest taker of life on this planet of sheer joy. Fallen, we are taking the rest of creation down with us.
Or are we? Give us this day our daily blame to be sure, forgive us our trespasses as long as there is a culprit we can assign blame for our distemper. In this age, when our round multifarious world is declared flat simply by virtue of its nervously featureless commerciality, mankind still exists with our essence intact. So does the world we inhabit. But not for long. This imperfect ark of ours, cast out upon the vacuum of space, it is at once harsh, benevolent, embracing, arid, humid, lush, xeric, catastrophic and pacific. It is both at odds with and in obliging servitude to this, our nervous naked ape. The world remains, like we do, an endless wonder. Of this, we deserve to be happy and forever thankful. It could never be other than thus because mankind does not exist without the terra-firma of our encompassing and voluptuously maternal earth. Though tragedy quickens and stalks this azure orb like an evil moloch, life remains and sings its lusty songs because it is measured against the most powerful of our human baselines: Love. The episodic disaster of human tragedy would not exist without the larger terrain of love. We are creatures of love before we are befuddled agents of hate. We are neighbors before we are politicians. We are vehicles of charity before we are automatons of fate. The human being craves independence but this independence is only as good as the essential vitality of the larger host. This "race" as we are called, a hurried stagger to one finish line after another, we race for that which we already possess. Herein lies the great emetic secret: Finish is a lie. There is no finish, the end is a seductive fable and certainly nothing to abandon hope for on an altar of fate. Worse yet are the constant yearnings for Utopia, an encompassing five card monte and profound abuse of good humor.
Love is now and shall ever remain the essential ingredient in this force we call life. It is the great energy of light and touch, of an ability to step outside the comfortable confines of the individual and bask in a light that falls equally on all. Love is the beacon in this carbon fiber gloaming of technological sheen. It is our search light sure and true, ready to be trained upon this complex firmament we inhabit in order that we might reach that home we have yearned for since banishment at our own insatiably frightened hands.
Man is now a force as strong as the weather and this spill is one of his many storms . It gathers strength because we have forgotten how to love both our world and our fellow beings. Without love, we will easily accept the platitudes of our technocratic soothers and soothsayers. Without love, even hate deflates and with that, tragedy will envelop us within a suffocating embrace of decline. All with the very best of intentions of course, served in triplicate and filed in the Library of Congress under the general category of the "Banality of Evil". We can be embarrassed about many things as a species but the fact that we are not screaming everlasting bloody hell over this disaster in the Gulf of Mexico is a shame worthy of the ages. The spectator simply watches and clucks in disgust but does little more because , after all, watching is as good as acting in this new day of modern ennui. Ex plures, Unus testis. What else is to be expected of a culture that has forgotten to love? Not much, beyond degradation one supposes. 234 years go this past weekend, we declared independence from that which oppressed us. The forces unleashed were truly remarkable but in the end, this hallowed sense of independence has been devalued into an inchoate thing called "choice" and the partisans of a revolution have accepted their role as mere consumers. Titillation and nervous urges have replaced love and any fool can tell you that independence without love is no independence at all.
At long last, we are treating the Gulf of Mexico as though it were a giant cess-pool and sitting idly by as a dutiful spectator , waiting for the great officials in the sky to help. In essence, the baby is waiting for somebody to change its diaper. We squirm about in our petulant squalor , watch the "Spill Cam" for a bit before moving on to the other Reality Programming of the day. Perhaps LeBron can dunk a ball to plug this pipe.
Our President accepts blame but still, the oil spews forth. This is not somebody else's defecation, it is our own squalor, a manifestation of our own unceasing wants, a clarion call that technology has limits which are best observed soberly.
The shame of it all is that we will not likely come to recognize the role we forsook as stewards of this good earth until we have lost it. Our best hopes and aspirations , our pretentious claims of intelligence and sacred paternity are little more than a bad joke now that it becomes so roundly proven that the people who so fortuitously stumbled upon a New World will so roundly trash this same world in the fullness of time. For those who are given much, much is expected. Expectations are not transferable. A Revolution has lost its beneficiaries.