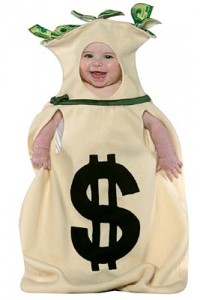 Behavioral economist Bryan Caplan published an essay in the Wall Street Journal on Father's Day that begins: "Amid the Father's Day festivities, many of us are privately asking a Scroogely question: "Having kids—what's in it for me?" An economic perspective on happiness, nature and nurture provides an answer: Parents' sacrifice is much smaller than it looks, and much larger than it has to be."
The article proceeds to explicate, but never escape, this initial fudge: that is, the strongest recommendation that an economist can muster for having children is that it's not as much work as people think. This is not to say that it's not work – just that parents don't have to be as anxious as they are about their children's futures, since almost the entirety of their fate is the consequence of genetics (he does generously suggest that parents shouldn't shut their children up in closets). Little hinges on whether or not parents read children bedtime stories every night, or even what schools to which they are sent or the neighborhoods in which they live. According to Caplan's summary of recent behavioral science findings,
If you enjoy reading with your children, wonderful. But if you skip the nightly book, you're not stunting their intelligence, ruining their chances for college or dooming them to a dead-end job. The same goes for the other dilemmas that weigh on parents' consciences. Watching television, playing sports, eating vegetables, living in the right neighborhood: Your choices have little effect on your kids' development, so it's OK to relax. In fact, relaxing is better for the whole family. Riding your kids "for their own good" rarely pays off, and it may hurt how your children feel about you.
However, what begins as a fudge becomes full fledged misdirection as the article proceeds. In spite of Caplan's insistence that upbringing matters only nominally in how one's children will ultimately turn out, Caplan notes one area in which parental influence is extremely important: beliefs. According to Caplan, "Parents have a strong effect on which religion and political party their kids identify with"; yet he goes on to state, notwithstanding these acknowledged areas of influence, that parents have "little [influence] on their adult behavior or outlook." This is a remarkable off-hand conclusion, following directly upon his admission that parents significantly influence "religion and political party." These matters appear to be superficial for Caplan's purposes, apparently of little consequence for "adult behavior and outlook."
Yet, it turns out that one's religious upbringing (or lack thereof) exercises considerable influence on one's religion as an adult. Consider the table below, which traces the movement between various religions, from one's upbringing (vertical column) to adulthood (horizontal column). If one looks at the bold diagonal column, one finds that in every instance but one ("Others"), a majority of adults still adhere to the religion of their upbringing.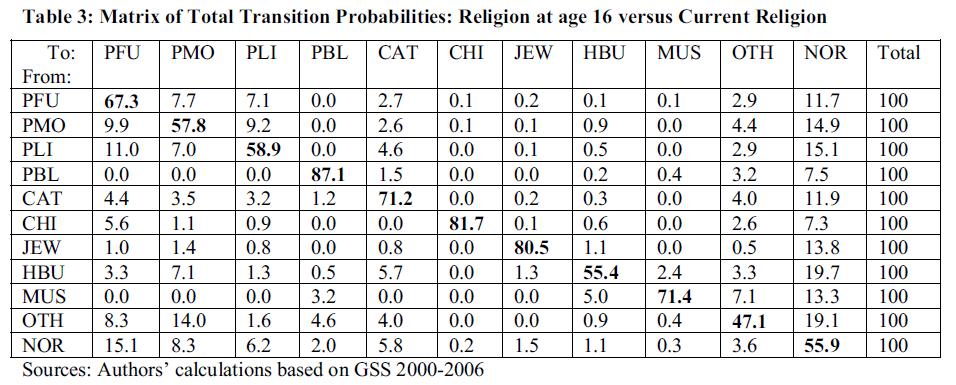 (See the next table for the abbreviation key)
This continuity is important for many reasons, but one reason is of particular relevance to Caplan's argument. For, it's the case that one thing we know especially about one's religion (or whether one has one) is that there is a strong correlation between being a religious adherent and having children. In the midst of an article purporting to persuade people to have more children (based on economic findings), he ignores the most evident piece of data that is likely to influence this decision: religiosity. That is, Caplan ignores a major factor that he ought to note in discussing the question of whether people have children: while there is no evidence that decades of behavioral economics influences that decision, there is overwhelming evidence that religious affiliation influences the decision to have children. Take, for instance, this data from a survey of fertility rates in the U.S. published in 2003: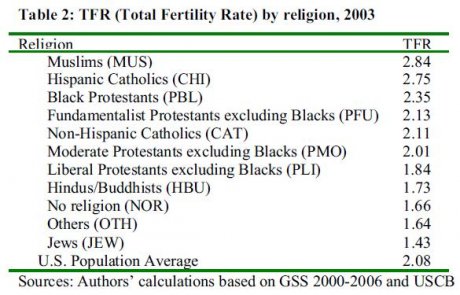 This survey bears out what many similar studies have shown: in developed countries – and particularly the United States – those groups that are having children at or above replacement rates tend to be religiously observant. If Caplan were really interested in encouraging more people to have children, he would start teaching in Sunday school classes. It's safe to conclude that arguments like Caplan's – a lukewarm, desiccated and fundamentally uninteresting "defense" of having children aimed to appeal to Mr. Spock, and most noteworthy, that doesn't once mention the word "love" – is unlikely to spur a large bump in "non-love babies" upon publication of his forthcoming book Selfish Reasons to Have More Kids. Indeed, it's probably the case that Caplan and his libertarian, economistic ilk are aware that the demographics do not favor their breed.
This clever video is instructive of their likely future (and, note the nod to none other than Darwin himself, which a behavioral economist like Caplan should appreciate. Ironically, it's contemporary Darwinians, exercising the freedom not to reproduce, who tend to have fewer children, certainly in comparison to religious believers. The latte tend to be more skeptical of Darwinian theory even as they behave in ways more
Darwinian than the Darwinians). In the end, the religious will inherit the earth, in spite of articles like this one that attempt to persuade the loveless to have more kids.