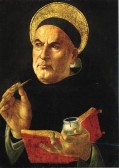 "When we run over libraries, persuaded of these principles, what havoc must we make? If we take in our hand any volume; of divinity or school metaphysics, for instance; let us ask, Does it contain any abstract reasoning concerning quantity or number? No. Does it contain any experimental reasoning concerning matter of fact and existence? No. Commit it then to the flames: for it can contain nothing but sophistry and illusion."
David Hume, An Enquiry Concerning Human Understanding
Hume's call for mass book-burning serves, I think, as the unofficial motto of modern scientism. It is not hard to locate the target of Hume's animus: the "School Metaphysicians," that is, the Scholastics. It is absurd, of course, to accuse the Schoolmen of a lack of either abstract or practical reasoning, but for Hume, the former was allowable only when applied to "quantities." And practical reason, which Hume calls "experimental," could only be applied to "facts." Following Roger Bacon's philosophy, he believed that naked facts examined by the mind, in a merely mechanical fashion, would lead to necessary conclusions.
The problem is, there are no such things as "naked facts," only details. "Facts" are the details we select because we believe they will be useful for some purpose, such as constructing a theory. We might compare the construction of a theory to the making of a map. Any map of necessity leaves out more detail than it includes; "The map is not the terrain," as von Clausewitz explained to his generals. The details selected depend entirely on the purpose of the map. That is, a road map will have one set of details, while a political map another set and a topological map a third, and only the selected details will count as "facts" for the purpose of the map. In other words, we must have some purpose in mind before we decide which details will count as facts; the facts don't create the theory, the theory creates the facts. And we can critique theories in the same way we critique maps: by asking if they contain enough of the relevant details so that there won't be too many unintended consequences, such as driving off an unmarked cliff or following an unwise policy.
The other great problem with Hume's (or Bacon's) theory is that his "abstract reason" excludes, a priori, most of the things that people want to reason about, or at least argue about. The moral order, and with it the political, social, and economic orders, are excluded from reason and reduced to mere sentimentality. "No ought from an is," Hume tells us, thereby placing the moral order outside the realm of reason and of science. But of course, people do want to think about the moral order and think about in a reasonable way, people like Hume himself and his friend, Adam Smith.
A sort of compromise was reached by dividing thought into ontological and deontological realms, the realms of the "what is" and the "what ought to be." There would be "positive" and "normative" sciences dealing with these realms. This was a ruse to be sure; scientific prestige would remain with the "hard" sciences. Here alone was verification possible, and hence truth knowable. The normative "sciences," lacking laboratories and experiments could never rise above the merely dialogic, meaning that debate was endless and truths were few; it could never be more than mere philosophy. Much later, Popper would point out that science doesn't verify; it only falsifies, and every scientific "truth" was always tentative, always "true" until the next experiment showed that it wasn't true at all. The knowledge of contingent things, therefore, would remain contingent, forever and always. Truth would remain dialogic, would remain, that is, human, even in the physical sciences; it was impossible to escape from philosophy, as the physicists themselves have discovered.
Nevertheless, the normative scientists suffered from a kind of physics envy, and wanted to jump the great divide into "real" science. This was no more more true than with the political economists, who were embarrassed by their connection with political and therefore cultural and social orders, orders that would never yield to " abstract reasoning concerning quantity or number" or " experimental reasoning concerning matter of fact." So they very consciously divided their science into two disciplines, economics and politics; the former would deal with the facts and the later would deal with—well, who gave a damn what it dealt with? It was just philosophy no matter how you looked at it.
In dividing their science, however, the economists "solved" a non-existent problem, since the "positive-normative" duality poses a false dichotomy. Every science, insofar as it is a science, must be both positive and normative. Every science, insofar as it is a science, must be "normalized" to some criteria of truth. These truths will arise from two sources, an internal and an external source. The internal criteria involve a science's proper subject matter and methodology. But these criteria are insufficient to found any science as a science. In addition, there must be external criteria of truth, and these truths can only come from one or more of the higher sciences. In the absence of such an "external" check, the "science" will merely be circular, dependent on nothing but its own axioms and unconnected to the hierarchy of truth. Thus, for example, biology is responsible to chemistry and chemistry to physics. No biologist can violate the laws of chemistry, and no chemist can reach a conclusion contrary to physics. Thus every science is responsible to its own methodology (and therefore "positive") and to the higher sciences (and therefore "normative"). Every science has, therefore, both its own proper autonomy, based on its subject matter and methodology, and its own proper connection to the near sciences, based on the hierarchy of truth.
Without submitting itself to this hierarchy of truth, no truth can be called a "scientific" truth. Without the proper scientific humility, no study can find its proper place in the hierarchy. Merely being mathematical, or empirical, or axiomatic is not enough, no matter how precise the mathematics, how careful the observations, or how certain the axioms. An astrologer, for example, will make observations as precise as you like, will draw charts as complex as you like, and make predictions as specific as you like. And all of it will be consistent with astrology's own axioms. However, these axioms are never subject to the judgment of any other science; lacking this scientific humility, astrology cannot be science. It may be, for all I know, God's own truth; it can never be man's own knowledge. It must be accepted or rejected sola fide; no scientific judgment can ever be made because it can never be science.
This brings us back to the schoolmen, and to such of their books that have not yet been burned, actually or metaphorically. What the scholastics were trying to do with their grand Summas was to organize all knowledge into a common synthesis. Scientia, "knowledge," was not just about knowing things, but about seeing each thing in its proper relationship to every other thing. That is to say, it was not just about knowing, but about wisdom, sapentia. Thomas's own great summa, though it appears analytic, is actually a great synthesis of pagan philosophy (Aristotle), Christian theology (Gregory Nazianzen and Augustine), Muslim commentary (Ibn al-Rushd and Ibn al-Sena), Jewish philosophy (Maimonides), medieval speculation (Peter Lombard) and Sacred Scripture. Nothing was excluded in principle from this synthesis, and certainly not politics, physics, and economics. It was pretty avant-garde for its day, and condemned—or parts of it—shortly after his death. Within the grand synthesis, everything could be seen in relation to everything else; there would be not just scientia, but sapentia.
We often see the problem of science as one of separating truth from error. But this is the trivial problem, since errors tend to reveal themselves over time. The real problem is to put the truth in its place, to prevent a lesser truth from displacing greater truths. For example, there is a truth in the market, but we do not wish that it should displace the truths of the family, the community, and the social order. The truth of the market should support these other truths, should be, that is, subordinate to them. But when it loses its proper place in the scientific hierarchy, it ceases to be true, ceases to be science at all, but becomes a tyrant, crushing the family and the community, and subordinating the state to its superstitious will. Man is a material being, and everything he does has its base in the material order, which cannot be understood apart from political economy; this is the necessary means to all our other ends. But, when economics, divorced from political (civic) life becomes an end in itself, when it subordinates to its own "truth" truths of a higher order, then it ceases to be a science and becomes a mere ideology, a superstitious dogma.
Or rather, it becomes a series of warring ideologies, and since there is no higher standard of truth to which to submit the disputes of the contending schools, the arguments are interminable, even in principle. The arguments of the Austrians, Keynesians, monetarists, socialists, classicals and neo-classicals can never be resolved because there is no commonly accepted notion of truth among them. But the higher truth for political economy should be easy to discern and the disputes easy to settle. If we accept that the purpose of economic science is to support social life, then the principles which govern that life must also govern economics. Clearly, social relationships are governed by the virtue of justice, and hence justice is the real and practical measure of economics. Just as equity governs our social relationships, it must also govern our material (economic) relationships. Nor is this some mere abstraction, but an practical principle of economic order, since societies which lack equity will also lack equilibrium, the rough balance between supply and demand which makes the market possible. Such societies will be unable to obtain their balance by economic means, and will have to supplement the market with government spending or consumer lending to balance supply and demand. Equity, therefore, is not some mere "value" imposed on the market from outside, but a principle of practical reason that keeps things reasonable. Indeed, equity and equilibrium are almost the same words and very nearly the same things, for markets cannot be cleared economically unless there is an equitable distribution of purchasing power; a society of poor people makes for a poor consumer market.
These displaced truths, scientia without sapentia, have another effect: they become, in the language of the post-modernists, "master narratives." That is, they become organizing myths that "explain" everything without being subject to explanation themselves, or even to examination. In the realm of economics, we can see this phenomenon in a crude form in such books as the popular Freakonomics series, which purports to explain everything in terms of an almost comic statistical analysis.
But there is another displaced truth that has become an even more powerful myth, namely the myth of Darwinian evolution. It is certainly a truth that species succeed each other over time, and that there is a tendency to higher levels of organization and intelligence, as the fossil record reveals. Now this truth is remarkable enough in itself, but in attempting an explanation, the Darwinists have ventured into the realm of pure mysticism. That is, they attribute the phenomena to random mutations which are tested against survivability. But to say something is random is equivalent to saying it has no scientific explanation, for that is what a random event is. The findings of a "science" of random events are suitable only for publication in the Journal of Non-Repeatable Experiments. If the changes in the genes are random, then there is no science which can reach them.
Of course mutations can be as frequent as you like, but this only adds to the mystery, for what is interesting is not the rate of mutations, but the rate of useful mutations occurring at a precise time. For not only does a mutation have to be an improvement, it has to be an improvement at the moment it occurs. A higher level of organization imposes a higher cost in energy, and if an eye, a wing, or a fin is not needed at the moment it appears, it is of no value. The rate of useful changes would surely be an infinitesimally small number, and the number that appear at the right moment would be infinitesimally smaller. And if these odds were not poor enough, this remarkable set of coincides must occur in more than one individual in the same area at the same time, unless one wants to posit a single mother, an Eve-like origin to all species. But even Eve had her Adam, and without a mate with a similar trait, a trait is not likely to endure. Is it not odd that the Darwinists, having rejected a common mother for man, posit a common mother for every other species?
Yet the changes do occur, with remarkable frequency at the precise moment they are needed and over a sufficiently large population in a sufficiently small area to ensure that a beneficial change will endure. Something very interesting is happening, something that cannot be reached by a "science" of randomness, which can only be a pseudo-science. Creationists would like to attribute everything to the direct intervention of God in every case, which doesn't tell us much about how God does it, which is the object of science, but at least it is internally coherent, in a way that a "science" of randomness is not; the creationists may be mere mystics, but they are not half as mystical as the Darwinists.
It is not as science that Darwinism obtains its remarkable prestige, for it stands outside the scientific hierarchy and will accept no critique from statistics, biology, zoology, or any other discipline. It is a master narrative, claiming to explain all things, even as it has no explanation of itself. I was reminded of this fact by a book on technology covered in the last issue of the New York Times Review of Books. The author would tie the progress in technology to the theory of Darwinian evolution. Even the reviewer noted how silly that was, but I doubt a week goes by when the Review doesn't carry notices on a book that "explains" something or other by Darwinian "science." The path to scientific prestige in our age runs through Darwin's mysticism; only by embracing this myth can we prove that we have risen above tribal taboos and myths of the Jews.
Of course, we all live by some organizing myth; it's the only way to live. Our information must be "slotted" before it is received, or we could not make sense of the world. And the mythical narratives can never be proven, they can only be compared. The Scholastics were fully conscious of this fact, yet they could not rest with it. They worshiped a God who was not merely a mythos, but a logos as well, a rational God ruling a rational universe. The great and bold project of the Schoolmen was to understand this universe, not just a a collection of "facts," but as in inter-related whole, in which each truth found its proper place to produce wisdom, a wisdom that was a remarkable union of belief and science. Modern science has given us modern miracles, like iPhones and atom bombs and Chrysler cars, but has not given us the wisdom to use them. And it is this wisdom, sapentia, that we need right now, if we are not to bring the whole thing down upon ourselves and our children.