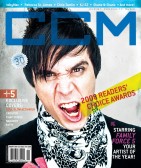 Over at another blog (yes, this borders on shameless self-promotion), I posted a Youtube video and dubbed it the worst Christian music video of the year. It is truly egregious and beyond parody, featuring a rapture-believing pastor, singing an obnoxious tune with doctrinally objectionable lyrics. But the piece de resistence is the setting for the pastor's crooning. He is apparently out in some part of Florida's natural wilderness, banging away on his electronic keyboard. Apparently lacking in the pastor or his staff's production plans for this video was any consideration of the relationship between form and truth. Is this melody the best vehicle for this conviction? Is this voice the most fitting for this tune? Is the Florida everglades the most obvious choice for a music video threatening impending judgment from the Lord of the universe? Should one wear a polo shirt or tails when announcing the apocalypse?
The subsequent discussion at the blog was revealing of the difficulty evangelical Protestants have with thinking about embodiment and formality. Because I had contrasted this video with one made by a Christian – actually Calvinist – rapper, the responses to my post showed little interest in the worst video but decided to defend rap and hip-hop as forms fitting for the expression of Christian devotion. (Some Front Porchers may actually wonder about the difference between rap and Calvinism. It goes like this. Calvinists use fewer expletives than rappers, but Lutherans use as many expletives as rappers but have enough sense not to rap.)
This discussion reminded me of earlier debates in which I've also questioned the merits of Christian rock. I don't know, but it seems relatively obvious that a form of music designed to celebrate the self, exalt youth, and promote drugs and sex is not the most fitting of cultural expressions to contemplate the mysteries of the holy Christian faith. That assessment, of course, does not prevent me from listening (and still doing so) to lots of uptempo music that my parents forbade. But I'd prefer to have worldliness straight, not cut with holy unction.
What also stood out in this discussion is the bankruptcy of evangelical Protestants in the so-called culture wars. Those devout Protestants may be reliable on matters of sex and marriage, but being able to spot the difference between and superiority of "As You Like It" to "Leave It to Beaver" is a consideration that grates against the fundamentally egalitarian soul of most born-again Protestants. It is of course ironic that evangelicals are fairly well known for reviving some interest in classical Christian learning at the same time that their churches have given us some of the worst liturgical music known to the universe. In which case, if evangelicals are going to have trouble drawing the line in worship against Christian rock, will they really be reliable when it comes to evaluating the best texts and artistic forms for educating young people?
The cultural liabilities of evangelical Protestants also has significant political implications. Crucial to the existence and maintenance of a modest republic friendly to front porches is attention to forms and structures of power that are designed to accommodate the particularities of people and place. The problem with such political modesty for evangelicals generally, is that attending to constitutions, separation of powers, characteristics of a people, and geographical realities requires careful consideration of forms. But evangelicals are a fundamentally anti-formal lot. Much of this stems from the born-again experience which is supposed to give the believer an unmediated encounter with the only true and living God. Never mind that this encounter takes place a in body that has forms such as male or female, young or old, Caucasian, Asian, or African. Because an individual soul experiences God immediately, the forms that characterize human existence are mere trifles that only get in the way of a godly time.
This may sound like an overly negative assessment of one group of Americans who has withstood relatively well the sexual revolution of the 1960s. I do not mean to discount that kind of resistance. For it evangelicals deserve credit. But those who look to born-again Protestants for assistance in either the culture wars or American politics should be well advised about the capacity of these believers to understand and appreciate the arguments of conservatives.