Being a report on a journey whereupon I dragged my wife to see seven minor league baseball games in seven days, as well as the National Baseball Hall of Fame, and including many other wonders seen on the road from Cleveland, Ohio, to Portland, Maine.
Saturday, July 7, 2012
On this day, it is very hot. It is 104 degrees or so, with a Real Feel® of approximately 532. Baseball games, we cannot help recalling, are held outside, where all this heat is happening. Kara keeps casting me glares.
We drive from Clear Lake, Indiana, to Avon, Ohio, home of the Frontier League's Lake Erie Crushers. The Frontier League is independent—its teams are not farm clubs for the Major Leagues. You would think this would mean a rather shoddy stadium, low attendance, and inferior play. You would be wrong. And by you, I mean me.
We arrive via a leisurely drive through the suburbs of far western Cleveland, followed by Mass and dinner. Lorain, Ohio, offers a living illustration of the meaning of "economic depression." No new non-governmental construction seems to have taken place since 1960 or so. We see a Catholic Church for sale.
Mass is highlighted—isn't it always, in your experience?—by a learned homily. People, we are told, wanted to put Jesus in a box. You know who else they wanted to put in a box? Cinderella. And the Ugly Duckling. And Clark Kent.
That left us much to ponder, as we dined at Jake's on the Lake. I had the five-way chili. Kara opted for the Lake Erie perch dinner—which, to look on the bright side, would not have sounded nearly so appetizing a few decades ago while those western Cleveland suburbs were thriving and Lake Erie was burning. Both meals were excellent.
Game Log: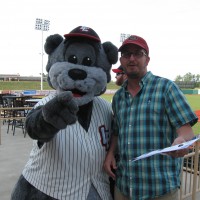 Site: All Pro Freight Stadium, Avon, OH.
Contestants: Lake Erie Crushers vs. Southern Illinois Miners, owners of an outstanding logo.
Stadium Rating on 10-point scale: 8 (shiny, new, comfortable).
Attendance: 1,981
Promotion: "Faith Night," sponsored by the Church of the Open Door. Including drawstring bag giveaway, also sponsored by the Church of the Open Door, and a postgame concert sponsored by the Church of the Open Door, and the first pitch by the pastor of the Church of the Open Door. Fortunately for the Crushers, Jefferson never used the phrase "separation of church and baseball" in any of his private letters.
Mascot: Stomper (see photo). Not "Mr. Crusher," as I originally called him when asking for a photo.
Mascot race: Stomper versus a Dunkin' Donuts donut and a Dunkin Donuts cup of coffee. How Stomper lost I'll never know.
Ticket price: $14 (2nd row, directly behind home plate).
Commitment to securing ze homeland: Bags were checked.
Nonsense factor on 10-point scale: 9 (loud sound effects after every pitch made it like watching a game with the Morning Zoo Crew).
Best contest: frozen t-shirt contest, in which two young men compete to see who can put on a frozen t-shirt the fastest. This should be in the Olympics.
Most distinctive food: pierogi hoagie: a footlong bratwurt topped with cheese pierogi, sauerkraut, and sour cream. I regret to say that I had already chosen something far less interesting before seeing this dish was available.
Localest beer: Labatt's Blue. You can almost see Canada from here, but that don't make Labatt's local.
Game notes: Rosters composed of 21- to 27-year-olds who have washed out of, or never got a chance in, non-independent minor league ball. All at their physical prime, so a pretty darn good brand of baseball. Miners pitcher pitched the rare minor league complete game (no pitch counts down here!), and I was happy for him.
Final score: Miners 2, Crushers 1.
Post-game: Velvet Tango Room, a hipster speakeasy in Cleveland where I felt underdressed and slightly scorned for not having a tie on. I appreciated their standards. Excellent overpriced cocktails without the hellish nightmare of being in Brooklyn.
Sunday, July 8, 2012
On this day, it is not hot. Which is very good, because we're headed to a day game. The glares are gone.
We drive from Avon, Ohio, to Erie, Pennsylvania, home of the Eastern League's Erie Seawolves.
Prior to the game: another leisurely drive more or less along the Lake Erie lakefront. It's still economically depressed. Here, in Ashtabula, is a Carnegie Library for sale. The Carnegie Endowment is sitting on $2.5 billion, but its gaze is too international and practical to bother with libraries (and people) in Ashtabula.
The White Turkey Drive-In (est. 1952) in Conneaut is the day's joyful discovery. Homemade root beer!
Game Log: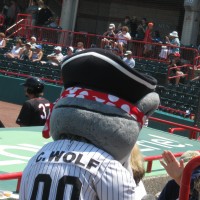 Site: Jerry Uht Park, downtown Erie, PA.
Contestants: Erie Seawolves vs. Harrisburg Senators.
Stadium Rating on 10-point scale: 6 (built in 1995, but managing to look semi-rundown).
Attendance: 2,398.
Promotion: Wendy's scratch-off lottery tickets. Also, it was "Erie Zoo day," or something like that, with an owl or two present, and "help the child victims of violence" day, or something like that. I don't recall, exactly, but that was the gist of it.
Mascot: C. Wolf, who is a wolf and also a pirate. The hardest-working mascot in the biz, my friends.
Mascot race: Wiener Race, sponsored by Smith's Meats (see below). Sam the Sausage emerged victorious.
Ticket price: $12.
Commitment to securing ze homeland: No bag check.
Nonsense factor on 10-point scale: 6. Minor-league ball games function like a community hall. Local organizations make the case for their missions, local businesses advertise on the outfield walls, and the locals in the crowd talk to one another using their mouths rather than keystrokes. In 1949, there were more 59 minor leagues in America, with 438 teams; today, there are only 245 affiliated minor league teams, in all, and that's counting rookie-level teams like the ones in the Arizona Rookie League, which charge no admission and draw about 25 fans a game (not that I'm criticizing; I love going to those games). Of course, in the late 1800s and first half of the 1900s there were hundreds, perhaps thousands, of amateur and semi-pro adult baseball teams as well. I would like to add these facts to our comprehensive list of Manifestations of America's Declining Civil Society.
Best contest: Sumo wrestling. "This is what they do in Chinese!" says boy in front of us, who also complains that all the balls are made in China. That lad is on the right track.
Most distinctive food: The fine products of Erie-based Smith's Meats, including hot dogs, bratwursts, and other members of the sausage family. Kara had the natural-casing hot dog, grilled to order on a toasted bun, and pronounced it delicious.
Localest beer: Railbender Ale, from Erie Brewing Co. (I had a Yuengling, because I really like it.)
Game notes: An intimate stadium, with the fans very close to the action, and the left-field wall being formed by an abutting building, a la Camden Yards. The one true prospect I had hoped to see, Nick Castellanos of the Sea Wolves, was playing the Futures Game in Kansas City, and was therefore out of the lineup.
Final score: Senators 3, Sea Wolves 1.
Post-game: Short drive to Mayville on Lake Chautauqua, which gave its name to the institution whose history reveals so much about the inner logic of mainline American Protestantism. Perhaps. Dinner on the lake enlivened by my lugubrious musings on the topic, much to Kara's dismay.
Monday, July 9, 2012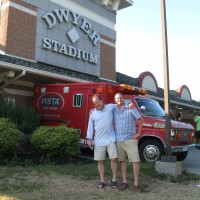 On to Batavia! But first, on to the Lucille Ball Museum!
The museum—officially called the Lucy Desi Museum—is in Jamestown, New York, Lucy's hometown. Isn't that surprising? Lucy does not seem like an upstate New Yorker to me. To me, western New York, at least, is actually quite Midwestern—from its inhabitants' accents to their mores—and one thing Lucille Ball never seemed to be was Midwestern.
Two facts learned at museum: (1) Desi Arnaz came from an aristocratic Cuban family who had planned for him to attend Notre Dame and become a lawyer; (2) Lucy shilled for a lot of Milton Bradley board games in the 1970s. Whatever happened to Body Language?
Game Log:
Site: Dwyer Stadium, Batavia, NY.
Contestants: Batavia Muckdogs vs. Lowell Spinners (New York-Penn League).
Stadium Rating on 10-point scale: Umm, well, you see the stadium itself, per se, is not, as it were, the main attraction. I mean, it's great, but if we must be all comparative and objective, well, um—Kara, what did you give this? A 4? OK, that's on you.
Attendance: 1,058. We were honored to sit with the Kauffman cabal. The group included Bill's parents; a one-time Jeopardy contestant who also sang "God Bless America" during the seventh-inning stretch; a man who had won $25,000 on an ESPN game show; a man whose hobby is to visit presidential and vice presidential graves, including those of the major-party losers; and a family of cage-fighting connoisseurs and fiction writers. Among others. So, you know, more proof of the stultifying, spiritless, narrow-minded homogeneity of small-town American life, I guess.
Promotion: None.
Mascot: Homer. A dog, presumably of the muck breed. Notable for his wide, feminine hips.
Mascot race: None.
Ticket price: $6.50, but Bill bought so what the hell do I care.
Commitment to securing ze homeland: Are you kidding? Bill is on the board.
Nonsense factor on 10-point scale: 2. Which is why, along with the company, Batavia was our favorite stop.
Best contest: Probably the pizza-box toss.
Most distinctive food: Muckdog Chow. "Served in a souvenir bowl with your choice of hot dog or hamburger over homefries and mac salad and topped with our Muckdog sauce." God I wish I had had this.
Localest beer: Rohrbach's Muckdog Red Ale.
Game notes: The Spinners were absolute butchers in the field.
Final score: Muckdogs 10, Spinners 2.
Post-game: Bill regaled us by reciting the words to every Bangles song, punctuating his performance with many boozy toasts to Natalie Merchant.
Tuesday, July 10, 2012
Cooperstown, NY – "the quaintest town in the world," in the judgment of an admiring Kara.
As a young boy, I was a passionate fan of Rod Carew. Every year, to my delight, he would win the All-Star vote as the American League's starting first baseman. My best friend thought this was a fine example of the world's injustice: Eddie Murray clearly deserved to be the All-Star starter. Murray, he said, was better than Carew. Murray was headed for the Hall of Fame. I scoffed at the notion. We made a bet.
Well . . . nine years ago, there was a spate of news reports that Eddie Murray had in fact been inducted into the Hall of Fame. My friend tried to collect. But you know the media. And what, if it's on the Internet it must be true? Talk about naïvete!
Looks like they got this one right, though. Having finally viewed the Eddie Murray Hall of Fame plaque in person, I am prepared to pay up. If only we can agree on the amount which was wagered; our memories differ by $990.
Wednesday, July 11, 2012
I did not especially wish to go to Wappingers Falls, New York, as it is perilously close to New York City. But a man and woman on a minor league baseball tour must go where the schedule-maker takes them. As it happens, while we were on our way God cursed us with one speeding ticket and several hours of stop-and-go traffic, thereby teaching us that we must often suffer in doing our duty. I now pass this lesson along to you.
Game Log:
Site: Dutchess Stadium, Wappingers Falls, NY ("The Dutch").
Contestants: Hudson Valley Renegades vs. Batavia Muckdogs (New York-Penn League).
Stadium Rating on 10-point scale: 5. Men's bathroom wall adorned with stenciled portraits of various astronauts and generals. I have concluded that this was because they were all West Point grads, West Point being only 17 miles away, but for a while I was very confused.
Attendance: 4,029. A very festive atmosphere and the liveliest crowd of our journey.
Promotion: Adult jersey giveaway to the first 2,000 attendees. We arrived 30 minutes before game time and got two of the last jerseys. Jerseys are popular.
Mascots: Rascal and Rookie. Unable to determine the precise relationship.
Mascot race: My notes do not record one.
Ticket price: $11.
Commitment to securing ze homeland: Bags checked.
Nonsense factor on 10-point scale: 8. Fake train sounds piped in with fans stomping their feet to mimic sound of the tracks. Lame. Also, the game was announced in-stadium via Skype by one of the team's employees from his backyard pool deck, which was simultaneously awesome and maddening. Let's just say that the tradition of having game announcers physically present was shown to be a decisive advantage. But we were happy to be here for the Great Experiment.
Best contest: Bouncy horse relay.
Most distinctive food: Entire food stand devoted to gluten-free options. First place we encountered fried dough.
Localest beer: One of the many from Brooklyn. 18 local and craft beers on tap in the beer garden.
Game notes: I liked Alex Mejia, the Muckdogs' shortstop from the University of Arizona, and the 3B Patrick Wisdom, though I see now that neither of them is completely tearing it up.
Final score: Muckdogs 4, Renegades 2.
Thursday, July 12, 2012
The Boott Cotton Mills Museum in Lowell is really wonderful, primarily because it allows so many of the former workers in those mills to say what it was like there. There seem to be few fond memories. If the exhibits here don't bring out your inner Marx, nothing will. Thank God all of our clothes today are manufactured in humane conditions that truly do justice to human dignity. Progress.
Game Log:
Site: Edward La Lacheur Park, Lowell, MA.
Contestants: Lowell Spinners vs. Mahoning Valley Scrappers (New York-Penn League). I strongly believe that if your wife (or husband) is a knitter and/or sewer, a Spinners baseball cap makes a lovely anniversary gift.
Stadium Rating on 10-point scale: 7. Shared with UMass-Lowell.
Attendance: 4,141. We changed seats to escape the presence of a horde of suburban helicopter parents and their hell kids.
Promotion: Peter King bobblehead. Peter King threw out the first pitch and allegedly hung around to sign autographs. Presumably he also offered deep thoughts about the coffee.
Mascot: Canaligator, with occasional help from Allie Gator and InstiGator (who wears a Yankees jersey). The laziest mascot(s) in the biz. I dunno, maybe this is still a union town.
Mascot race: Mascot musical chairs, which involved the aforementioned characters as well as Scooby Doo and a "Boxing Cream Donut."
Ticket price: $9.
Commitment to securing ze homeland: Bags checked.
Nonsense factor on 10-point scale: 5. Nothing distinctively annoying.
Best contest: Crazy-law trivia.
Most distinctive food: Clam chowder, steak tips.
Localest beer: Sam Adams.
Game notes: Twenty bucks says you have no idea where Mahoning Valley is. I sure as hell didn't.
Final score: Spinners 10, Scrappers 1.
Friday, July 14, 2012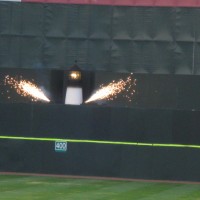 Portland, Maine, is an easy city to like. Especially when it's 10 degrees cooler than the baking eastern seaboard to the south. And also when you're at Duckfat. This is why Ducks Unlimited is so important, people.
Game Log:
Site: Hadlock Park, Portland, ME.
Contestants: Portland Sea Dogs vs. New Hampshire Fisher Cats.
Stadium Rating on 10-point scale: 7. Has a Green Monster wall in left, in order to groom prospects for playing in Fenway. Also a lighthouse that pops up out of the centerfield wall and shoots off fireworks after home runs, which was very cool.
Attendance: 5,199. A fan near us ejected for drunkenness. Given that his ejectors were octogenarians, and that he was wearing a Red Sox hat, I was surprised he went quietly. That's why cap profiling is a dangerous road, my friends.
Promotion: "Halloween Night," which garnered about 3% audience participation, or 100% more than it should have.
Mascot: Slugger.
Mascot race: None.
Ticket price: $9.
Commitment to securing ze homeland: Bags checked.
Nonsense factor on 10-point scale: 3. A great, if rather big, ballpark with a comparatively low-key vibe.
Best contest: Lobster toss.
Most distinctive food: Fish sandwich.
Localest beer: About 8 local Maine beers on tap at two microbrew tents. I had the Shipyard Summer Ale and IPA.
Game notes: To our surprise, this turned out to be a double-header, with both games scheduled for only 7 innings. In the bottom of the 7th in Game 1, the Seadogs hit two solo home runs to tie the game. How many professional baseball games have been in extra innings when they went to the 8th? I figured this was pretty unusual. Anyway, the Seadogs won Game 1 in the bottom of the 8th with a triple and a single. Also, the Seadogs manager was ejected in the bottom of the 7th for arguing balls and strikes—the only managerial ejection of our trip. Also, when you've been watching short-season single-A games several nights in a row, which is just one level above Rookie League, just how good the double-A guys are becomes clear.
Final scores: Sea Dogs 4, Fisher Cats 3; Sea Dogs 3, Fisher Cats 1.
Postgame: A vow to do this again. We've got about 290 minor league stadiums, and a lot of America, left to see…