Recently there has been a growing sense that capitalism is at best a mixed blessing. Though the material benefits that accompany its massive wealth creation are real and significant, capitalism has also been criticized for yielding various social ills, with rising income inequality and untrammeled corporate greed often cited as examples.
Even defenders of capitalism agree that it is far from perfect, but the question remains: how can we best address capitalism's shortcomings? Some believe that capitalism is inherently flawed and needs to be replaced altogether by socialism or some other system, while others think capitalism can be reformed.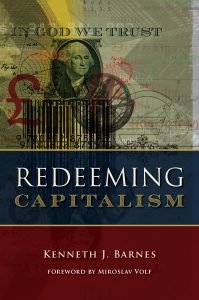 Kenneth J. Barnes—holder of the Mockler-Phillips Chair in Workplace Theology and Business Ethics at Gordon-Conwell Theological Seminary—takes the latter position in his recent book, Redeeming Capitalism. According to Barnes, capitalism originated as a system of wealth creation that functioned for the general benefit of society rather than merely serving a privileged few. Over time, though, the religious ethic that undergirded this system—at a minimum, belief in a supreme deity who establishes basic rules of morality—has gradually faded, resulting in a "postmodern capitalism … devoid of a moral compass and resistant, if not impervious, to ethical constraint." Capitalism today is thus characterized by greed, inequality, corruption, recklessness, and an imprudent emphasis on short-term profit at the expense of long-term sustainability.
Barnes's solution is for people to practice what he calls virtuous capitalism, that is, a capitalism informed by the cardinal virtues of prudence, justice, courage, and temperance, as well as the theological virtues of faith, hope, and love. According to Barnes, the practice of virtuous capitalism is not limited to Christians or even religious people in general, but is available to all on the basis of humanity's universal capacity for reason, which enables everyone to discern and practice what is good for both the individual and society. Informed by these virtues, Barnes says, we can begin to redeem capitalism in concrete ways such as restoring meaning and purpose to work, reforming money to make it a measure of real value again, providing banking access to the neglected poor, etc.
In making this argument Barnes holds that capitalism is the best economic system we have, despite its flaws, and that attempts to replace it amount to a foolish search for "economic utopia." He asserts, "Capitalism itself is not the problem; the corruption of capitalism is." Theologian Miroslav Volf aptly notes in the foreword, "Much of the book depends on this claim" that "no economic system today represents a better, workable alternative to capitalism."
If it were the case that all other proposals reduce to socialism or communism, it would be understandable that Barnes does not waste space dissecting economic schemes that, to put it mildly, history has already demonstrated to be inferior to capitalism. But when distributists purport to offer a third way between capitalism and socialism, grounded in Christian principles, it is notable that Barnes does not acknowledge their arguments even in the chapter where he surveys some ill-conceived responses to the failures of capitalism (e.g., Occupy Wall Street).
The absence of any discussion about distributism is not necessarily a weakness, especially when the foreword makes clear from the outset that Barnes believes there is no better alternative to capitalism. Still, this omission means the book will be of interest primarily to those who are already committed to the same premise, so those who wish to read a rigorous contemporary defense of capitalism should look elsewhere. (Though I cannot speak for the strength of its arguments, Thomas E. Woods's Beyond Distributism attempts to make such a case for capitalism specifically vis-à-vis distributism.)
Even if one accepts that capitalism is our best option, some still might find it difficult to share Barnes's confidence that we can redeem it by appealing to reason. Barnes discusses at length humanity's universal capacity for reasonably discerning and practicing what is good, irrespective of religious commitments, but he does not say how, in practice, we are to rationally persuade people (including our political leaders) to eschew the selfishness of postmodern capitalism and practice an altruistic, virtuous capitalism. He admits, "That question, while perfectly reasonable, is beyond the scope of this book…. This is a can-do book, not a how-to book. It is more of a rallying cry than a playbook."
Despite the lack of a game plan, Barnes's zeal is such that the redemption of capitalism almost begins to sound like a duty incumbent on us rather than simply a noble aspiration: "The process of redemption begins by constantly reminding ourselves that it can be done and that it must be done."
Although this could strike some as a stirring call to action, for others it will fall flat. "Ought" may imply "can," but the capacity to do something says nothing about whether a person will exercise that capacity, so while Barnes is right to recognize humanity's capacity for reason and moral discernment, it then becomes relevant to ask how amenable people actually are to exercising reason these days. In answering that question, we might stop to consider how much the emphasis on public reason has availed those who defend a traditional conception of marriage and sexuality.
Redeeming Capitalism might be of interest to those who agree with Barnes that there is no better alternative to capitalism, and that we can bring about the virtuous capitalism he describes by exercising our natural capacity for reason and moral discernment. For those who disagree with the former or are dubious about the latter, however, the book does little to persuade.