In high school, I had a friend who simply loathed Michael Stipe. This was in the late nineties, at the tail end of R.E.M.'s cultural dominance, but the band was still seemingly omnipresent. "Everybody Hurts," "Stand," "Losing My Religion," "What's the Frequency, Kenneth?"—these songs still occupied a large portion of the airwaves and the soundtrack of many an illicit, PBR-fueled basement party. As soon as one of those songs would come on, my friend would begin his anti-Stipe ranting: oh come on, that moody bastard with his pretentious scarves! I caught up with my friend a few years ago, and I reminded him of his prejudice and inquired about its origins. "Oh man," he said, "it's because I was always losing girls to brooding, pseudo-intellectual clowns like him."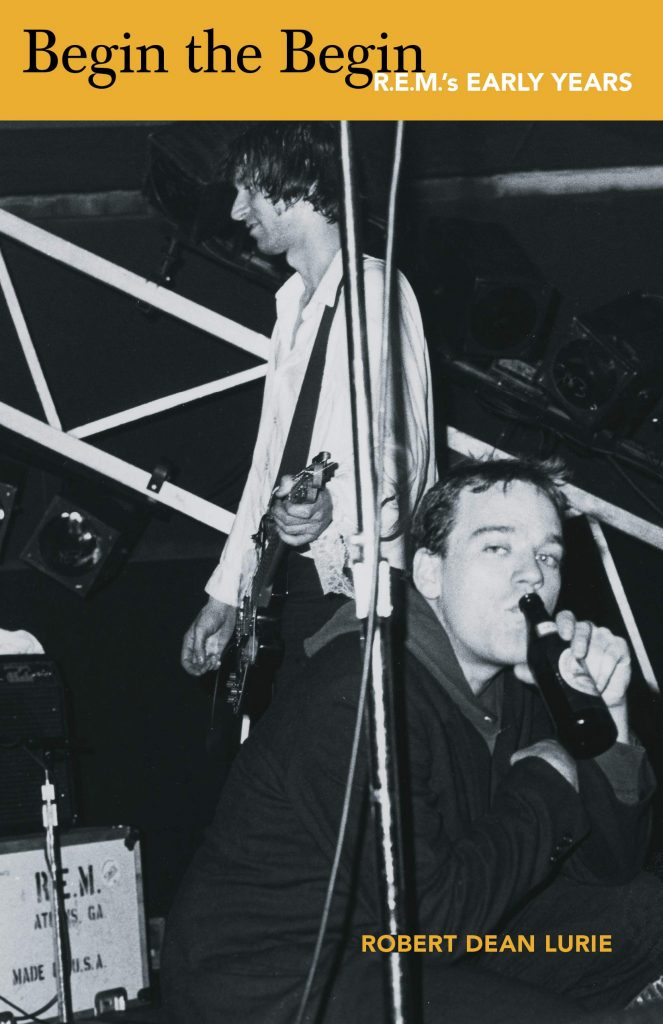 I thought of that comment often while reading Robert Dean Lurie's winsome and charming Begin the Begin: R.E.M.'s Early Years. Lurie, a musician and writer based in Arizona who has contributed to Front Porch Republic, has painted an intensely in-depth portrait of R.E.M.'s early days in Athens, GA. He has visited old dorms, interviewed washed-up college town musicians, and followed the Airwalk-trodden paths of Athens scenesters to assemble a rather fascinating portrait of a moody, sensitive band that couldn't decide if it wanted to be famous.
The question I kept asking myself during Lurie's chronicles of his work as a pop-music gumshoe was: do I care about anything enough to write almost 300 pages about one small part of it? Do you? Geoff Dyer does. William Vollmann does. James Galvin's classic The Meadow is a good example of this mania, and I suppose Thoreau would be in the mix. But truly, ask yourself: which artists do you love so much that you would write 300 pages about just a portion of their careers? I rather envy Lurie's passion.
Most relevant to Porchers will be Lurie's focus on how a particular place—in this case, the artistic mecca of eastern Georgia—can shape a particular group of musicians. Lead vocalist Stipe was the only member of R.E.M. (the others were bassist Mike Mills, drummer Bill Berry, and guitarist Peter Buck) who was actually a native Southerner, though the entire band was often pegged as a "Southern band," whatever that means. Artists from the South tend to be identified as "Southern artists," as though the moonlight-and-magnolias mystique has permanently tainted them. It's tough to imagine anyone using similar labeling with an artist from, say, the Upper Midwest. ("That Bob Dylan! What a Minnesota artist he is!")
This speaks, no doubt, to the South's ability to maintain a distinctive regional identity of its own, and particularly of the ability of Athens to maintain a similar cultural cachet. Artists from Flannery O'Connor to Walker Percy to Pat Conroy would agree that there is something distinctive about Southern culture—something that can shape an artist in ways she hardly understands at the time. As it happens, I lived for a time in Georgia and now live in the very Athens-y college town of Lawrence, KS, and I can affirm Lurie's contention that both types of places—cohesive regions and hipster-flooded college towns—can indeed shape a local culture, and especially local bands, in powerful ways. College towns, with their "disproportionately high number of college students teeming with lust and confusion and dreams," in Lurie's words, are unique artistic incubators.
The Athens music scene, in Lurie's description, was already a powerful one when the four gentlemen made their arrival. Bands like Pylon and Shadowfax and The Side Effects dominated the clubs, and their members were local celebrities. Then, in a scene that could have been scripted by Nick Hornby, Stipe wandered into Wuxtry Records, the record store where Buck worked, and the journey began. They spent years playing dingy clubs, traveling around in a van with a meager food budget, and resisting the temptations to move their sound closer to the pop-synth nonsense that was dominating the airwaves. The feeling one gets from Lurie's book is that R.E.M.'s greatest asset may have been the stubborn natures of its musicians. How many among us could resist the temptation to sell out by mimicking the dominant trends?
Lurie has a gift for description and scene-setting, and the most enjoyable parts of the book feature beer-stained carpets in dorm basements, smoke-clogged air under club lights, and musicians "fortified with booze, adrenaline, and take your pick of what else." His tone is conversational in a charming way, and he avoids the rock writing temptation to slide into what might be called "Lesterbangsism," that peculiar and drug-driven eponymous dialect featuring stream of consciousness, rampant italicizing, and SUDden CAPitalizing. Whereas Lester Bangs always seemed to be verbally assaulting you, the writing equivalent of a shot of tequila, Lurie's style is something closer to tasty craft beer: accessible, chatty, and pleasant.
It says something about Lurie's very deep examination of the band's early years that we are 149 pages in before the first album is set to record. I had no idea that the Venn diagram of the band's early years would include overlapped crosshatching with such groups as The Police and The Replacements. To read of the alt-rock world of the 1980s in Lurie's book is to realize the truth of John Muir's statement that "When we try to pick out anything by itself, we find it hitched to everything else in the universe." R.E.M. wouldn't have been R.E.M. without all these other groups, all these other Athens strivers, just as Pavement wouldn't have been Pavement without R.E.M. The extent to which artists influence each other is startling, and it is a great achievement of Lurie's book that he serves as the armchair cartographer mapping the borders and boundaries of Gen X rock. Or perhaps I shouldn't even say "armchair," because I can scarcely fathom the time Lurie must have invested in archival research and first-person interviews. How he tracked down some of these interviewees is just beyond me; if there is a writing award for Most Dogged Legwork, Lurie has won it.
My only complaint here is not about Lurie's book, which is by turns entertaining and comical, but with the culture of college towns and college music. I kept finding myself with an elegiac feeling as I read about the wild and wooly 1980s in Athens, which struck me as similar to some other famous cultural melting pots: Greenwich Village in the 1960s, Seattle in the 1990s, Paris in the, well, always. The best college towns have always been the places that allow for the most diverse flourishing of ideas, culture, viewpoints, identities, and lifestyles. But in the last decade or so, as politics has become nationalized and the Instagram aesthetic has taken over the world, these towns have become less interesting and, frankly, less fun. Lurie himself notes that in the 1980s, the kids in Athens were more interested in partying than activism. The reverse now seems closer to the truth.
I've written about this trend for FPR before, and I kept returning to one question while reading Lurie's book: could the culture that produced R.E.M. flourish today in Athens? In Lawrence? In Madison or Iowa City or Fayetteville? Because what I have found is that, at virtually any gathering of white liberals in their 30s and 40s in Lawrence, you can find the most orthodox and homogeneous groupthink you could ever imagine. Far from being the messy cultural heartbeat of their respective red states, places like Lawrence and Athens seem to me to be increasingly uniform in culture, strict in belief, and shrill in tone. Everyone has the same letterpress art, the same green Subaru, the same dog-eared copies of Between the World and Me, the same paeans to Justice Ginsburg, etc., etc., ad frustratingly infinitum.
What I guess I'm suggesting is that Lurie's book strikes me, in the end, as a sad one—a love letter of sorts to a different era. A world of algorithmic sorting, centralized platforms, and FAANG dominance seems innately hostile to what we might call, to borrow a term from F.A. Hayek, spontaneous cultural order. How many future Michael Stipes, bedecked in their scarves and scowls, are at this moment flogging themselves on Twitter, substituting likes and retweets for the serendipitous record store chat? I'll roll the dice and pose the classic guy-nearing-40 question: when it comes to local culture in college towns, is it possible that things used to be better?
Lurie ends his book before alt rock's apex year of 1994, which by virtually any definition was the decade's best year for alternative music: Green Day's Dookie, Weezer's blue album, Offspring's Smash, Pearl Jam's Vitalogy, Nirvana's unplugged album, Oasis' Definitely Maybe, and a score of other now-classic albums. Could any of these bands have created those albums without R.E.M.? Could R.E.M. have created anything without Athens? Without Wuxtry records? Without Reed Hall, whose basement hosted legendary Athens parties? A healthy college town should always have an underground of sorts, a hotbed of as-yet unaccepted opinions, or what Lurie calls "cultural out-thereness." But in a culture that encourages (demands?) acquiescence to mainstream norms at the possible cost of your livelihood, where is this underground? A culture of likes can never tolerate a subculture of rebellion.
If you like R.E.M., if you grew up in the 1980s and 1990s, if you miss the time when every young man in America pretended for a few years to be a skateboarder, then you will enjoy this book. But more importantly, if you care about a particular place's ability to shape culture and people alike, then you should read it. Are our college towns still capable of producing such things? Or, as in so many realms of life, are we consigned to the reign of the newly dominant monoculture?
It's a depressing thought. You might even say it's the end of the world as we know it.