Much of the American reading public would be as surprised to find that there was once an environmentalist Right as they would be to find that there was once a pro-life Left. So successfully have the dominant representatives of the American party system entrenched themselves behind their respective ideological bunkers, we can hardly remember that they have not always held today's positions with the same Orwellian ferocity (an aside: is there any better depiction of Twitter writ large than Michael Radford's cinematic take on 1984, included in the hyperlink above)?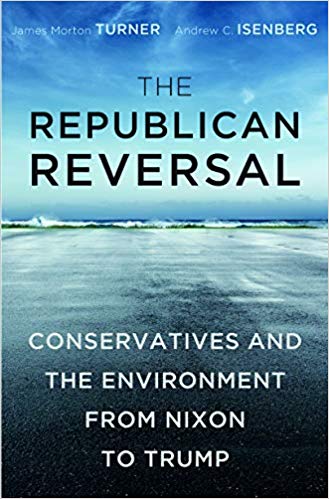 In two recent books, several historians are attempting to save the history of the environmentalist Right from the slide down the memory hole. The more recent of the two, The Republican Reversal: Conservatives and the Environment from Nixon to Trump, by Andrew Isenberg and James Morton Turner, is primarily focused on explaining the most significant reasons for the demonization of mainstream environmentalist positions in the Republican party at the national level. Less tightly focused and more complex, humorous, and engaging is Brian Allen Drake's Loving Nature, Fearing the State: Environmentalism and Antigovernment Politics Before Reagan. Drake takes two people—Barry Goldwater and Edward Abbey—and two movements—the loose coalition of people opposed to fluoridation and the more organized free-market environmentalists—and examines the tensions in their seemingly incompatible ideas about the natural world and political order.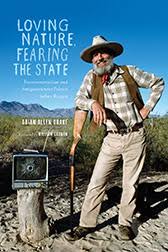 Both books are worthy of praise simply for making clear the contingency of our current ideological debates. There is more to praise, however, as both also offer valuable reflections on the matrix of ideas that has attracted writers and readers to the Front Porch Republic. Specifically, both address region and scale in relation to environmental legislation. Both also raise questions about what exactly modern conservatives are trying to conserve, especially in relation to the world we inhabit.
Isenberg and Turner reveal in their acknowledgements that they began the book in December 2016 in an attempt to understand how the United States could elect a president so hostile to the basic tenets of modern environmentalism (259). This hostility might not seem surprising now, but it is in fact true that the major legislative achievements of the environmental movement—the Clean Air (1970) and Clean Water Acts (1972) and the National Environmental Policy Act (1970) among others—were passed with over 90% Republican support in Congress and signed into law by none other than Richard Nixon (33). Sweeping environmental legislation was possible because the Republican Party of the early 1970s "(1) viewed environmental issues with a sense of urgency that demanded action, (2) put faith in scientific research and professional expertise, and (3) embraced an essential role for government in regulating business and industry to safeguard the environment and public health" (6). The Republican Party of the present, and in particular, its most prominent member, has completely reversed these positions. Why?
First, the economic crisis fostered by the Organization of Arab Petroleum Exporting Countries (OPEC) oil embargo of 1973 forced ecology and economics into a zero-sum competition that had not seemed quite so acute in the more abundant late 1960s and early 1970s. Before the disasters of the seventies—the oil embargo, stagflation, disco, etc.—it seemed possible to believe that environmental regulations would provide more "environmental amenities" to a largely affluent society.
By the late 1970s, these regulations had become instead just so much more bureaucratic red tape stifling American creativity and sapping the strength of a once-vigorous people. The choice increasingly seemed to be between ecology or economics. Legislation that made environmental quality a priority over economic interests seemed more like penalties collected for the benefit of bureaucracies rather than a means of promoting the common good (21). And it should be mentioned that these criticisms were not groundless. Isenberg and Turner note that the imposition of "one-size-fits-all standards on complex industries" and "inefficiencies in administration and uncertainty for industry" had "resulted in billions of dollars wasted annually" during the 1970s and 1980s (100).
The ideological infrastructure of the New Right that developed in think tanks such as the Heritage Foundation (1973) and Mountain States Legal Foundation (1977) throughout the 1970s provided the foundation for the "gospel of more" (62). When Jimmy Carter said, "Ours is the most wasteful nation on earth," in a prelude to the more well-known "Crisis of Confidence"/"Malaise" speech, he set himself up as the bland doomsayer whose sober pronouncements stood no chance against Ronald Reagan's soaring visions of abundance (63). Especially in the rural regions of the American West, Reagan's commitment to challenging environmentalists by promoting extractive industries was not just an issue of support for the regional economy but an inspiring vision more consistent with the ever-elusive American Dream.
This is the most critical shift: in the picture Isenberg and Turner paint, post-Silent Spring (1962) environmentalism was a big-tent cause capable of attracting a wide range of Americans. By the 1980s it had become hopelessly intertwined with culture war debates that left no room for heresy. Anti-environmentalism was folded into a new variation on an old story about American abundance, one that Donald Worster has described recently and well in Shrinking the Earth: The Rise and Decline of Natural Abundance. Urgency, professional expertise, and federal regulations stand no chance when stacked up against the gospel of more.
While Isenberg and Turner develop this thesis and demonstrate its relationship to regional interests, corporate patronage, and both elite and popular political efforts, they also include statistics that demonstrate the staying power of the landmark legislation passed in the early 1970s. Crucial to this "green drift" has been the loyalty of moderate Republicans unwilling to go along with full-scale dismantling of the environmental bureaucracy, whether through direct counter-legislation or appropriations (142, 214). Though Reagan gave the gospel of more a rhetorical force that continued to grow, Isenberg and Turner also mention exceptions up through the 2000s, most notably Republican support for the Montreal Protocol, which attempted to reduce ozone-depleting substances in the late 1980s (145-147).
The key existential question for Isenberg and Turner, however, is whether the "green drift" will withstand Trump and be capable of addressing new environmental crises associated with climate change. Will any moderate Republicans survive the ideological winnowing and be capable of responding with urgency to the warnings raised by scientists and other experts?
Though Isenberg and Turner are evenhanded in their analysis, they also seem to have little doubt that a renewed commitment to urgency, expertise, and regulation is necessary for meaningful change for the environment. While the successes of especially the Clean Air and Clean Water Acts—which are described in Republican Reversal and credited in part to Republican efforts—should not be gainsaid, Drake's Loving Nature, Fearing the State asks more difficult questions about whether such changes are possible and, even if they came to pass, whether they would be desirable or sufficient.
That the fantastic photograph of Edward Abbey—grinning exuberantly while standing with his shotgun poised on his boot and ready to blow off his right foot, next to the TV that he shot—serves as the cover of Drake's book indicates that moderate Republicans are not his primary focus. (Has a photograph ever so perfectly captured the essence of an American writer?) And given that Abbey believed that human freedom would not be achieved "'until the last corporation executive is strangled with the entrails of the last bureaucrat,'" in his colorful update to Diderot, it is clear that he would not have been inspired by Isenberg and Turner's confidence in expertise and regulation (165).
"Love" and "fear" are not just evocative words serving as a catchy title for this book. Though Drake engages political principles and is not ignorant of policy history, emotional responses to both nature and the state serve as his guiding framework. It is certainly true that Abbey was more photogenic than Goldwater, so there is no question that he belongs on the cover; nonetheless, Goldwater is actually its primary focus. Both steal the show from the anti-flouridationists and the free market environmentalists.
Drake reveals that Goldwater first strode into the Arizona public not as a politician or business owner, but as a photographer in the Ansel Adams vein with a book titled Arizona Portraits (28-29). His photography was even good enough to earn a foreword from Adams himself, a friend of his, in Barry Goldwater and the Southwest (1976). From his mother, Goldwater imbibed a long-lasting love for the Arizona canyonlands that he hiked as a boy. This love went so deep that he considered his vote in support of the Glen Canyon Dam his "biggest political mistake" (91).
But Goldwater the lover of Arizona canyons was often in tension with Goldwater the lover of the gospel of more. It was a more genuine battle than most might imagine, however, and one that resulted in what is likely to be, coming from Goldwater, a shocking statement for most readers. In his The Conscience of a Majority (1970), Goldwater wrote: "'While I am a great believer in the free competitive enterprise system and all that it entails, I am an even stronger believer in the right of our people to live in a clean and pollution-free environment. To this end, it is my belief that when pollution is found, it should be halted at the source, even if this requires stringent government action against important segments of our national economy" (82).
Though in a very complex and haphazard way, Goldwater eventually came to resent the Environmental Protection Agency and especially some of the more anti-modern strands of the environmental movement. He was a fervent believer in both the power of the market and the ability of technology to deliver on visions of abundance (96-98).
This confidence in technological utopia separated Goldwater from Drake's other lover of nature and fearer of the state. Though I do not normally think of Cactus Ed in the act of writing in a journal, here is one of his entries, published posthumously for the world to see in Confessions of a Barbarian and relayed by Drake: "I am accused of being a hater. What those two-bit book reviewers cannot see is that every hate implies a corresponding love. I.e., I hate asphalt because I love grass. I hate militarism because I love liberty and dignity. I hate the ever-expanding industrial mega machine because I love agrarianism, wilderness and wildlife, human freedom, etc. Etc!" (176). Expertise and regulation may sometimes be necessary, but only love is sufficient to conserve creation and its invaluable goods.
Though only glimpsed briefly in the quotation above, Drake highlights the ways that Abbey shared the Porcher conviction that big business and big government often act in synergy, and that the "industrial mega machine" was not just the creation of greedy capital acting alone. The evidence is strong that environmental legislation has helped many Americans enjoy cleaner air and water (though at times by externalizing costs elsewhere). But Drake's subjects—as well as a book that he cites several times to ground their arguments, James C. Scott's Seeing Like a State—remind us that regulation comes at the cost of centralized political power. And, as Kate Brown demonstrates in her study of the impact of state-sponsored nuclear programs in both Oserk, Russia and Richland, Washington during the Cold War, powerful states have certainly contributed their own fair share of environmental destruction. Especially in an era of "woke capital," it may be wiser to challenge centralization wherever it exists if we have any hope of passing on a world that our children will inhabit with gratitude rather than regret.