Stoughton, WI. "Even if I knew that tomorrow the world would go to pieces," Martin Luther is reported to have said, "I would still plant my apple tree." I had always thought of the quotation as mere bluster, better suited to Hobby Lobby word art or Arbor Day Foundation mailers than a second thought. The thing is though, I spent the first week of the coronavirus quarantine planting not one, but forty-three apple trees while the world fell apart. Luther's apocryphal line doesn't feel quite so cliché to me anymore. It feels more like a test I've accidentally passed.
Kerstin and I planted trees during the quarantine because we have grown accustomed to planting trees in March. For each of the past three springs, we have planted apple trees — 163 of them in total now — in the orchard we are establishing on our small Wisconsin farm. Throwing my back into excavating our field in the spring sunshine was a pleasant distraction from the breaking news alerts on my phone, but hole digging doesn't require all that much concentration, and my thoughts wandered as I worked. Apple picking famously turned Robert Frost's mind to thoughts of death. Apple planting with coronavirus raging and markets crashing sent my mind to a similar place. It wasn't a hard connection to make. The forty-three piles of dirt we'd shoveled looked like freshly dug graves. It wasn't the first time that apple trees reminded me of my mortality. Apple growing is a long game, and every time I plant trees, I am vaguely aware that I am on the clock. Kerstin and I planted our first apple trees when I was thirty-nine and she was thirty-five. Apple trees take five to seven years to bear fruit, ten years to produce a real crop, and decades to mature. The apple math wasn't hard to do, and it wasn't particularly helpful. If we got trees in the ground right away and all went well, I'd be lucky to enjoy apples in retirement.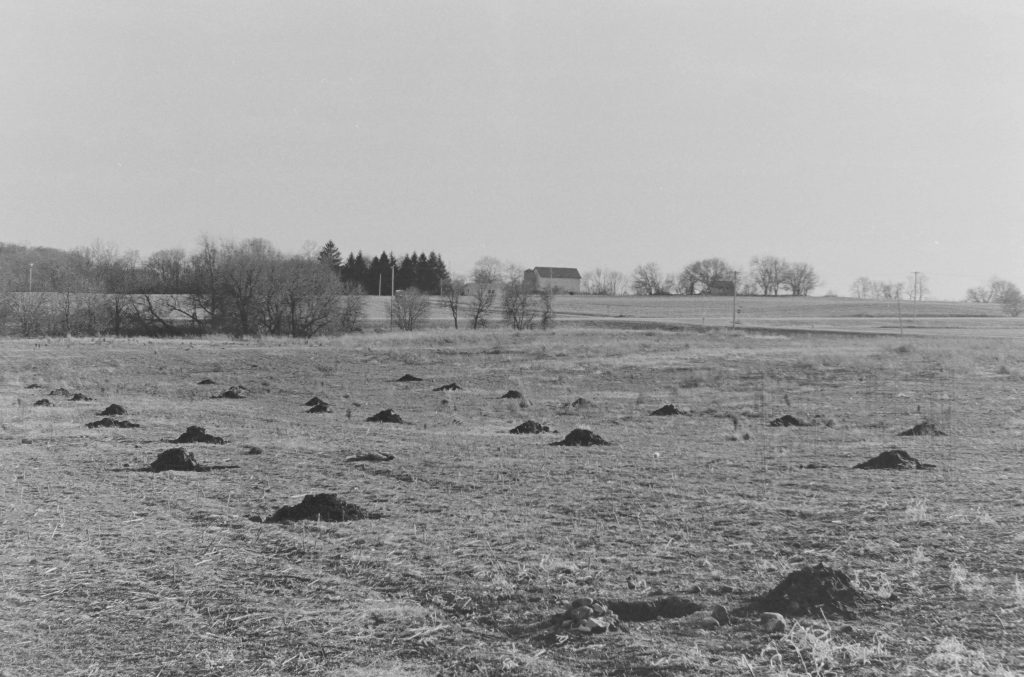 The coronavirus forced questions I had avoided for each of the past three year's apple plantings. Would I be around long enough to enjoy these trees? For what then were we planting them? And for whom? I didn't quite reach the level of despair Solomon voices in Ecclesiastes, but I understood it:
I hated all the things I had toiled for under the sun, because I must leave them to the one who comes after me. And who knows whether that person will be wise or foolish? Yet they will have control over all the fruit of my toil into which I have poured my effort and skill under the sun. This too is meaningless.
While I dug, I thought about what would happen to the apple trees when I died or when I became too infirm to live in our house next to them. I also pondered the possibility that Kerstin and I might lose our jobs and our savings and have the bank take our farm. I thought about the end of The Cherry Orchard, where beloved trees are cut down to make room for vacation homes. Might some foolish Lopakhin buy our farm out of foreclosure and chop down our trees? Standing in my orchard, I could almost hear "Amidst the quiet, a dull tapping of an axe against the tree." Before March, thoughts like this were just nightmares and paranoia. Now, they are contingencies to hedge against.
The coronavirus outbreak called for level-headed thinking and practical action, but from the beginning, our orchard has been a bit of a folly. Kerstin and I couldn't possibly use the apples from 150 trees. Unmanageable as the orchard will be as a home orchard, it's also far too small to run as a commercial operation. We didn't start with a business plan or an orchard plan; we just started putting trees in the ground hoping they would grow. Surprisingly, they have.
Our orchard is also a folly in a narrower, technical sense. In landscape architecture, "follies" are those fake castles and towers that the English gentry built at the margins of their estates to give shape and to provide scale to their enormous lawns. An architectural folly, according to the Oxford Dictionary of Architecture, is an "Eyecatcher, usually a building in a contrived landscape, often otherwise useless," though there are "other marvelous inventions that show the folly is more than whimsical, but the result of the creative longing of the human spirit. . ." We came to the idea of planting apple trees by way of Grantchester Orchard, a remarkable nineteenth-century apple orchard that sits just a short walk outside of Cambridge, England. Grantchester Orchard is an agricultural folly because its trees are for sitting under rather than for producing fruit for sale. Its transition from productive orchard to site of repose began in the 1890s when Cambridge undergraduates asked to have their tea served amidst the trees instead of in the farmhouse parlor. Rupert Brooke, Virgina Woolf, John Maynard Keynes, and other Bloomsbury folks started visiting just before World War I, and they cemented the orchard's transformation from an agricultural space to a cultural one. Kerstin and I visited one summer afternoon in 2012 on the recommendation of my sister who was living in Cambridge at the time. We found it delightfully subdued. Wood and cotton deck chairs circled around low tables set for tea under limbs bowed with ripening apples. People reclined, chatted, and slept in the shade. Why, we wondered, is there nothing like this in Wisconsin?
We bought a forty-acre farm four years later, and we decided to try. When we started planting, we selected trees that would grow much bigger than the semi-dwarf varieties that are customary at modern commercial orchards. We also planted at much wider spacing. These decisions would diminish our yield of apples per acre, but we hoped that apple guru Michael Philips's promise in The Apple Grower holds true: "a full-size seedling orchard, spaced on an equidistant grid of 26 to 32 feet, can take your breath away when it comes of age."
We are not pure aesthetes though, and our orchard is not all folly. The first fifteen trees we planted in 2017 consisted of apples we had most enjoyed eating and baking with when we had picked apples at neighbors' orchards. In our second year we planted 40 more trees, but we began to plant apples that made the dry ciders we had tasted in England and France instead of varieties that we liked to eat. From the beginning, we knew that we were not going to spray our apples, but after a year of growing and reading about apples, we came to understand that eschewing pesticides would doom most of the apples we'd grow to worms, insects, scabs, and all manner of diseases. Cider apples don't have to be pretty though because they all get tossed into a grinder and a press, "as of no worth," in Frost's words.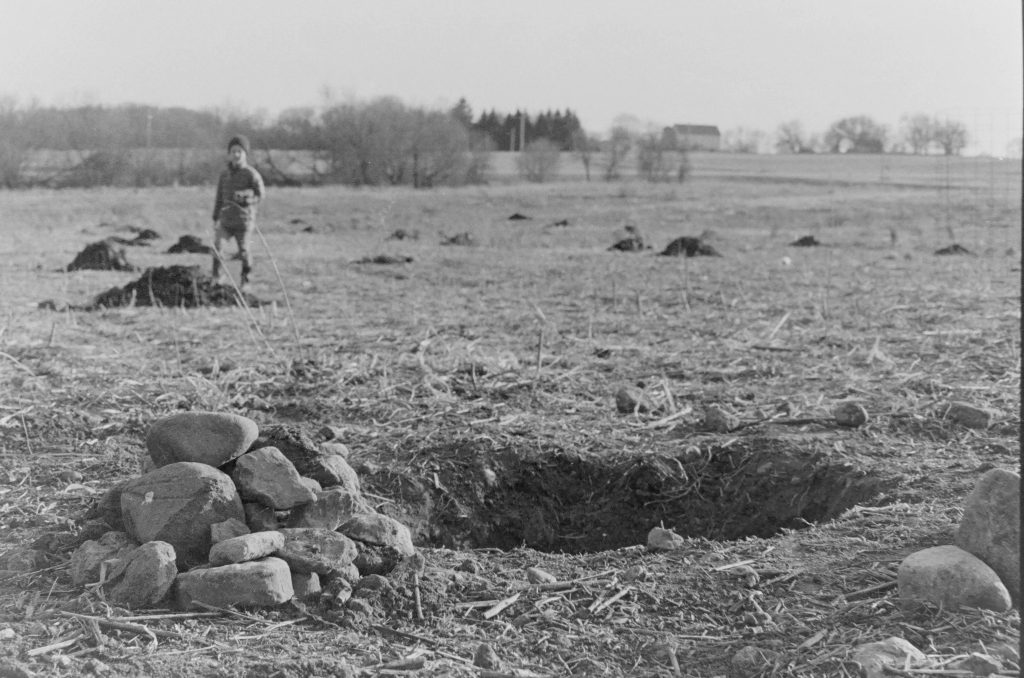 Before the coronavirus broke out in the US, Kerstin and I spent many of our winter evenings reading our way through the half dozen new books about the heritage cider boom in the UK and US. Kerstin and I read that American heritage cider has grown in the last decade alongside craft beer, but its growth has been limited by shortages of cider apples like Kingston Black, Dabinette, Michelin, Wickson Crab, and Redfield. We sensed a business opportunity, but we never imagined ourselves as cider barons. Instead, we considered a U-pick scheme where groups of families, friends, or coworkers could rent a cider press for an afternoon to make their own juice with our apples. We thought of pressing and bottling single variety apple juice to sell to home brewers who want to blend their own cider from heirloom apples. We imagined fermenting and selling our own cider. We came up with names for our as yet un-pressed ciders and sketched some ideas for labels. The coronavirus has called these plans into question in the short-term, and the pandemic has shifted our sights several steps down Maslow's hierarchy from "creative longings," inedible apples, and $20 large-format bottles of cider. We have thought that we might have been better off planting potatoes and beets this year.
When Kerstin and I were still reading cider books, we discovered in Jason Wilson's The Cider Revival (2019) that much of the best cider in this country is made in Upstate New York. In the Catskills and the Finger Lakes, small-batch cider makers like Andy Brennan of Aaron Burr Cider and Steve Selin of South Hill forage wild apples on public lands and in forgotten corners of farms. Upstate New York has become a cider mecca in part because New York's Finger Lakes National Forest is full of feral apple trees. For generations, New York farmers planted small orchards next to their houses for their children and grandchildren and great-grandchildren to inherit and enjoy. Many of these farms folded, and chains of inheritance broke. Then, during the Great Depression, the federal government bought or assumed land to turn the patchwork of insolvent farms into a national forest. Today, the farmhouses and barns are gone, but the unpruned apple trees and their offspring (planted by grazing cattle and deer) remain as monuments to long-dead farmers' intentions and care for the land.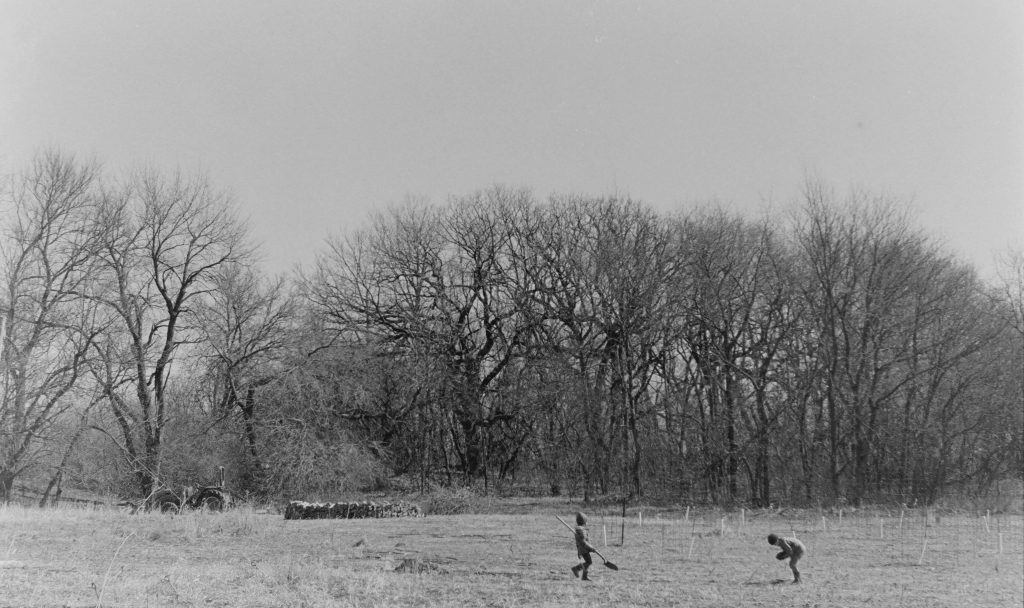 Even before the coronavirus, I had little hope that our two children would care for the orchard after Kerstin and I are gone. We are planting the trees for them only in the very short-term—we had hoped that the orchard might provide a summer income and college fund for them. I'm actually with Thoreau that leaving the orchard to my children could be a burden to them. I know all too well that "farms, houses, barns, [orchards], and farming tools . . . are more easily acquired than got rid of." Though we don't expect our great-grandchildren or grandchildren or even our children to delight in the orchard we have decided to plant, the new cider makers' free and creative use of neglected, forgotten, and feral apple trees gives me hope that the trees we are planting might remain useful and beautiful to someone after we are gone.
Still, even if I never make cider from my trees, even if my children never sit in their shade for tea, even if some Lopakhin laid the axe to our trees tomorrow, I would acknowledge that the trees have already paid an excessive return on our investment. In return for a modest outlay of time and labor, 103 of our trees blossomed last May. Five months later, I gathered twenty-three apples from them. It was a small harvest to be sure, but it was four to six years ahead of schedule and completely unforeseen. I picked the year's last apple on the second of November, a week after the first snow. I found the single Arkansas Black clinging to an otherwise bare branch when I went out to fortify the last of the trees against voles and rabbits. Improbably, the apple was unbruised and unblemished. It was an almost perfect sphere, darker than garnet, the color of our barn on a moonless night. I brought it into the house and sliced it for Kerstin, the kids, and me. The kids pronounced it "very good."
What though of the trees that I have just planted, that haven't blossomed, that haven't borne any fruit? At the end of one of our planting days, with my back sore and my hands tired, I asked Kerstin despairingly, "What's the point of these trees?" She immediately replied, "Trees are good. The world needs more trees. They take carbon out of the atmosphere. We are here together, and the kids are loving this. This is good work to do right now." Our trees are unlikely to make a measurable difference in global carbon dioxide levels, and they will not do anything to hasten the end of the coronavirus pandemic, but according to Wendell Berry, these facts have nothing to do whatsoever with whether or not our decision to plant trees is, as Kerstin declared, good. In the "Hope" chapter of his recent book Virtues of Renewal, Jeffrey Bilbro observes that "For Berry, good work is worth doing regardless of whether it will fix our global problems." King Lear has trended on academic twitter since the beginning of the quarantine mostly as a taunt: "Shakespeare wrote Lear while he was quarantined," the tweets go, "what will you do?" Bilbro reminds us that Berry has long been preoccupied with Lear, but he doesn't think of the play as a tragedy of failure, helplessness, and despair. Instead, Berry views the play as a meditation on the value of rendering "good and faithful service" in a time of great evil. In faithfully serving their fathers, Cordelia and Edgar don't "magically fix the ramifying evil of the play," but they do "practice hope." Their humble, faithful service stems from their "desire to participate in the present good rather than from the expectation that it will effect some systemic, large-scale change." If there is a lesson to be learned from King Lear and Luther's apocryphal cliché in a time of global pandemic, quarantine, and economic depression, perhaps it is that hope for the future is best expressed in doing what good we can where we are right now.