Buffalo, NY. In spring 2014, I had the occasion to set up an interview with Ed McClanahan as a bit of research on a book project about friendship. Since I knew very little about Ed, I prepared by reading furiously through his body of work, selecting especially the nonfiction he had written over the years. I am not ashamed to admit that upon first read I wasn't quite certain what to make of all of it. It was certainly funny—downright hilarious in most places. But I struggled to find where and how his work, touching as it did on Ken Kesey and Merry Pranksters and the like, would be as helpful as I wanted. Then I read his "A Misdemeanor Against Nature" and I started to think I had some idea who this Ed McClanahan was and how his words would fit into the story we were aiming to tell.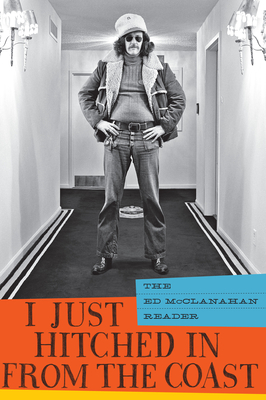 Hoping for future, more formal interviews, I approached that first meeting in May 2014 as something of a reconnaissance mission. I mainly wanted to get to know this "Captain Kentucky" who was known for "wearing high-heeled, pointy-toed, zip-up frootboots and tie-dyed bells and an over-the-collar-mod-bob and a Genghis Khan mustache and round, mellow-yellow granny glasses" into a roadside Kentucky tavern.1 And, well, I felt pretty certain he might be doing a little reconnaissance of his own about me. As we sat and talked that afternoon, I began to see that the guy to whom I had been introduced in many of those stories was more fictional than I could have imagined, because the fella sitting across from me was more "sike-o-deelic" (as he himself would reflect) than the character on those pages could ever hope to be.2
In the narrative of stories about friends and friendships I heard that day in May, there was one moment when Ed's demeanor changed. As he recounted a story of his 1976 departure from Port Royal, Kentucky, to hit the road to write about honky-tonks, he grew somber. He told of how his friend, Wendell, walking away from the loaded van, stopped, turned, and said to Ed, "You're good people. In retrospect and in prospect." As he told me that story and remembered that morning from early 1976, his eyes filled with tears. His reaction made it even clearer to me why Ed returned to Port Royal shortly thereafter and then stayed there for the next decade, continuing to learn not only how to write, but also how to live. I left Ed's little Lexington bungalow and immediately recorded his account before I even made it to my car parked maybe a half a block away. It was clear that this man had much to say about the act and the honor of friendship.
As is the way with academics, the book project that provoked our first meeting has been replaced by several others. It still simmers away, albeit relegated to a back burner. Maybe that much was to be somewhat expected, but what was not expected was Ed's invitation, a few months later, to join something of a consortium of artists who met every Thursday for lunch at a local Lexington hangout. I was on sabbatical that fall semester, conducting research at the Kentucky Historical Society for a project that wasn't the one on friendship. So, a weekly lunch with real people instead of documents sounded like a great idea. Until the first week when, during our lunch, someone stole the battery from my Jeep—again parked less than half a block away. Ed (and others) have constantly reminded me of that mishap. Outside of the expense, though, I honestly didn't even mind too much given the time I had experienced with this group. For the next several months of my sabbatical, I spent every Thursday with Ed's own little band of merry pranksters (diminutive though we might have been). Over the years, that group has grown and shifted to meeting on Fridays, but Ed, having learned "it would be nice to be the protagonist of [his] own life story," always remained at its center.3 And not a one of us really wanted it any other way. In the years since, then, I had the privilege to spend lots of time with Ed. And when COVID-19 prompted our Friday Salon (Ed fittingly pointed out such was what our group was) to meet via Zoom, I got to see Ed and my other friends nearly every week. I realize again now what I realized quite a few times along the way, namely, that it was never quite enough.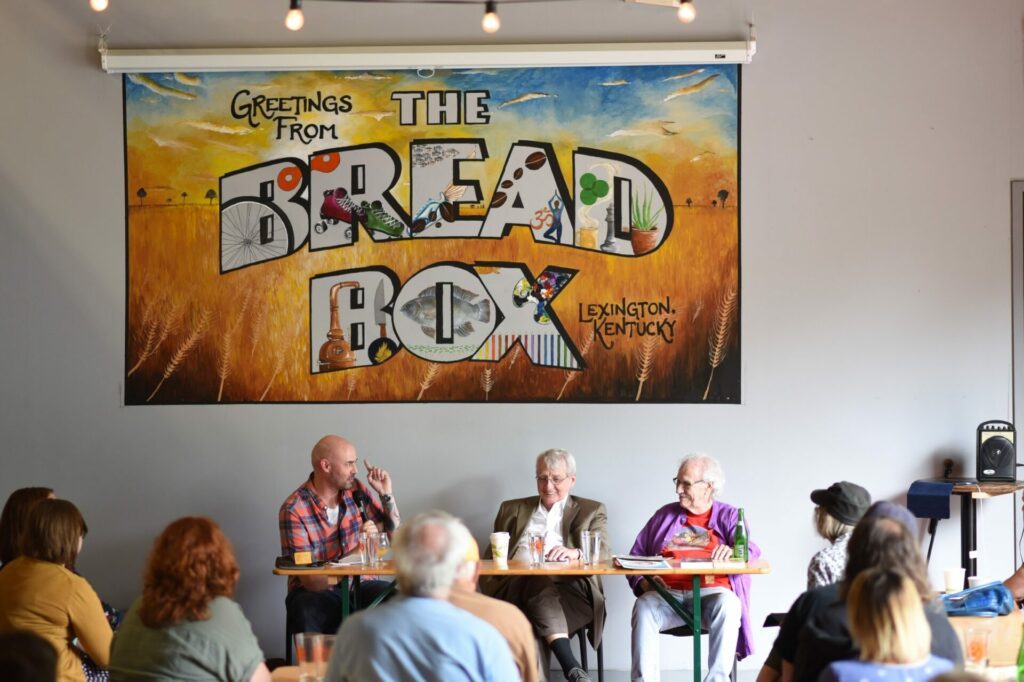 Whether sitting around a table or in his amazingly-decorated writing room, driving along Kentucky highways and backroads, or moderating (read: trying to get out of the way as quickly as humanly possible) a public conversation between Ed and Gurney Norman, his longtime friend and co-conspirator, I was always grateful for the ways in which Ed counted me as his friend. Whether telling meaningful and usually hilarious stories or relating the rules of his None-on-One basketball game, Ed was always a storyteller extraordinaire. But he was so much more. He was a generous friend. He routinely sent me works-in-progress to read. Not because he really needed the eyes and ears of a historian, I don't think. But because he knew it meant a lot to me as his friend to be asked to read and comment on his work. And I know for certain it meant a lot every time I sent something of mine to him and asked him to read it. He read every single piece closely and made suggestions and corrections and even (at times) praises. Yes, as quite a few folks can attest, Ed was a generous friend.
On November 16, 2021—two weeks ago today—I spoke with Ed for the last time. Graciously and generously, he gave me several minutes more than the thirty seconds or so he initially promised. He engaged in a little wordplay as he was wont to do. And he let me express at least a little bit of how much he meant to me—or as much as one can in under two minutes. And I said goodbye to my friend. Then, early on the morning of November 27, the good Captain took his leave.
Ed commented about immortality quite a bit in his writings, reusing one phrase, "not even immortality lasts forever," at least twice in specific stories and also as the title of his final nonfiction collection. His first use of that phrase is the one that comes to my mind now, because it somewhat mirrors my response to the news of Ed's passing. In his "Drowning in the Land of Sky-Blue Waters," while reflecting a little about his days of researching honky-tonks in the mid-1970s, Ed recalled the death of his friend Little Enis, the "All-American Left-Handed Upside-Down Guitar Player" as follows:
Enis died February 27, 1976. We were in Austin, working west, when the word came; I sent flowers and a card that said, "So long, little buddy." Then I sat in the McClanavan and cried like a baby, in the terrible knowledge that the more things stay the same, the more they change, and not even immortality lasts forever.4
Immortality might not last forever. But I contend that Ed will—through his words and through the lives of those he touched with his generosity and his grace. All of which leads, to a simple blessing, a benediction. "Oh, wow."5
Some Suggested Reading
Perhaps the best way to draw attention to the life of Ed McClanahan is to encourage you to begin reading some of the many words he has written. With that goal in mind, here is a suggested list from which you might dive into the literary world of Captain Kentucky, beginning with two collections of fiction and then moving on to selections from his creative nonfiction:
The Natural Man (1983): his novel focusing on Kentucky high school basketball and the experiences of the boys who played it.
A Congress of Wonders (1996): a wonderful collection of three short stories, including what might well be his best (and not only because it is perhaps my favorite) work of fiction, "Finch's Song: A Schoolbus Tragedy." If you can locate the version Ed produced of him reading these stories, you are in for an even bigger treat.
Not Even Immortality Lasts Forever: Mostly True Stories (2020): Ed's last collection of creative nonfiction, showing him at the height of his craft.
"A Misdemeanor Against Nature," "The Day the Lampshades Breathed," "Little Enis: An Ode on the Intimidations of Mortality," and "Ken Kesey, Jean Genet, the Revolution, et Moi" in Famous People I Have Known (1985)
"Captain Kentucky 'Visits' the Left Coast: A Memoir of Wallace Stegner," "Great Moments in Sports," and "Grateful Dead I Have Known" in My Vita, If You Will: The Uncollected Ed McClanahan (1998)
"Fondelle or, The Whore with a Heart of Gold" and "Dog Loves Ellie" in O the Clear Moment (2008)
Juanita & the Frog Prince: Fairy Tale Comix (2020): this adaptation of one of Ed's short stories from A Congress of Wonders works masterfully in no small part because of the talent of Lexington artist and Friday Salon member, J.T. Dockery.
---