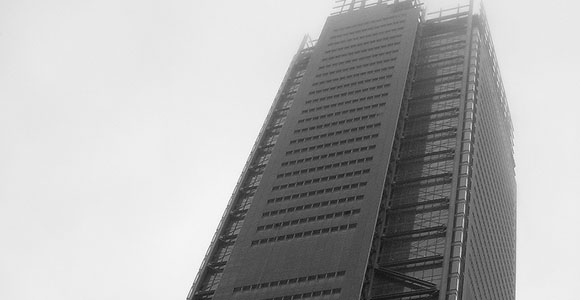 Phoenix, Arizona. Catapulted by his inclusion on the exclusive FPR blogroll, Ross Douthat has been tabbed as a new opinion columnist for the New York Times. This is good news. For one thing, it means that for the first time in many, many years there will be regularly occurring, non-accidental, sane opinion writing in the Times. That will be a nice change of pace.
For another thing, the Times could have picked some retread hack to fill Bill Kristol's shoes. Not only did they not choose a retread, they didn't even pick a hack. I've never met Ross, but I'm happy for him. I'm always been impressed by his openness, his thoughtfulness, and, especially, his clear preference for engaging truly insightful cultural and political writers, no matter their public profiles or suspect philosophical leanings-e.g., Daniel and Rod-rather than wasting time with partisan ideologues, big names, and movement leaders as his interlocutors. That's a mark of an honest man.
Ross is far more interested than I and most other FPR contributors are in working within, and having an influence on, practical politics and national policy. But I strongly suspect that he has suppressed some more radical instincts in order to get a hearing in the mainstream conservation-a suppression that, alas, I suppose will have to continue when he goes to the Times. Someone once told me that Ross believed himself to be promoting crypto-distributism. That may be true; if so, I hope that that project will become less crypto over time, and it's worth noting that several months back Ross agreed to write an introduction to ISI Books' forthcoming new edition of Robert Nisbet's Quest for Community. My unsolicited advice to Ross: give Allan Carlson a call. Unlike most of the rest of us, he can provide you with real, family-oriented, distributist or quasi-distributist policy ideas, and filling up a regular Times column with decent material can't be easy.
One more thing: this means that the only people worth reading in the Atlantic are the FPR-ish Benjamin Schwarz and the hilarious Sandra Tsing Loh. What the heck has happened there, anyway? The redesign of the magazine makes it look like a slightly fatter Newsweek or U.S. News & World Report. And no way that Schwarz is writing the unsigned "Cover to Cover" capsule reviews anymore, a section that now seems to aspire to some sort of record for most parentheticals per page. I smell a graduate student. But this is a rant for another time. Congratulations again to Ross.