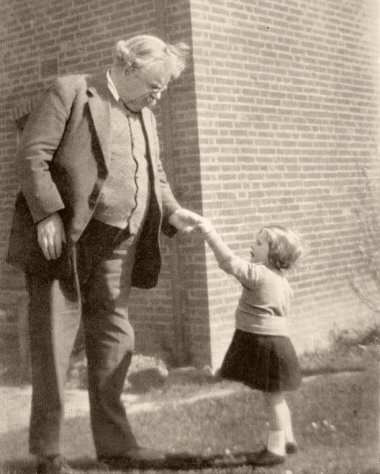 Devon, PA.  Earlier this week, some devout and worthy reader on the Porch proposed G.K. Chesterton as the patron saint of the Front Porch Republic.  Aside from heartily endorsing the idea, I was also reminded of a short essay I wrote for the Notre Dame campus paper a few years ago.  When that was first published, a friend of mine commented that he had liked it and liked it all the more because it seemed to imply that Chesterton was already a canonized saint of God's Church.  In the spirit of popular piety, I publish here a slightly revised form of that original essay, submitting it as evidence in favor of the formal opening of Gilbert Keith's cause.  The reader, I hope, will forgive the parochial tone, recognizing that it was written, as all things should be, for an actual group of people and not for the non-existent ears of that abstraction called "man."
In the Martins' Grocery parking lot one winter afternoon, I passed a poorly but enthusiastically maintained Mazda whose rear-end was overloaded with absurd bumper stickers, most of them along the lines of this: "Conscientious Non-Conformist." The cheap shot one is tempted to make is that no person answering to that description could possibly have found so many bumper stickers to "express" his heart-felt opinions.  It is a cheap shot, because most of us cannot make anything on our own – not even descriptions of ourselves – but must buy or steal everything.
Sometimes the cheap shot is correct, however, as it is in this case.  When the mass of men and women subscribe to barbaric opinions or listen to savage, banal and unsublimated music, they generally do so for some arguably good reason that has nothing to do with their identity as "consumers" or "individuals," as "conformists" or otherwise.  The owner of this ideologically-loaded jalopy, on the other hand, could have put up that mass-produced, block-lettered, sticky declaration of individuality only for one end – a purpose it singularly could not achieve.
In one respect, I cannot help sympathizing with its trite, failed message.  Reading the major cultural critics of the nineteenth century and after, from Alexis de Tocqueville to G.K. Chesterton and W.H. Auden, one encounters the constant fearful apprehension that men are all growing alike.  The person under the reign of modern society had become a black-coated, straight-faced bore, and had so become because of the pressures of modern industry, the workplace, and especially through the offices of that "hygienic" arm of the modern state, mass education.  Whereas men were once farmers and knights in their own private realms, in our day, they had become recessive Mickey Mouse-es deprived of any kingdom beyond the factory floor.  Who is the modern man?, queries Auden in Letter to Lord Byron?
     Ask the cartoonist first, for he knows best.

Where is the John Bull of the good old days,

    The swaggering bully with the clumsy jest?

    His meaty neck has long been laid to rest,

His acres of self-confidence for sale;

He passed away at Ypres and Passchendaele.

 

Turn to the work of Disney or of Strube;

    There stands our hero in his threadbare seams;

The bowler hat who straphangs in the tube,

    And kicks the tyrant only in his dreams,

    Trading on pathos, dreading all extremes;

The little Mickey with the hidden grudge;

Which is the better, I leave you to judge.
 Auden, a product of the elite schools of England, argued strongly that parents should be left as much control of their children's education as possible, and that children should be let to run around with as many neuroses as they could without seriously hurting themselves.  If conformity cast an increasing pall on the first decades of the last century, and if the commoditization and "sanitization" of persons has continued unabated, what basis have we to believe the situation has gotten better rather than worse in our own day?
None.  In ages past, occasional "eccentrics" sprang up in the hamlets of England or in the Villages of the Italian peninsula, and their exceptional attributes were but incidental signs by which such persons called one to greater devotion to God.  They sealed themselves up in side-chambers of churches, fasted and prayed; they sat on pillars, moaned and prayed; or they flagellated themselves at the edges of town; or they performed works of mercy among the poor, sick and outcast, draped in modest rags just the color of your cappuccino.  They shouted with joy the beauty of cats and the sublimity of shook foil, the pleasures of song and the enslavement of gold.  They were called saints, and it was on account of their unusual behavior that the great masses of people flocked in fascination to bathe within the light of their eccentric haloes.  As G.K. Chesterton put it, more or less, their genius may have been accidentally eccentric but it was, at its heart, truly "centric," for by its disturbance they called our forefathers from the routine plodding of the highways of their affairs to the still center of eternal love.
The death of saints, I think we can say, was always the plot of some jealous few despite the better velleities of the crowd.  In other words, the notion of popular saints – of persons being declared "saints" by popular demand – suggests the way in which most people once welcomed those different from themselves, so long as that difference was a signifier for a higher mode of life.  Difference, when it reflected elevation, was a privilege not a derangement; saintliness awakens us to virtues we lack but which we ought to have if we simply wish to be ordinary persons.  Because so few of us in fact are ordinary, the cockeyed saints bear the cross of laughing like fools.  And so the makers of martyrs were those who did not so much persecute the difference in the saint, but rather, sought to exterminate the deep but exposed humanity in him: that self-revealing quality whereby the holy threatened to bring to light the frailty and thirst for mercy and justice in every run-of-the-mill person.  The sorrow of martyrdom comes in part from our basest common character falling under the control of this jealous few, betraying and spurning that noble common need.
We, at present and as a rule, can no longer understand sainthood.  When someone proposes the virtue of a celibate life, we look on in confusion and contempt.  We whisper in corridors and rear back our heads like furious pack horses before returning, each of us, to our individually seasoned consumer brothels.  When someone proposes the good of the life of contemplation, we sneer at her uselessness.  "She'll learn when she's starving," we say, though we have managed to avoid ever seeing anyone starve.  We presume the celibate must suffer some secret sexual disorder – or what used to be called a "disorder" before it became just another consumer choice.  And we simply accuse the contemplative of being "impractical" or "unrealistic," although no one I have heard use those terms has ever had the faintest idea what those words might mean.
If you want practicality: ora et labora.  If you want reality, be practical and you cannot fail to arrive there.
This transformation from past to present is especially glaring at a Catholic university, where light of the saints in stained glass falls upon us all the time as we cross campus on our way to a marketing or economics lecture, where we learn the only truth worth countenancing is that of "supply and demand."  Or coming home from yet another "mock interview," as we train to describe ourselves the way that will least expose our self and will best play up those fungible attributes that show we have the promise of being docile good workers.  Will any of this lead to the kind of work that will win us friendship in the Communion of Saints?  Will it even make us someone with whom Chesterton might have sat to drink a beer?  Or does it all serve to prepare us not for a life of sin and an afterlife of the damned, but to follow the inconstant flag of the lukewarm and the indifferent?  In brief, such habituations and trainings prepare us neither to be saintly nor ordinary, but to exist less, to diminish ourselves until we can be fitted into the scheme of any profitable capitalist.
St. Francis wore a tonsure; other saints wore hair-shirts.  Chesterton wore a cape and saber.  St. Padre Pio wore the Wounds of Christ, and John Paul II the scars from a bullet.  I do not write to recommend such accouterments.  But rather than celebrating the "diversity" of what we listen to, wear, eat, smoke, or copulate with – all the while we continue living lives thoughtless, identical and efficient – we might do better to seek after those higher goods that inevitably make the human wheel spin a little wobbly.