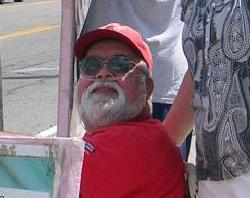 Devon, PA. Everyone knows the "secularization hypothesis" of the West; the only difference between one person and another is whether one also knows that it is garbage.  According to secularization theory, pre-modern religious culture was typified primarily by allegiance to the irrational, a great passionate fidelity to forces beyond the control of instrumental reason and not subject to empirico-mathematical reasoning.  And so, from the stone age to the cathedral age and on to that of Voltaire, the world was a blood bath of "religious violence" in which the benighted slaughtered the benighted.  Then came Gallileo, the story goes (though no one who tells this story ever knows much about Gallileo, science, or philosophical theology), and the benighted turned their blind rage upon the champions of light.  But, coining a phrase never thought of before in the history of the universe, the advocates of secularization observe that the light will prevail against the darkness: despite the irrational conflicts of the religious, a gradual ascent of the Reason would progress.  The Enlightened championed the lowering of Reason to empirico-mathematical reasoning; only truths subject to the immediate demonstration of the senses or quantitative analysis (as opposed to say logic and expansive human experience) any longer counted as truth.  And the Enlightened championed the elevation of human making — of the ability to manipulate or control material things — from its status as "servile" to the highest form of human intellectual activity; instrumental reason and empirico-mathematical reasoning slowly merged in a new apotheosis: man wastes his time speculating on the Truth of God, for it merely distracts from the obsessive testing of that which can be tested and from the obsessive domination of that which can be subjected to human control.
The voices of Enlightenment declared that once man accepted that he could only know that which he could sense, quantify, make or dominate, he would become a much more peacable fellow, modest of mien, humble of horizons, skeptical and moderate of vision.  A millenium of peace and prosperity would ensue for, after all, man would no longer kill for what he could not verify quantitatively in advance, and everything else would eventually come under the rule of his instrumental reason.  So convinced was he of the great pacification he would bring about as soon as he had expelled the benighted and brought to subjection nature, including human nature, that he hardly thought twice about the murder of the backward.  From the thousands of priest killed or exiled in the French Revolution, to the many thousands more slaughtered in their monasteries by the Republicans in the Spanish Civil War, to the Gulags for the backward of the Soviet Union, to the re-education camps of Mao's China; from the anti-clerical libels and slanders of Voltaire and P.B. Shelley to those of Hollywood in our day, the Enlightened would stop at nothing to bring us peace, to put an end to war and irrational hatred.  They would not even stop to count the bodies, which piled up at a rate and in quantities inconceivable in any previous time.
It is a task for another day to refute the libels and slanders against the Christian and the religious in general; a task for another day to argue that, far from being a competition between reason and "religion," between "science" and "faith," the conflicts of modernity and the intellectual conflicts of every age are between theology and theology; a task for another day to show that there are better and worse theologies, that there can only be one Theological Truth, and there is no escaping from it except by means of unreason, a refusal to serve the True by seeking it in love.
Today, I wish merely to underscore that every age will be an age of Christian martyrs, but that ours is just getting the fires heated beneath the stakes.  In Pakistan and the East more widely, Christians are continuously subject to harrassment, rape, and death, as illustrated most recently by the slander, arrest, murder, and desecration of a Pakistani Christian who made the mistake of falling for the wrong girl.  In Florida, that ever "rational" exercise of elite social-managerial power is about to put a high school principal and teacher on trial for praying on school property.  And in Michigan and throughout the country, the murder of an infirm elderly man who protested in defense of the unborn is treated as a matter of no consequence.  Christians are martyred in Pakistan, and they are martyred in Michigan.  And, in a sense, they are killed for "good" reasons; their lives are signs of contradiction that make the totalitarian impulse of an Islamic state as hard to secure as the totalitarian impulse of one where the laws of "rational control," of "instrumental reason," of bureaucratic domination render men, women, and children mere individuals, mere atoms, to be organized, sheltered, fed, put to work, and left to die.
I do not draw your attention merely to the "hyporcrisy" that a mass murderer like George Tiller could be mourned by the defenders of "light"-as-instrumental-reason, while the murder of Jim Pouillon, a man who sat amid the elements with large photographs to show the world what the slaughter of innocents really looks like, goes largely ignored.  There is no world that could long accomodate both men.  But we ought to acknowledge that the age of liberalism and enlightenment like the resurgance of Islam will always oppose the truth of Christianity, for that truth — useless though it is, in itself, for the control of human bodies — resists and refuses the particular kinds of subjection Liberalism and Islam demand.  And so, we ought to expect the sight of still more broken and beaten bodies, dead at the hands of police or by the bullets of vigilantes, in the years ahead.  We ought to expect such sights to go largely ignored by a media and a citizenry committed to the pacification and triumph of instrumental reason, despite all the "empirco-mathematical" evidence that such a form of reason is itself a regime of destruction and dehumanization.  And, above all, we ought to expect that these scenes are not mere misfortunes that "should never happen" and "would never happen" if more persons just resigned their "certainty" regarding untestable truths.  These episodes do not call us to a lessening and loosening of love, that our desires might be more efficiently regulated and controlled by a managerial state and an administered society.  They remind us, they witness to us, rather, that each human person is formed by and directed by the truth that he loves, and that many have succumbed to a theology that purports to be no theology, a rationality that is not reasonable, and a regime of progress and pacification that continues to reveal itself as a desire for domination, manipulation, and exclusion, bloodless only in its bureaucratic rhetoric.  So long as the many and the elites of our age hear the call to "Enlightenment" like the irresistable white noise of a massage chair, so long may we expect it to produce mild victims of discrimination as well as bodies in the street.  For those with ears to hear and eyes to see, I pray, those bodies will appear as witnesses to the Reason and Truth against which our age has largely turned; they will see that those bodies are of Christian martyrs.
Everyone from President Obama to Jeremy Beer has questioned why the ideologies of our age tend to "demonize" and "dehumanize" human beings because of the debates on matters like abortion and "gay marriage."  But the dehumanization did not begin with these debates, nor is it confined within them.  It began the moment someone promised peace and reason if only human beings would give up their "irrational" loves and would submit to a social order that claimed the only reality is that which man can make and control for himself.  The demons, henceforth, would be those who refused to serve truths less than the Truth Itself and who refused to become the judge of all truths by making human power its sole criterion.  The world is no more "secular" now than it was seven hundred years ago; but it has a new theology, one that does not like to be called "theology," and it has its victims — those whom a more reflective age than ours would immediately recognize as saints and martyrs.
My thanks to the Catholic News Agency for providing the links included in this essay.