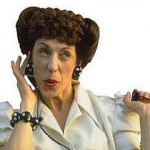 I screwed up but I don't know how to apologize to the parties involved. In this age of global communication, highspeed networks, and outsourcing, the people who I offended are simply first names in far away places. Good manners are seldom mentioned as one of the victims of globalization. As a localist, I should have done better. Let me explain.
It started when my wife and I decided to relocate within our fair city of Philadelphia. Lots of utilities accounts needed to be changed or cancelled, and one that made sense was to find a new Internet Service Provider. Earthlink offered a decent product (even if typing in the name as part of one's email address was a pain), but our high speed dial-up service relied upon the wires of Verizon. That meant having to talk to someone in India who would make a call to a local Verizon office before sending out a repairman. So the thought was to find a provider with cable service, thereby making an end-run around phone lines.
At first, I was pleased with the decision. It helped that the new ISP, Comcast, had a deal. Americans love deals. I'm an American. Ergo, I love deals. And then I made the call to make an appointment for installation. The person on the other end was Suzzy, but that cheery name could not hide a distinctly South Asian accent. Nor did her unfamiliarity with how to spell the name of our new street – Locust – make me feel like I was avoiding my old ISP problems. If "Sam" and "Tom" work for Americans as the way to spell by phone or radio the consonants "s" and "t," what would Slum Dog Millionaire use?
I managed to establish the account with Suzzy who then transferred me to Ivonne, who I believe was in Louisiana or Mississippi, to make a time for the actual installation. I gave her our new address and again I began to have misgivings about my new ISP. Ivonne said she would have to see if Comcast provides service to Philadelphia. Hello!?! Comcast is located in friggin' Philadelphia and recently built the tallest building in the city. I'm sure they have enough wireless juice in their building to service the entire downtown.
But once I cleared that hurdle, I then hit the wall of my street address. I gave Ivonne the number and then found out that my customer service representative would have to scroll down through a gizzillion numbers before trying to find our new apartment address. Again, hello!?! I mean when I went to Comcast's website to order service, they provided windows to input my address and I could see which apartments in our new building actually had Comcast service. But Ivonne somehow needed to start at 1400 and scroll through screens of addresses before getting to 1520. Because our new building is a high rise, surrounded by high rises, I eventually said so long to Ivonne after being put on hold at least a half-dozen times, waiting at least forty minutes, and listening to a Muzak tune that I was still carrying around annoyingly in my head three days later. Before saying so long, though, I let Ivonne know how frustrated I was with Comcast's inability to give me quick service, and I let her know that I was not confident about my future dealings with the company. I did have enough civility to let Ivonne know that I wasn't displeased with her work. My complaint was with the administrative maze of trying to establish Internet service with a company whose headquarters are IN MY HOME TOWN!!
A couple days later I received an email message indicating that Comcast had found the address and could now set up a time for installation if I called to arrange an appointment. This was encouraging, until I placed the call and needed to wait while another woman, I believe her name was Maureen (location undetermined), found herself scrolling through endless windows in search of 1520 Locust. She tried to contact the local Comcast people in Philadelphia to see if they had records of the address. The locals proved uncooperative, a result that did not surprise Maureen. So I waited and listened to that awful tune again while Maureen searched through addresses, looking 1520.
Finally, Maureen reached her own level of frustration. I fear some of her reaction may have stemmed from my own localist sensibility which was on the verge of meltdown thanks to my skepticism about big, corporate, global entities like Comcast (though I reserve a spot in my heart for the company's home town identity and ownership of the Flyers and Sixers). Eventually, Maureen connected me to Bill, a Philadelphia customer service representative, who was able to help me and who cut through the thicket of windows, screens, accounts, and cables.
Part of the reason for Bill's effectiveness was not to placate my rising anger. Again, I did not criticize Bill directly. I reassured him that I liked him well enough, but was growing to hate the company HE WORKED FOR!! Despite my hectoring, Bill hooked me up with an appointment because I finally gave him – dare I admit – the right address.
Turns out I had been off by a digit during my two hours of phone calls spent with Suzzy, Ivonne, Maureen, and Bill. I had thought our new address was 1520 when in reality it was 1530. With that little glitch clarified, funny how much easier Bill's work was.
I could not say it any better than Homer. DOH!!!
I would like to offer my apologies to Suzzy, Ivonne, Maureen, and Bill personally. But I suspect that if I call Comcast's 888 number, I may have to wait another three hours before receiving triple-digit lists with all service reps who have those first names.
So I would like to use this space to apologize. Suzzy, Ivonne, Maureen, and Bill, if for some reason you find your way to this post, please accept my heartfelt apology. I was an idiot. And I was responsible for my own frustration, not you. You do admirable work and I'd like to commend you to your superiors. Please forgive me.
Speaking of superior. The way this turned out, I reserve a measure of localist superiority even though it may have contributed to my predicament in the first place; that is, if I hadn't been biased against the services of a global corporation, I may have been much more pleasant on the phone. At the same time, if Comcast were a local operation, I could either call or drop off apology notes at Seventeenth and JFK for my Comcast interlocutors. As it stands, because of globalization Suzzy, Ivonne, Maureen, and Bill will continue to recall me, if they care, as a grade-A dumb ass.
Who says globalization doesn't take a toll?