Over the last several years, our little band over at Solidarity Hall—myself, Susannah Black, Mark Gordon, Matt Cooper, Grace Potts, and a few more—have entertained ourselves by watching various Facebook political insurgencies come and go. These are various "third way" experiments, most of which have capsized amidst angry disagreements over how Catholic is too Catholic—that kind of thing.
The Distributists, the Queens NY Distributists (a rather special enclave of one, I believe), the American Solidarity Party, the Integralists. Some, like the moon, wax and wane, but most resemble shooting stars which disappear into the dark, taking their slates of eccentric candidates with them.
In our ponderings, the notion of the perfect Porcher candidate naturally has arisen, but I have to report the pickings have thus far been slim. Perhaps that's because of our pig-headedness in clinging to certain criteria.
To wit: our ideal Porcher president would necessarily be a committed localist. And we'd need some deeds as well as words on this score—none of that armchair agrarian nonsense.
Next, we need someone whose beliefs are a tad more vigorous than that limp phrase "faith-based" implies. I think we'd be looking for someone who self-describes as religious, without necessarily plumping for any one of the Great Traditions. (The old expression Judeo-Christian comes to mind, at the mention of which my friend Joseph Epstein always likes to ask, "So who are these Judeos anyway?")
As enthusiastic readers of that brilliant madman Bill Kaufmann, we would certainly want an anti-militarist, God help us. Maybe also someone critical of neoliberalism and distributist (in some fashion) in outlook.
If we wanted to get really starry-eyed, we'd hope for someone who's highly literate—even multi-lingual, now that we're really getting carried away here.
To my astonishment, it turns out we have a chap who fills this bill—and turns out he's been living only a few miles down the road from me, happily ensconced in the security of being mayor of that smallish Midwestern city, South Bend. I refer of course to the skyrocketing Mayor Pete Buttigieg.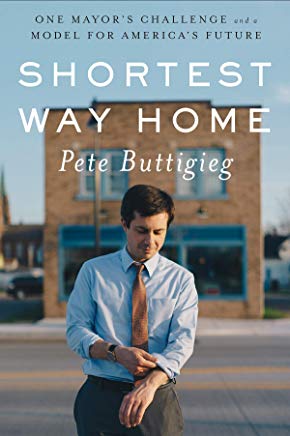 His public career is a parable of the local boy who went away, made good (and much better than good: Harvard, Oxford, McKinsey, U.S. Navy), and moved back home to get down to work. Buttigieg's new book, Shortest Way Home (title borrowed from James Joyce), is a sentimental portrait of South Bend beyond the wildest dreams of any civic booster, while also describing how a place-based and "smart city" strategy has completely changed the fate of that previously feckless-looking small city.
That Mayor Pete is also a religious person might surprise some, but they'll be even more surprised at the enthusiasm and candor with which he discusses his faith publicly, as in this recent appearance.
His criticism of NAFTA, the financial system, and our history of perpetual war are standard points now in his interviews and (assuming he announces) will find a place in his public platform.
Finally, his memoir is pleasurably written and displays something of the practical urbanism and public philosophy with which he would govern, an attitude focused on building up local assets rather than expending energy on seeking an unrecoverable past. (As Buttigieg puts it, "'Again' is a word which should never be used in politics.")
That his spoken languages include Arabic and Norwegian and that his musical skills were sufficient to perform Gershwin's "Rhapsody in Blue" in 2013 as a piano soloist with the South Bend Symphony—it all begins to defy credulity. And yet that's the package, folks.
Needless to say, Mayor Pete's positions on climate change, gun control, and healthcare mark him as a man of the left, although he is very far from being an ideological leftist, as is apparent in his interviews.
For certain Porchers, unfortunately, his status as a publicly gay man in a same-sex marriage means that, like the members of the little Facebook "third way" groups I mentioned above, they will be picking up their marbles and going home in order to abandon a candidacy more wholly pro-family than perhaps any we've seen in decades.
To which I would ask: have these Porchers not yet read Wendell Berry?