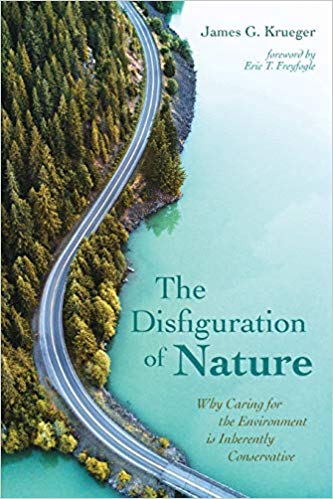 Wendell Berry, while still writing more than most of us, is squarely in the awards and laurels stage of his earthly journey. Who will continue the call for sanity and stewardship once he is gone? James Krueger is a new voice crying in the wilderness, and based on The Disfiguration of Nature: Why Caring for the Environment is Inherently Conservative, those of us on the front porch should lend him our ears.
Krueger's compact, if at times circuitous, debut offering opens with epigraphs from Berry's The Unsettling of America and Stark Young's essay in I'll Take My Stand—a promising beginning. Krueger describes his discovery of the Twelve Southerners' manifesto as an epiphany. "Though it would be hard to take the proud Yankee out of me," Krueger writes, "the discovery of I'll Take My Stand has turned my world upside down." I'll Take My Stand was an intellectual, if at times overly romanticized, defense of the agrarian way of life first published in 1930. The Civil War had established northern industrialism's iron dominance over a Jeffersonian vision of small landowners. (It also brought about the demise of the peculiar and diabolical institution to which ante-bellum southern society was inexorably linked.) Despite the odds, Stark Young, Allen Tate, John Crowe Ransom and their compatriots still raised their call to reject a frenetic dynamism and embrace a life bound, not by the chains of slavery, but by the limits of the land and the more noble traditions of their Southern heritage. Their work has continued to influence those, like Berry and Krueger, who have read it in the decades since.
Several hours north of the New York City that an exhilarated Berry left heading south, Krueger and his wife now lead a homesteading life in the Catskill Mountains that would likely make the sage of Henry County, Kentucky proud. As a writer, Krueger is still mastering his craft, but much of what his pen produces would similarly be quite welcome in Berry's company. For example, when discussing Edmund Burke, Krueger affirms, "Our decisions and actions, and how we pursue or refuse change, must be measured by criteria that extend beyond our own personal ambitions, desires, conveniences, profits, and lifetimes." Speaking of the modern fetish for individual rights, Krueger argues, "Without stability, without calm, without enduring convention, families, communities, and societies crumble. Rights and choices can never belong solely and absolutely to a single person; they are always social." There is much here that will cause the head of a Berry-loving communitarian to nod.
Yet, Krueger is no mere Wendell-wanna-be. For one, he does not share Berry's aversion to institutional religion. Krueger is an Anglican priest who leads a congregation and a retreat center near his mountain home. And most strikingly, Krueger takes head-on two issues where Berry's twenty-first century equivocations have perplexed many of his long-time admirers. Krueger sees the yoking of environmentalism to the Democratic Party and that party to abortion and gay rights as a strategic and philosophical disaster. "The attitudes that lie behind the practice and proliferation of abortion—attitudes elemental to the founding principles of organizations such as Planned Parenthood—are incongruent with the environmental cause," Krueger implores. "The same can be said," he continues, "of many of the core assumptions forwarded either explicitly or implicitly in LGBTQ narratives."
The author spends about a third of his book's 151 pages fleshing out these claims. The crux of his argument is that the sacrificial love of parenting is more conducive to loving the earth than the self-centered individualism that is at the heart of an abortion-on-demand culture. Similarly, he asks how one can call for accepting the limits of nature in one breath while denying basic distinctions that nature gives us, like gender, with another.
Writing as a longtime Democratic voter who still echoes progressive concerns about issues such as guns and people such as Donald Trump, Krueger may gain a hearing from some on the left. Already, he has been heard by Eric Freyfogle, a law professor of some renown in environmentalist circles. Freyfogle has penned a sympathetic forward arguing that Krueger, whom he calls "an original and forceful moralist," deserves to be read by those who might at first regard his takes on abortion and gay rights as apostasies. While I do not view the connections Krueger makes as "surprising" nor his positions on social issues to be heretical, I will nevertheless second Freyfogle's motion. Krueger—whose prose can at times brim with the passion of John the Baptist even as his mellow songwriting is more reminiscent of John Denver—deserves a hearing.
His is a needed call of return. "It is time," Krueger writes, "to come home again; to come home to this land, home to our neighbor's company, home to ourselves, our sanity, our integrity, our bodies, our places." With a sequel already in the works and a life story that demonstrates a determined willingness to follow through on his convictions, Krueger is establishing himself among a new generation of prophets picking up Wendell Berry's mantle.