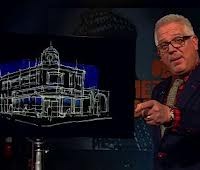 [Cross-posted to In Medias Res]
So Glenn Beck has proposed his grandest scheme yet: the construction of separate planned community, literally built around (in terms of architecture and overall design) the idealization (and arguably the idol-ization) of what he understands to be "quintessentially American" principles, to be called "Independence, USA." It'll be built somewhere in Texas, at a likely cost of over $2 billion, but Beck is not deterred; this is something, he says, the God is inspiring him to do.
Mockery ensures, of course, and at least some of that is deserved. If you watched his whole presentation (and I urge you to do so, starting here), it gets rather difficult to be sure exactly where Beck's ideas for a theme park end (so much of his vision apparently being preoccupied with the creation of media centers which will tell entertaining but "true" stories, beginning this year with the creation of a multi-media extravaganza about, it seems, the epic American battle of Thomas Edison and Nikola Tesla, told from the point of view of the moon), and where his ideas for an actual living space begin. At one point in the presentation, while talking about the need for real self-sufficiency in Independence, Beck gestures at a picture of some powerful wind turbines built on a hill over the community, but then later says they were a mistake, inserted by the sneaky employee at Blaze TV just to piss Beck off, leaving the question of how this community will obtain its energy unresolved. He apparently likely imagines it being built somewhere in north Texas, but how many people will live there, or why they will move, or what they will do there, is similarly in need of more detail.
I'm sufficiently in sync with the cultural preferences of my mostly left-leaning academic tribe that such mockery of Beck comes easily to me; I've done it before, and will likely do it again. But in truth, I find Beck's utopian dreaming more fascinating than ridiculous. For starters, what kind of community does he have in mind here? Most of those who have reported on his grandiose vision have labeled it "libertarian" or "Ayn-Rand-inspired," comparing it with such paranoid ventures as The Citidel or, more ominously and meanly, Jonestown. Obviously you can't dismiss that kind of motivation; Beck has never pretended not to be inspired by the radical libertarianism/constitutionalism/individualism of a John Galt or a Ron Paul. And the problems with this kind of extremism, a real fetishization of personal liberty, are obvious; as Peter Levine tartly observes, if you truly take this kind of rejection of all forms of collectivism seriously, than "you secede from the corrupt, liberty-forgetting society around you and raise your kids in a setting where they will turn out to be libertarians (unless they rebel against you and define themselves as anti-libertarians, but even then you will have shaped them)…if you succeed, you will have forced them to be free." But Beck can't really be placed entirely within that category. If you listen to the whole presentation, and especially if you're familiar (which, as a fellow member of the Mormon church like Beck, I actually am) with the pious, family-centered devotional tropes he frequently makes use of, then you hear so much more which isn't exactly libertarian. He wants "wisely" planned living spaces, where all the streets are underground and everyone lives on a cul-de-sac, so people will get out of their homes and enjoy their neighborhood. He wants a marketplace where there is "no Gap stores, no Ann Taylor," but only craft-based businesses which offer apprenticeships, and don't require any "Ivy League" diplomas. He wants a local, sustainable food system. He wants, basically, a community which celebrates "simpler times." Sounds more Front Porch Republic than Galt's Gulch.
Jesse Walker calls Beck's vision "populist-utopian," but I think he's wrong there too. I mean, I suppose if one imagines "populism" in explicitly (and solely) Jeffersonian terms, that description might work–but in reference to the actual Populists, or the way the term has been used since then, there is little what Beck lays out here which suggests an attack on the powers that be or a restructuring of society around increased economic democracy and sovereignty. Indeed, aside from a few arguable swipes against corporate capitalism (which I suspect Beck is either unaware of or would deny that he made), the only thing which is attacked here is our education system. And this is where Beck truly comes alive, and truly reveals his dream as being, whether he realizes it or not, as being more about Plato's Republic than anything else. He essentially, if unintentionally, speaks of creating a civil religion, with an all-glass, sunlight-reflecting, impressively spired building at the center of the community (forgive the Mormon in me for immediately thinking "temple" and "Zion") which would be a repository of historical documents and artifacts from throughout history, so that whenever someone is confused about what America's real principles are, they can come to Independence, be "deprogrammed" from what is taught in America's universities, and "be shown the truth!" (Beck repeats that about three times.) I can't help but think of people being led out of the cave by the philosopher-kings, and seeing the sun (the Declaration of Independence! the Constitution! portraits of the Founding Fathers! and…other stuff, I guess) for the first time.
Years ago, I noticed a similarity between Glenn Beck and James Gordon "Bo" Gritz, another Mormon (though only for a short time) conservative who became convinced of conspiracies and truths which, somehow, his ideological fellows nonetheless weren't captivated by. (Look at all you fans of Glenn Beck: sure, you voted against Obama, but are you teaching your children the Mayflower Compact? Have you stopped shopping at the Gap? Why not?!?) And this led Gritz, as it is apparently leading Beck, to want to proselytize, to redeem, to create safe environments of learning that troubled people can flee from. Again, this is easy to mock, but I don't want to. I don't want to, because there is, at the heart of this impulse, a longing for a yeoman independence and interconnectedness, for communities of solidarity, for the truth which can be known when people are fully enjoined in their civic spaces. Populism was a way to communicate that idea, whereas libertarianism is, I think, too often a corruption of it. Either way, though, there is a transformative, utopian impulse here, and the impulse is which animates all the best kind of home-making and community-building. Too bad Beck's is so warped–and, frankly, kind of stupid–that he's apparently incapable to making the kind of critique of liberalism which would open up to him the real, plausible, communitarian alternatives out there, whether distributist or anarchist or social democratic or all of the above, in one fashion or another. Like Gritz, Beck knows what he wants (well, sort of, anyway), but he's unwilling to think carefully about what's really stopping him from having it (his own fellow citizens and the genuine appeal and logic of the liberal order, being a primary one). Thus does he make utopia a source of snide mockery. Like I said, a fascinating process, though a frustrating one as well.