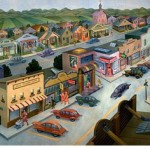 Alexandria, VA Since Caleb has posted his lecture from a legendary conference a few years ago that a number of future Front Porchers attended in Charlottesville, VA, I've brushed off the dusty pages of a lecture that I delivered there, and offer the first part here:
__________________________________________________________
I want to begin my talk on "The Alternative Tradition in America" with an unlikely source – the granddaddy of neo-conservatism, the most vilified philosopher of modern times – the political philosopher Leo Strauss. Strauss didn't write much on America, and nothing, to my knowledge, on something called "The Alternative Tradition in America." Nevertheless, one essay by Strauss in particular elucidates aspects of the American tradition against which the alternative tradition can and should be contrasted, an essay entitled "The Three Waves of Modernity." That dominant tradition is, broadly defined, liberalism, and incorporates both dominant American political worldviews, those positions popularly known as liberalism and conservatism. Strauss helps us see that what are called American liberalism and conservatism are really one continuous development of what can broadly be called modernity, or more narrowly be defined as liberalism proper. In other words, Strauss reveals that what we consider to be the two great traditions of America – liberalism and conservatism – are really one and the same, and that we have to look elsewhere to discern an alternative tradition.
Strauss begins his essay by describing the first wave of modernity, a "wave" initiated by Machiavelli and further developed first by Thomas Hobbes and then by John Locke. This first wave of modernity represented a major break with antiquity, and, in particular, a fundamental change in how humanity viewed nature. Modern political thought is marked, perhaps above all, by a growing confidence in human powers of understanding and the admonition to exert those powers in the control of nature. Modernity was inaugurated by a transformation of scientific understanding – from the distinction of "science" as the observation of natural phenomena to the active effort to employ knowledge of natural operations in the active interference of those operations toward the goal of "the relief of the human estate."
The move toward modernity was inaugurated initially in the effort to control chance, or "fortune." Rejecting Classical or Christian conceptions that commended an understanding of nature of which humanity was a part, and thereby subject to its limits, modern thought began with the effort to exert control over nature's governance and, in effect, to put humans on the course of controlling nature. One of modernity's major figures – Francis Bacon – argued that nature was comparable to a prisoner who withheld its secrets, and that the scientist was like a jailer who sought to extract those secrets by torture if necessary. The image of a recalcitrant and niggardly nature was one continued by Bacon's one-time secretary, Thomas Hobbes, and John Locke in their arguments on behalf of the pursuit of the human conquest of nature in the pursuit of "commodious living" and ever-increasing economic growth.
Strauss argued that this "first wave" of modernity represented modern natural right – that is, a conception of right understood to be based upon a conception of human nature, now a nature understood to be driven above all by self-interest and the pursuit of material comfort and plenty. The first wave was thus a political philosophy that included an understanding of limits: namely, that human nature was fixed – we were by nature self-interested creatures who sought material plenty – and thus that political efforts to transform human nature were misguided and ultimately fruitless. Human nature was base and self-seeking, but it was unchangeable, and thus represented a permanent and ineradicable form of motivation that could be both utilized and controlled. It could be utilized by steering its productive and competitive energies toward economic concerns, and it could be controlled by creating institutions that channeled the potentially destructive energies toward productive enterprises, that created legal and institutional limits to their expression particularly in the form of a strong State that could both control the worst aspects of the human nature but also to provide the setting for an expansion of economic energies driven above all by unleashed self-interest. The philosophy of the first wave of modernity – early modern liberalism – underlies the political philosophy of the Founding Fathers of America. It is the philosophy of Locke, as well as the philosophy of Madison, who understood that "men were not angels" and that "religious and moral motives" could not be relied upon in politics. Politics was not the realm of redemption and human perfection, but the domain of productive channeling of the enormous energies of self-interest toward the project of the mastery of nature.
The "second wave" of modernity took the basic insight of the philosophers of the first wave – that nature was subject to human control – and extended this insight to human nature itself. If external nature were subject to human dominion, why not human nature itself? Thinkers like Rousseau, Condorcet, Comte, and later, John Stuart Mill, developed the idea of human perfectibility, of the human ability to master not only external nature, but to improve human nature as well. If philosophers of the "first wave" argued that human nature was unalterable, philosophers of the "second wave" argued that human nature could be improved concurrent with an improvement in the material domain. The concept of moral progress became a central feature in second wave philosophy, a progress in historical time that was believed to culminate in man's perfection, even ascent to a godlike condition.
Our time – modernity, and particularly the modernity as experienced in America – has been largely defined as a battle between adherents of the "First Wave" and disciples of the "Second Wave." Liberal Democracy stood firm against the successive waves of Fascism and Communism in the twentieth century, holding to its animating "first wave" belief that politics was not the realm of human transformation and salvation, and that freedom – particularly in the form of individual rights and free market economies – was the appropriate aspiration of human life. In our own day, and in our own politics, conservatives are most often adherents of the "first wave" philosophy – defenders of originalism, of the vision of the Founders, of free markets, limited government and individual liberties. By contrast, contemporary liberals (so-called) are more often acolytes of "second wave" philosophy, believers in moral progress and human transformation, one that stresses the positive role of Government in effecting this transformation. The two camps have been locked in a constant battle since the advent of the modern age, and the two camps could not seem to be further apart.
However, Strauss's analysis reveals a deep similarity between these two camps, and indeed discloses that the two are the deepest of antagonists in the way that only the closest of kin tend to be. Both of these camps of modernism are species of liberalism – the one, "natural rights" liberalism, and the other, progressive liberalism – and as such, both are deeply suspicious and even hostile towards claims of tradition. Both are hostile to the deeper claims of religion as a source of governing authority. Both seek human mastery over the external world and especially economic growth, although "the second wave" is less cognizant of how extensively its belief in human transformation rests upon the base of economic expansion, growth, and mastery ("second wave" liberals, for instance, are often involved in anti-globalization protests, but are not actually against globalization. They simply seek to reject the economic basis of globalization, and rather seek the universal brotherhood of mankind. They are definitely the more delusional of the modernisms, and also politically far more dangerous). Both "waves" embrace a concept of progress and foreground the goal of "growth," although for the first wave philosophy, progress is limited to the economic and material real, whereas for "second wave" liberals growth is also seen to be psychological and moral ("modern man," Richard Rorty has argued, "has more being"). Above all, both philosophies share the most basic presupposition of modern thought – both are based upon a deep, profound, and pervasive antagonism toward nature. Both understand that the modern political project rests upon orienting humankind's activities toward the active mastery of nature; the first wave is "conservative" because it does not extend that mastery to human nature; the second wave is "progressive" because it does.
The most striking feature of Strauss's argument, in my view, is his belief that there is a necessary and inevitable progression from the first to the second wave of modernity. Once the modern break with antiquity and the Christian age is initiated by Machiavelli and his belief that humankind should seek to control "Fortune," an inevitable and unavoidable philosophical chain of events leads to the development of historicism (that is, "progressivism") and ultimately, the third wave, Nietzsche or nihilism. The belief in human dominion over nature inevitably is imperialistic – that is, inevitably extends its hubris to humanity itself. However, possibly even more striking are not Strauss's conclusions – though I do think they are striking – but rather, it is the almost universal resistance on the part of the Strauss's students to accepting this feature of Strauss's argument, namely, that "progressivism" is a necessary development of natural rights liberalism. Nearly every "Straussian" I know is a defender of "first wave" modernity – a firm defender of Lockean natural rights liberalism. Uncountable Straussians are now making a good living arguing that "progressivism" was a foreign import – mainly of German origin – and thus an unnatural infestation and foreign invasion of the Natural Rights Republic. This was the core of Allan Bloom's argument 20 years ago in The Closing of the American Mind, and remains at the heart of various defenses of Natural Right liberalism, and lies at the heart of neo-Conservativism. It must be concluded, therefore, that for students of Strauss, it is an "inconvenient truth" that their teacher Strauss held that progressivism was a necessary and unavoidable development embedded within the modern presuppositions of the Natural Rights republic.
If Strauss is correct, and one would resist this path to nihilism (if not initially progressivism), then one cannot simply build a wall around Lockeanism and blame progressivism on some foreign infestation. To defend Lockean philosophy in the name of conservatism is invite in the progressive hordes through the back door. To do so is to make a fatal compromise with modernity, and above all the modern presupposition of the human antagonism against, and differentiation from, nature. One is thrust in the potential position of being un-American, of feeling homeless in America. It is an experience I have quite personally encountered: I once spent a few hours waiting for a flight with a colleague at an airport, and began explaining to him this argument, thereby raising the question whether either version of modernity was defensible – and he looked at me with growing horror and called me "Anti-American." And, he was nothing if not a good liberal and a good modernist, although he called himself a conservative. Indeed, nothing brings the Left and Right together quicker than a good critique of modernity.
The American tradition, then, would seem to be one or another iteration of these various waves of modernity, all of which are premised upon a fundamental antagonism of humanity toward nature. In the view of my airport interlocutor, one can't draw upon the American tradition itself to critique the modern presuppositions of either American liberalism or conservatism. Strauss seemed only to confirm this hypothesis, for he argued that the fundamental alternative to the various waves of modernity could only be discovered in a pre-modern, and specifically, ancient philosophical context.
It seems to me that Strauss was correct – that the alternative to the waves of modernity is pre-modern – but that its only source is not classical political philosophy. Rather, and particularly within the American context, many of the classical teachings that Strauss commended were refashioned but largely retained within the Biblical and especially Christian tradition renewed by of successive waves of American settlers, and in spite of America's official Lockean (and then growing progressive) philosophy, nevertheless has persisted deep within the DNA of the American soul.
* * *
End, Part I