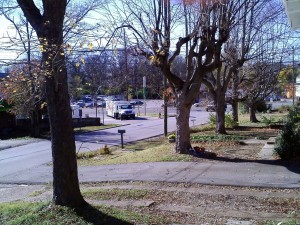 Nashville, Tennessee — This is a tale of two neighborhoods, a move from one to the other, and the inherent contradictions of gentrification.
Our old neighborhood, close to downtown, was one of Nashville's first "streetcar suburbs," full of cottage-style homes built in the 1920's. The houses all have front porches and big trees, and all the streets in the grid have sidewalks and street parking. There are three universities within a two-mile radius. The recent past reveals a now-common story: the introduction of the interstate highway in the 1960's enabled white flight in the 70's, followed by increasing crime and decay in the 80's and 90's. Yet in the last decade gentrification took hold, and now along the thoroughfares car lots and roofing companies have been replaced by fair-trade coffee shops, vintage clothing stores, and cocktail restaurants featuring grass-fed burgers. The city has invested in major street improvements, including human-scale lighting, and imposed mixed-use codes on new commercial developments. We were even featured recently in Martha Stewart Living. Sounds like an urban localist's dream, right?
The developer must have thought so, too, when he purchased the property our rather shoddy 1980's rental duplex sat on. We were given very attractive incentives to be out in 30 days, with further instructions not to bother with cleaning. In other words: demo job. The new landlord is betting that this property will be worth much more with large single-family homes or townhouses on it, and he is correct. The search for a comparable rental in the same area made it clear that we had been living in this neighborhood on borrowed time: one apartment manager simply laughed at me when I told her the sort of terms we were looking for. Thus, finding affordable housing meant, for us, pushing further out from the urban core.
Our new neighborhood, to my knowledge, has not been featured in any magazines. The main thoroughfare consists of several miles of used car lots, pay-day advances, discount beer and tobacco markets, wireless resellers, and auto repair shops. Signs are as likely to be in Spanish as in English. For pedestrians, there are sidewalks on the main road, if you don't mind 45 MPH traffic and frequent curb cuts, but not on most of the residential side roads. Commuting to work is now an exercise in psychological fortitude against the concrete jungle.
All of this paints a grim picture, but there are also signs of hope. The houses on our new street were also built before World War II, and though they are not as large nor as fancy as those in the old neighborhood, they still feature front porches and an established tree canopy. We now have our own porch with a swing and an excellent view of the Western sky. The streets are arranged in a grid, and along with the other businesses nearby there are locally-owned grocery and hardware stores.
This brings me to the ambiguities of gentrification. Our old neighborhood may have been the most "walkable" in Nashville, but we considered it a luxury to visit one of the area establishments for coffee or dinner, and rarely did so. Now, within sight of our front door we have a permanent taco stand, a Greek diner, and barbecue takeout, all of which are both delicious and affordable. The surprising result is that, despite its less-than-ideal character, we are far more likely to be found inhabiting the public spaces in our new neighborhood than our old one.
The situation has raised many questions for me. Why is there such a strong correlation between wealth and good civic design? Zoning laws are fundamentally just words; why do the poor get different ones from the rich? Must a place be beautiful before you can love it? What prevents less wealthy communities from making the changes that will gradually reshape their public spaces on a human scale? If they manage to do this, is it inevitable that they will price themselves out of their own neighborhoods, their own homes?
These are questions I hope my wife and I will have many opportunities to ponder while swinging on our front porch in the coming evenings, but moreso I hope that we'll be grateful for the blessings of a roof, a family, a bright sunset in the Western sky, and delicious 99-cent tacos from the stand next door.
— Justin Gregory
FPR is looking for portraits of life in your communities, no matter how plain or quotidian. Want to share one? Just e-mail a photograph of the view from – not of – your front porch to frontporchviews@gmail.com, together with a written reflection of no more than a few hundred words. Writing may be lightly edited. We'll gladly withhold your name if you ask us to.