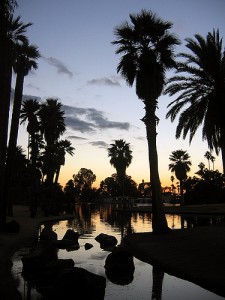 PHOENIX, AZ. If you know me, and if you are not my insurance agent, you may also know that I occasionally enjoy a good cigar. On major holidays (and, let me confess up front, Iconstrue this category rather loosely), I have a particular tradition of enjoying my smoke in the midst of a nice long walk. So on Sunday night, as dusk gathered, and with no particular destination in mind, I turned left out of the front door and kept walking. This took me through a couple of neighborhoods, across the municipal golf course (sprinklers be damned!), and at last to the local park.
When I arrived, the kiddy amusement rides had just shut down and the park was about to officially close. The scene remained festive. There must have been nearly a thousand people milling about the sizable park. Most were now packing for home, hoisting coolers and chairs into cars and trucks, but a couple hundred others were continuing to enjoy themselves. Families were finishing their dinners at picnic tables. Larger groups sat in circles orbited by dashing children. Soccer balls scooted along the ground. Preteens chased each other on bikes. Scattered plastic Easter eggs and bulging trash cans testified to the liturgical uses the park had received throughout the day.
Have I have left out anything that might help describe the scene? Hmmm, well yes, there was this: not a single person I encountered would count a Brit or a German or a Swede among his ancestors. Not a Kenyan or an Indonesian, either, for that matter. This was an exclusively Latino affair. Anglos constitute the majority in the surrounding neighborhoods. Are they unaware of the many and varied uses to which parks admit? Has our educational system failed them in some way? Are they simply frightened? (Despite what the average Scottsdalian apparently expects, I survived my stroll without being raped, mugged, pickpocketed, knifed, or beaten; at worst, I was politely ignored.)
As I left the park and entered an adjacent neighborhood — one composed of lovely, well-kept houses built in the 1920, '30s, '40s — I came upon an outdoor dinner party. Fifteen or sixteen white folks (I couldn't tell if it was a gathering of family or friends, but I suspect the latter) were seated around a long, candlelit table; Sinatra wafted through the air. Bougainvillea, hibiscus, and citrus trees framed the scene. "The bourgeois interior," I thought, remembering John Lukacs's term. I liked it.
And I liked the park and the life that I found there. Here were two distinct patterns of social life. The differences have been explained in manifold sociological ways. We know that they have to do with wealth, familial living arrangements, the strength of extended-family bonds, the extent of a mysterious process known as Americanization, etc. But on Sunday night I was enjoying my cigar too much to think too much about all of that.
But what I couldn't help ruminating about was that for all the great appeal of the bourgeois interior, anyone concerned about the atomizing and alienating effects of late modernity can't have much, if anything, against the park. (If you're inclined to hold all that trash against the Mexican park users, rest assured that others of Mexican ancestry will doubtless have the job of cleaning it up). Hasn't America long had both the bourgeois interior and the park as cultural counterpoints? Can't we still have both? Don't we need both? And aren't we in much more danger of losing the latter than the former?
Arguments against immigration that are founded on the issues of crime and jobs make perfect sense to me. I even have favorite policy solutions to those problems. One is realistic and has already been implemented successfully, arguably with some positive effect, in Arizona: employer sanctions. Stick it to the capitalists, says I. The other is alleged to be unrealistic but would surely be the best way to solve border- and immigration-related violence: halting the phony, stupid, unwinnable, and disastrous drug war.
Specifically cultural arguments against immigration may make sense in certain contexts and with regard to certain groups. I don't deny that; I try not to be sentimental about these things. But anyone who would mount such an argument with regard to Mexican immigration, especially in an Arizonan context, isn't arguing for the maintenance of a culture so much as its radical impoverishment. The American Southwest has rested on the interaction of Anglo and Mexican — and, of course, Native American — elements for several hundred years now. There is no American Southwest without each of those influences. I would be heartened to see a little more of their physical interaction on Sundays at the park.
Now, as to that troubling border issue, I have a People's Republic of Sonoraland proposal that just might interest you. You see, we just need access to the Gulf of California. . . .