Why Not King of France, Kentucky?
By Darryl Hart for FRONT PORCH REPUBLIC
http://www.frontporchrepublic.com/2011/01/why-not-king-of-france-kentucky/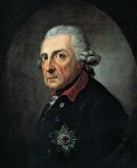 In the Delaware Valley (parts of Pennsylvania, New Jersey, and Delaware) residents take for granted that a place exists which is called King of Prussia. The locals pronounce it "Kingaprusha" – not a whiff of the fourth consonant in the alphabet. The reason for its prominence in local idiom is the mall that also goes with the name. Although a life long resident of the region, I have never visited the King of Prussia Mall (KPM). One reason is that it is inaccessible by public transportation and every time I have been close to while driving I have encountered a highway doing its best impersonation of a parking lot. Another reason for avoiding KPM is that having grown up in the god-forsaken development of Levittown, Pennsylvania, where the Neshaminy Mall was our only brush with a main street or a kind of public space, I am happy never to visit another mall or see how suburban youth are misspending (as I did) their vitality and pheromones.
Aside from my problems with malls, I am seriously intrigued by the phenomenon of naming a place in the United States (or even in Pennsylvania), where a major reason for migrating was to escape the foibles if not evils of monarchy and feudal privilege, after a German monarch no less. German ethnicity may be a tempting explanation for King of Prussia, Pennsylvania's oddity. The first settlers of the Perkiomen Valley portion of Montgomery County, near KPM's location, were primarily German Lutherans, Reformed Protestants, and Anabaptists who sought to escape the political and economic hardships of the early eighteenth century Holy Roman Empire where religion could still determine political appointments and economic livelihoods.
Come to think of it, why would German settlers who took William Penn and the Quakers up on the chance to start a new life free from ecclesiastical wrangling name a place after Frederick II, King in (1740-1772) and King of (1772-1786) Prussia? Apparently, Frederick was a successful ruler on many counts, culturally and militarily, though he did not directly aid the American War for Independence. One policy he did initiate, however, which might also explain the later development of a mall in his name, was to enter into a commercial trading treaty with the United States, one of the first international instances of recognizing the new republic legitimacy.
The first geographical use of the name, King of Prussia, was also synonymous with commercial purposes. Welsh Quakers, William and Janet Rees, proprietors of an inn at prominent crossroads outside Philadelphia – located about one-day west en route to Ohio from Philadelphia – originally named their establishment Berry's Tavern, for James Barry, the innkeeper whom they hired. The custom was for travelers was to spend the first night of their journey west at Berry's Tavern. After the revolutionary war, to attract Prussian soldiers to reside in the area and to patronize the inn, the owners changed the name to the King of Prussia Inn, listed on the National Register of Historic Places since 1975.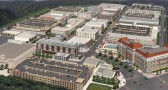 Since the eighteenth century the area has not escaped its commercial or travel origins. Although King of Prussia is a place according to those who take the national census, it is not an incorporated town or borough. A U.S. Postal Office bears the name – now that makes it local. Its boundaries are two roads – U.S. Route 422 and Interstate 76 – and the Schuylkill. These are all the ingredients to make King of Prussia more than a mall, but also one of the earliest examples of the suburban phenomenon known as Edge Cities. Before the arrival of the mall in 1963, the area was known largely for George Washington's stay at nearby Valley Forge – now part of the federal park system. With the mall came lots of development – and even more traffic.
As understandable as King of Prussia's history is as a kind of place, it is still one of the oddest geographical names in the United States. Not even suburban planners have come up with names like Archduke Ferdinand Estates or King of England Place. But thanks to the power of commerce and travel, the virtuous commonwealth of Pennsylvania has a region and commercial center named after a ruler known for his enlightened despotism. Given the way that malls and highways constrain cultural life in the United States, that may make King of Prussia, despite its oddity, one of the more fitting names in the lexicon of American places.