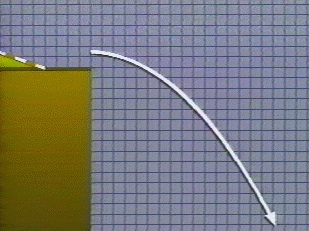 Democratizing eighth-grade algebra promotes social justice. (Brookings Institution)

Money, mechanization, algebra. The three monsters of contemporary civilization. Complete analogy. (Simone Weil)
Mt. Airy, Philadelphia. There are a lot of conspiracy theories out there, but odds are that not many raise alarms about the fact that students in America and elsewhere are taught algebra before geometry. Yet this may be one of the more potent means by which the vision elaborated by Descartes works its way into the very foundations of how we imagine the natural world.
We are all familiar with the coordinate system devised by Descartes (or rather modified from the one devised by Descartes) – the x axis and y axis that enable us to describe the location of any point in a plane. Add the z axis for 3-D plotting, and we have a way of imagining and quantifying space abstractly. This kind of analysis of spatial magnitude provides the basis for the exact measurements of motion at the foundation of modern physics. Since modern physics provides most of us with our basic understanding of the character of reality or "nature", it is fair to say that this understanding, in its imaginative dimension, is largely a Cartesian picture. And since most students who make it through high school get the Cartesian picture of mathematical space worked deeply into their imaginations (whereas very few are sufficiently imbued with a grasp of physics to have their imaginations deeply formed by it), it is fair to say that it is by means of coordinate-plotted geometric algebra that our imagination of the physical world gets shaped.
At the basis of this new analytic geometry is a profound transformation in what I will call the metaphysical imagination. (While crucial aspects of this transformation were accomplished by Francois Viete half a century before Descartes, it is still Descartes who elaborates most completely both the stance toward the world of appearances that enacts this new metaphysical sensibility and the conceptual and mathematical tools that direct the pursuit of the kind of knowledge that corresponds to it.) This transformation has everything to do with how we understand number.
Consider what the coordinate axes tell us. Each of them is a "number line." That is to say, between any two numbers on the x axis, there will always be another number; and if we imagine taking this process to the limit, what we approach is a continuum of numbers. There is no fundamental difference between number and extension in length, or, in other words, between multitude and magnitude.
For the classical tradition, there is an important distinction between multitude (number) and magnitude (extension). Number or multitude is discrete; extension or magnitude is continuous. A number, according to Euclid, is a "multitude of units." We call these the "natural numbers" (justly so), and consider them one subset of a more inclusive set of numbers that encompasses others types, like rational and irrational, real and imaginary, positive and negative. For the classical tradition, the "natural numbers" are the numbers period (though when it comes to computation, there is some difficulty figuring out what to call fractions). This is because when we speak of a number, we are ultimately referring to a multitude of things. Beings that can be counted exist in nature as unities.
For the ancients, the problem of number leads directly and explicitly to metaphysics. The basic question is how it is possible for there to be two of something. They can only be two of something if that something is the same; but they can only be two of that something if they are different. And of course this leads us back to the question of how each of these things is able to be a unity in the first place. And this leads to identifying form as the principle of unity for each being.
Form is most evident to us in the bodily shape of a thing. This bodily shape is as it is because of the way that body is organized and articulated. But in the case of a living being, the body has this organization and articulation because it serves as the material basis for the various capacities and life-activities that are characteristic of that living being and constitute what it is to be such a being. The living being's self-sustained complex of capacities for its array of characteristic life-activities is what Aristotle calls its form and its soul, or the governing principle of the living being that it continues to be. Thus the form that appears to my senses gives me access to the form that is the very being of the living thing itself.
It is number, then, and the question of the natural unity and integrity of natural beings, that guides our understanding of nature for the ancients. Extended magnitude is a secondary characteristic of beings, incident to their material aspect. Form is the more fundamental aspect of its being, because it is the form that dictates what material (and how much of it and in what proportions) will be present in the living being or artifact.
Descartes changes this. When he develops his algebraic geometry, he chooses to represent numbers by lines, collapsing the distinction between magnitude and multitude. The emphasis is on quantitative relationships, and what we take as our unit is arbitrary. When he analyzes the basic characteristic of the being of the "external" world, he finds it in extension, not in the presence of given unities. As a result, we have a science that examines processes rather than beings, for a process is a change over time of the relationships among various measurable magnitudes. And we have the analysis of those beings into their simplest parts, the parts most easily described in purely algebraic-quantitative terms. We lose a sense of the integrity of beings as active wholes, a formal integrity that makes them what they are. Thus Dawkins, in insisting that the organism is not a unity but rather a "colony of genes", is being a genuinely Cartesian biological theorist.
But it is not only the integrity of natural beings that is lost; it is also a sense of place. We imagine the world as abstract space. Quantities of matter are present in parts of that space, and can be moved to other parts of that space. It's just a change of coordinates. The x and y axis meet at the "origin" of the coordinate system, but that origin itself is arbitrarily placed. All space, as space, is interchangeable.
In classical Greek, in Aristotle's physics, there is no word for "space", only for "place". That is certainly not because Aristotle didn't know his geometry. On the contrary, it is because he knew it deeply, and knew its difference from his arithmetic. He knew that the world is a world of beings actively maintaining their unity and integrity in their places, and that geometry is an abstract representation of a limited aspect of things in that world, and indeed more abstract than arithmetic because arithmetic deals in wholes.
In Euclid's Geometry, two of the thirteen books deal with number. He proves many theorems about proportions among numbers that he then proves all over again for continuous magnitudes in the subsequent books. To the modern mind, trained by Descartes' geometrical algebra to collapse this distinction, this seems terribly inefficient. But Euclid seems to have thought it important to maintain this clear distinction. It is a matter of fidelity to the nature of reality rather than to sheer computational power and convenience.
The rest of Euclid's geometry is perfectly intelligible independently of numerical expression. There is a marvelous beauty to the way the relations of figures are revealed when Euclid proves that the area of the square on the hypotenuse of the right triangle is the sum of the areas of the squares drawn on the other two legs. This beauty is entirely missing in the formula "c squared equals a squared plus b squared," and it is astonishing that we can study geometry for a year without ever realizing that these "squares" refer, not to numbers multiplied by themselves, but to actual square areas. We are in this condition of cluelessness because, before we ever study geometry, we have already pre-interpreted it through the lens of the Cartesian grid and the operational equivalence of number and extension.
To lose (or be prevented from recognizing) the distinction between multitude and magnitude is to lose (or be prevented from attaining) a sense of the natural world as a world of distinct and integral living beings in their places; it is to be prepared to see it under the aspect of arbitrarily located quantities of material to be relocated according to our arbitrary will. For Aristotle, the formal integrity and unity of each living thing (which is to say its full flourishing as the kind of thing it is, adapted to the kind of place in which it lives) constitutes the good of that thing, toward which its development and actions and processes are ordered. In Platonic terms, one is the number of the good, and goodness is a constituent of the being of things. When Descartes reconfigures the natural world in terms of extension, and thus displaces natural unities in favor of quantitative relations, this amounts to evicting goodness as a principle of being. In other words, it is what I have elsewhere been describing as Gnosticism, and it prepares the way for Locke's Gnostic economics, or the forgetting of limits and place.
The "argument" that supports such a view is embedded deep in our metaphysical imagination and habits of mind by a Cartesian mathematical education, one that perpetuates in our sensibilities Descartes' own Gnostic alienation of spirit from world.