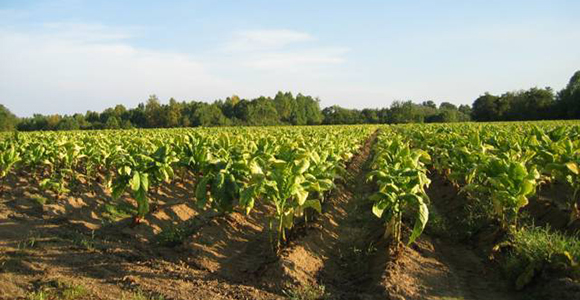 Henry County, Kentucky. What holds a community together?  Or rather, what holds my community together, as I'll have to leave you to worry about yours?  I think about it some because my friend Mary Berry Smith thinks about it a lot.  What follows comes out of our conversation, but this is her argument.
Last summer our little congregation went through a painful upheaval–a division that proved to be beyond our capacity for love, neighborliness, and appreciation of old ties.  As with all griefs, I've spent a lot of time mulling it over, as has Mary.  She and her husband Chuck farm full-time just a mile from us, and both have lived in Henry County all their lives.  On Sundays Mary sits in the pew that her grandmother sat in (or rather the replacement pew in the same spot).  And not long ago she said to me that she wondered if the end of the tobacco program didn't have something to do with our troubles at church.
What she meant was this: every community must be bound together by something it shares—and for the ties to bind strongly there need to be several somethings.  Here in Henry County, when everyone used to raise tobacco, everyone had the crop's seasons and its demands in common.  Tobacco needs a lot of tending, and requires hard work.  It must be started in beds, set out in the field, weeded, watched for disease, topped, cut, loaded, hung, taken down, stripped, bundled and hauled to market.  A fool can grow it, but he can't grow it well, and those farmers who raise a good crop year in and year out are known and respected for that.
My state is one of the few that still has a good number of small farms, and for years here tobacco was the mortgage crop.  It made keeping those small farms possible for many families, and it was a vital part of a farmer's mixed use of his land.  The federal tobacco program and the Burley Tobacco Growers' Co-op acted as a brake for the small farmer on the pitilessness of the international market.  Crops that weren't sold went into a pool, and sold for a price with a set bottom, the monies for which were serviced by the federal government but came from the sale of the crop.
All that's gone, and Republican Party rhetoric being what it is, the end of the tobacco program is one of the achievements our senior senator Mitch McConnell is proud to cite.  Today farmers here and in the several burley-growing states are free from any buttressing power between the small growers and the supranational tobacco companies that buy their crop.  They are free to contract with the companies directly (and typically do, as otherwise there is no guarantee their crop will sell), and in one of those rhetorical equalities that is so unequal in fact, the companies are likewise free to set the price and limit the production, in a world market in which it is cheaper, of course, to grow tobacco in Brazil.
But my point is not only that farmers in my area have lost a good source of revenue.  We've also lost a shared experience intimately tied to this place in which we live.  Tobacco gave us something in common, Mary says; tobacco was our common language.  If she and Chuck were setting, so were others; if the weather for curing was wet, everyone waited.  If blue mold hit the county, everyone compared their losses.  And everyone had a near-disaster story from working high in the rafters of the barn, to be retold every fall.
All that has changed and it has changed recently.  Just ten years ago many people in my county still raised tobacco, or at least leased out their quota to a neighbor, who probably used the quota owner's barn.  I still occasionally find a leaf amidst the old straw here.
But with the end of the program, most of us took the buyout and quit.  The relative few farmers who still grow tobacco grow significantly larger crops now, which is a different sort of operation.  People were growing something like two to twelve acres; now farmers often grow forty, or eighty, or even more.  This is factory farming, and there is no way a family can manage it alone.  There is too much to cut all at once, and hang all at once; it requires jobbed-in crews of migrant labor.  Raising a few acres of tobacco was good and satisfying work, Mary says.  Toiling under the pressure of eighty must be something else.
I know it's likely you, dear reader, are no lover of the crop.  But Kentucky's inability to grow burley will have little effect on the availability of nicotine.  The tobacco companies will continue to contract with American growers for some of their leaf, until they are under no federal pressure to do so, and then they will stop.  But they will not stop making cigars and cigarettes.  Nor is the government likely to outlaw a product which it can so profitably tax.
So it is that here in Henry County we have lost the bond that tobacco gave, and one important part of our shared history is only history.  And at times of real disagreement, such as last summer, we find we have fewer acres of common ground.